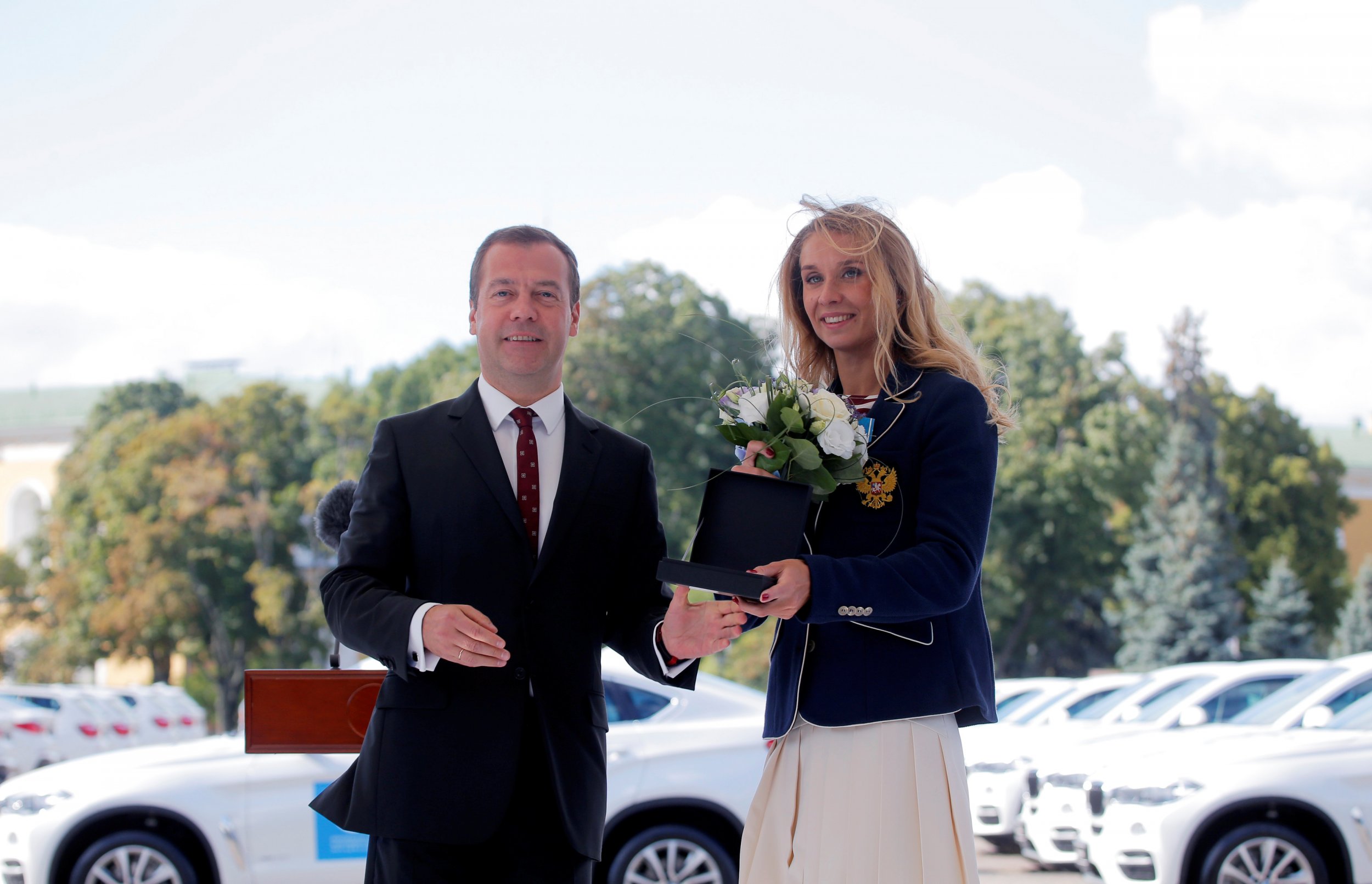 Russia will reimburse its athletes banned from the Rio 2016 Olympic Games and double down on the rewards given to its medalists, Prime Minister Dmitry Medvedev announced Thursday.
Although much of Team Russia's performance in Rio was overshadowed by ongoing allegations of state sponsored doping, its athletes avoided a blanket ban and finished fourth in the total medals league table. The country's entire track and field team was suspended, as were other athletes, in what Moscow has labelled a politically-motivated move, an accusation denied by international anti-doping bodies.
The ban affected several Russian gold medalists, including outspoken pole vaulter Yelena Isinbayeva, who retired after her appeal to compete was denied.
Despite some boos and jeers in Brazil, Russia's Olympians were given a warm welcome at home, with Russian President Vladimir Putin praising them at an event in the Kremlin. Medvedev met the team in Moscow Thursday, announcing they and teammates who did not attend the Olympics will be handsomely rewarded by the Russian government and by the Russians Olympians Foundation—an organization run by the likes of Arsenal FC shareholder Alisher Usmanov and Chelsea FC owner Roman Abramovich.
"The foundation has given the Russian Olympic Committee material compensation for our leading sports competitors from the track and field team that was audaciously barred from participating in the games," Medvedev said, according to Russian news agency Interfax.
Medvedev said he had "no doubt" Russia would have brought home more medals had the ban not been implemented.
While it is common practice for Olympic medalists in Russia and elsewhere to receive property or a car upon returning home and a financial bonus from the government, Medvedev told Team Russia that Moscow would dig deeper to reward them.
"I will give the winners and medalists car keys, but that will not be their only reward," Medvedev said, according to state news agency RIA Novosti. "We have decided to sponsor you further with the monetary reward (from the foundation), which will equal the state bonus."
The exact amount banned athletes will receive is unclear, although Medvedev's announcement means that every Russian medalist's bonus will effectively double.