Tracey Emin and Other British Artists Create Olympic Prints for Team GB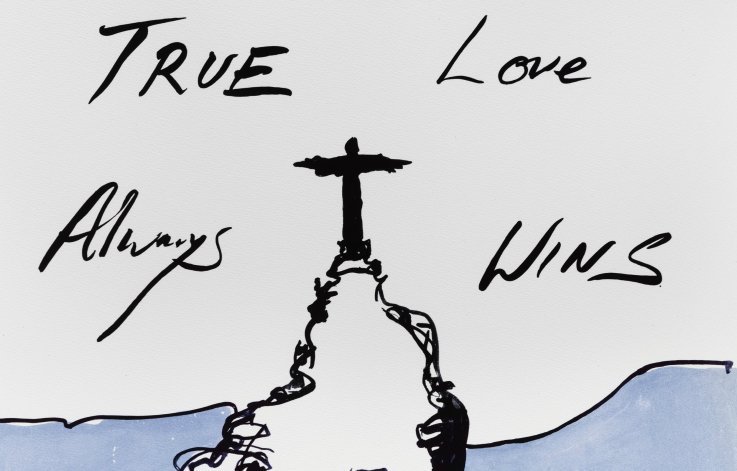 With just two days to go until the Rio 2016 Olympics, Team GB has received a boost in support from eight British artists including Tracey Emin and Sam Taylor-Johnson.
Counter Editions commissioned the artists to create official Olympics prints for Team GB, which went on sale Tuesday. They were each asked to "create unique images in celebration of Rio and Brazil, with the spirit of Team GB as their inspiration."
Emin's print reflects a wish for a positive outlook for the world, with the words "true love always wins" emblazoned in the skyline above Rio de Janeiro's famous Christ the Redeemer statue.
"The snaking mountain road symbolises the winding journey to achieve true love, represented by Christ's outstretched arms at the summit," said Counter Editions. "The work carries particular poignancy given Tracey's recent marriage to a rock: true love may not be what one expects, but it will always prevail. True Love Always Wins encapsulates the optimism and positive energy that drives Team GB athletes and their supporters, and acts as an inspirational statement of hope and faith for all."
The artist David Shrigley, meanwhile, has reimagined the Olympic torch as an ice cream cone—befitting the soaring temperatures in Rio for the games—for his piece Life Is Fantastic .
Artist and filmmaker Taylor-Johnson, meanwhile, said her print Wanderer Above the Sea of Dreams was borne of a desire to be "creative and answer to no one else" after directing the big screen adaptation of Fifty Shades of Grey. Her artwork sees an athlete standing atop a large rock holding the Olympic torch. "I thought a big rock could be a solid foundation for someone wanting to fulfil their dreams," she told The Guardian.
The other artists involved in the project are Anne Hardy, Howard Hodgkin, Sarah Jones, Eddie Peake and Benjamin Senior. See all the prints in our slideshow above.