Rio 2016: Who is Ukraine's Olympic Wrestling Prodigy Zhan Beleniuk?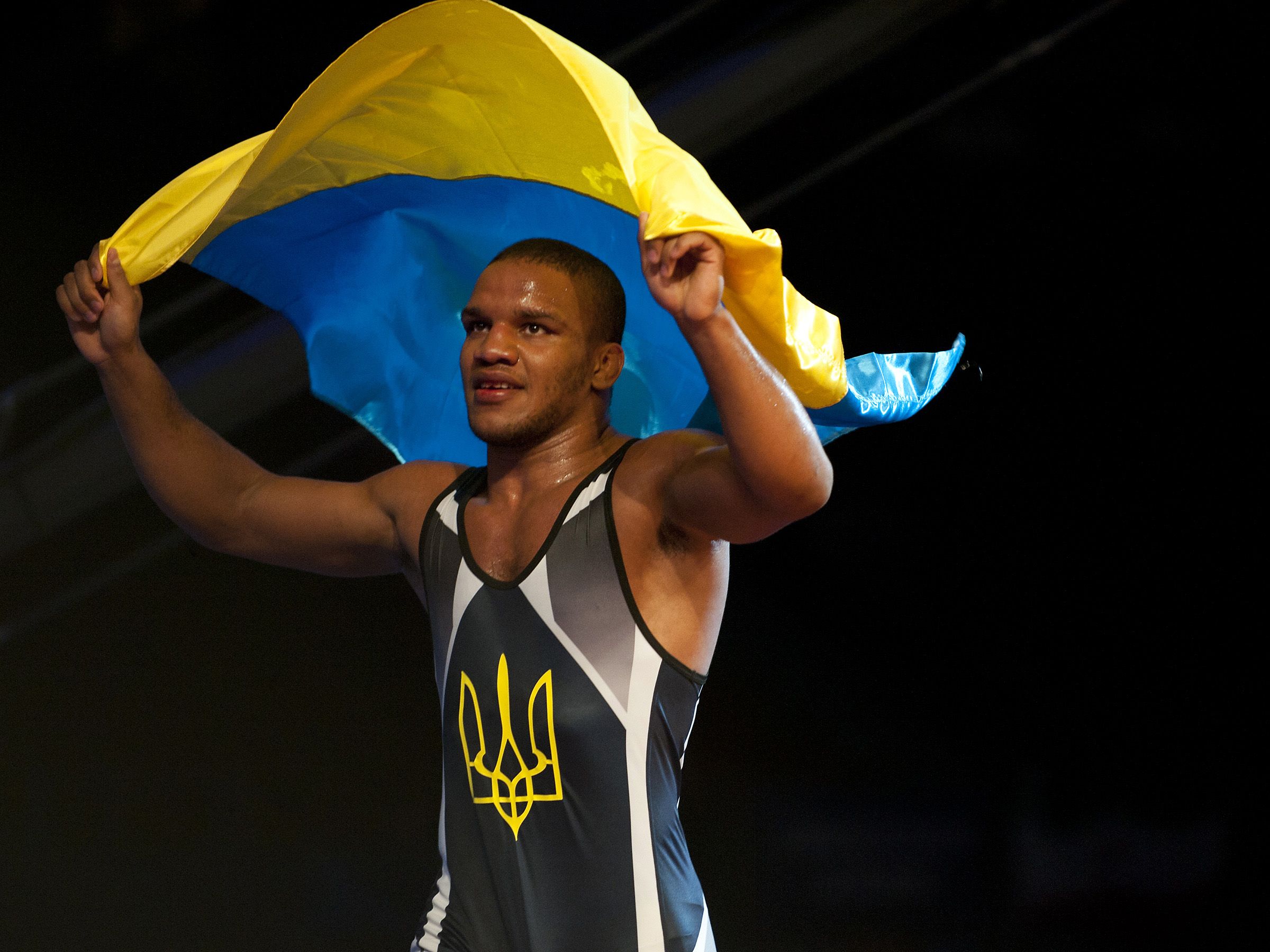 Dressed in civilian clothes 25-year-old wrestler, Zhan Beleniuk, seems gentle and humble. But once he steps into the ring, sporting Ukraine's tryzub symbol on his singlet, he has is capable of bringing down the world's top grapplers. This summer will mark his first appearance at the Olympic Games.
Beleniuk currently holds the European and World championships in Greco-Roman wrestling's 85kg category and says his "remaining unfulfilled goal" is to clinch gold at Rio 2016.
Born in 1991, the year Ukraine declared its independence from the Soviet Union, to a Ukrainian mother and a Rwandan father. Beleniuk was raised in Kiev by his Ukrainian family. His father, an air force officer, died in Rwanda's civil war shortly after he was born and the wrestler has no memories of him.
His Rwandan heritage made him the target of taunts as a child and he even got in a couple of scrapes. But he brushes off the suggestion that these memories still haunt him. His "very wise mother" protected him from playground bullying and nobody would dare insult him these days.
Still in Eastern Europe, where racism is far from uncommon in sports, his triumph in Rio could be successful in dispelling institutionalised prejudices—the kind that surface when football chants turn ugly and the nation's fans behave in a racist manner. Going into Rio, Beleniuk is one of his country's best hopes of a gold medal, which would make him Ukraine's first Olympic champion with African heritage.
"People always fear things that are new and unknown," he tells Newsweek. "When my grandmother moved to Kiev she feared taking the tram with a black person, but the world is changing. I hope I can serve as a good example."
Beleniuk will represent Ukraine, as he has done throughout his entire career. In fact he was even voted Ukraine's athlete of the year for 2015 and proudly calls himself a patriot. But in the lead-up to the Olympics he has opened up about the poor funding currently offered to Ukraine's wrestling federation. His coach has blamed government cutbacks, fearing the star may accept some of the offers on the table to compete under a different flag. Azerbaijan and Russia are speculated as the two main bidders at the moment, though he is not considering Russia as an option.
The wrestler says he loves his country and he will make a decision about his future after Rio. For now he competes for Ukraine. "The country and the state are different. I love the land, the people, but the attitude towards (government) officials, is something else," he says.
Can a strong showing at the Olympics for Team Ukraine foster a sense of union at a time when the country is still fighting a conflict with Russian-backed separatists in its east, and many are disaffected with the current government?
"Ukrainians are united as it is, it is just not clear what for," Beleniuk says, with a hint of irony. "Most likely it is the pursuit of a better life. But the successful performance of athletes can brighten up harsh everyday realities."