At the 2016 Olympics in Rio, Fighting Zika Is Becoming a Blood Sport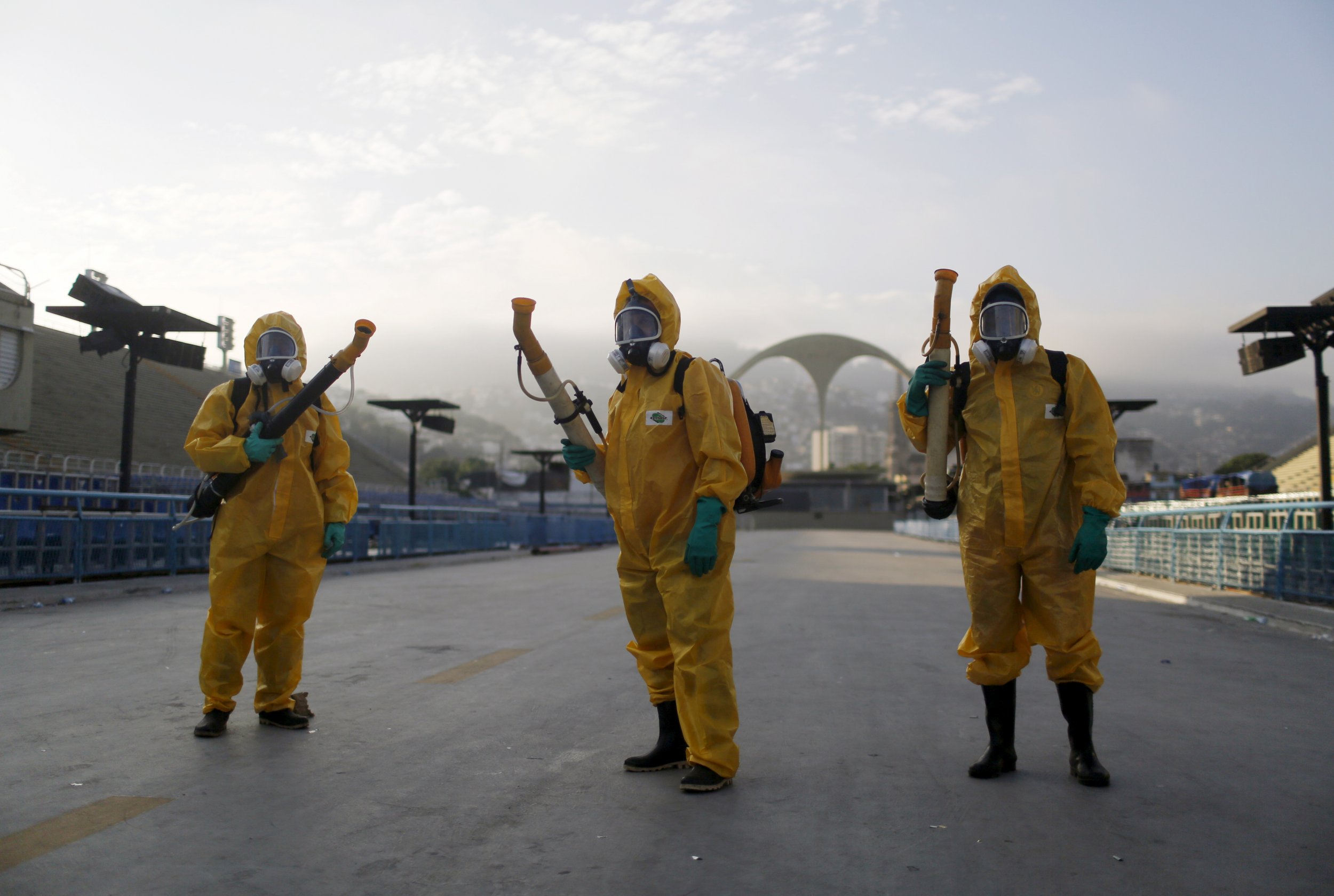 In the months before the Olympics begin, fans are normally finalizing travel plans, while the athletes involved are usually focused on winning shiny metals. But this year, just weeks before the start of the 2016 Summer Games in Rio de Janeiro, everyone appears to have a certain flavivirus on their mind.
For more than a year, Brazil has been the nexus of the Zika outbreak, which has spread throughout the Americas and beyond and fast become a threat to global public health. There are now some 60 countries on the U.S. Centers for Disease Control and Prevention's Zika travel advisory list, and the World Health Organization classifies the virus as a "public health threat of international concern."
Many of the terrible things we've confirmed in recent months about Zika—such as its link to birth defects and neurological conditions and its possible sexual transmission—has been gleaned from Brazil's crisis.
So it seems reasonable that this year's games are fraught with anxiety. On Wednesday, the CDC attempted to assuage public fears. The agency released a report that says the 2016 Olympics are unlikely to cause a worldwide spread of the virus. While there are expected to be some 500,000 people visiting Brazil for the Olympics, that number represents just 1 percent of all travelers to Zika-affected regions worldwide. The CDC estimates that only around 19 countries out of the 200 participating are actually at risk for bringing Zika home.
That's due to a number of factors, including whether or not there are already reports of local transmission in the country, and if that country's climate and condition are hospitable to the Aedes aegypti mosquito, which carries the Zika virus. Experts also say it helps that August and September are Brazil's winter months, when the climate is cooler and drier, which amounts to a significantly smaller mosquito population. Officials from the WHO still say there is no reason to restrict travel and trade to Brazil. The CDC's travel advisory recommends sports fans take basic precautions such as wearing bug repellent, but also suggests women who are pregnant or wishing to conceive think twice before hopping on a plane.
Rational thought, however, probably won't completely keep Zika fears at bay in Rio. Just as the 1936 Games in Berlin are remembered for the rise of Hitler, people may look back on the Rio Games and recall the public health fears prompted by the vector-borne illness (Pokemon Go may be a close second).
Expect to see a lot of shvitzy athletes parading at this year's opening ceremony. A number of teams have said they will wear gear that's specially designed with Zika in mind. Team Canada and South Korea plan to wear uniforms that include long-sleeve shirts and pants. South Korea's Olympic Committee also says their uniforms will be infused with insect repellent.
In May, Australia announced Zika-proof gear of a different sort: antiviral condoms. (If the Sochi Games were any indication, there's another intramural sport that's quite popular among competing athletes.)
The threat of Zika has also required teams to secure some additional medical assistance. Team USA has secured the guidance of Dr. Martin Cetron, director of the division of global migration and quarantine at the National Center for Emerging and Zoonotic Infectious Diseases at the CDC.
Dr. Bill Moreau, chief medical officer for the U.S. Olympic Committee, says his team looks to the CDC for guidance and will have three infectious disease specialists on hand. "When it comes to a sports injury, we're really good at that, but when it comes to infectious disease, we look to the CDC," he says. Nevertheless, a growing number of athletes have decided not to participate in the games due to fears of Zika.
Others scientists are using the Summer Games as an opportunity to study the virus. The National Institutes of Health recently announced a grant award to a group of researchers who plan to examine the long-term reproductive impact of Zika by using a unique cohort composed of Olympic athletes, coaches, other staff members of the U.S. Olympic Committee and even spouses of participating athletes.
Dr. Carrie Byington, a pediatrician who specializes in infectious diseases at the University of Utah in Salt Lake City and the lead researcher on the study, says this could help to identify just how long a person who contracts the virus remains contagious and the likelihood of human-to-human transmission.
"It's an opportunity for the United States and for our U.S. Olympic Committee group to contribute new knowledge all around the world," she says. "So everyone needs to know how long they might remain contagious when they have the Zika virus. They need to know which body fluids could potentially spread the virus in a sexual manner. They need to know what is the risk period for pregnancy."
The study design is simple and based upon the success of small pilot that involved 100 people and ended May 31. This time, the team of researchers plan to enroll at least 2,000 people who will be in attendance next month.
All participants will complete surveys and provide blood samples before boarding a plane. Once they return, they will provide an additional set of blood samples and complete another survey.
In addition to blood, researchers will petition study participants to donate other bodily fluid samples, including saliva, semen, vaginal secretions and breast milk, and collect these specimens for up to six months after the Olympics to see how long the virus remains active. They will also follow any infants born in the weeks and months after the Olympics up until their first birthday to observe whether they develop any birth defects typically seen in babies who are exposed to the virus in utero.
"The Olympics really supports the unity of all nations through sport," says Byington, "and the participation of individuals from the U.S. Olympic Committee in the Utah study will be supporting all nations, not just the United States."