Rio 2016 Olympics: The Women to Watch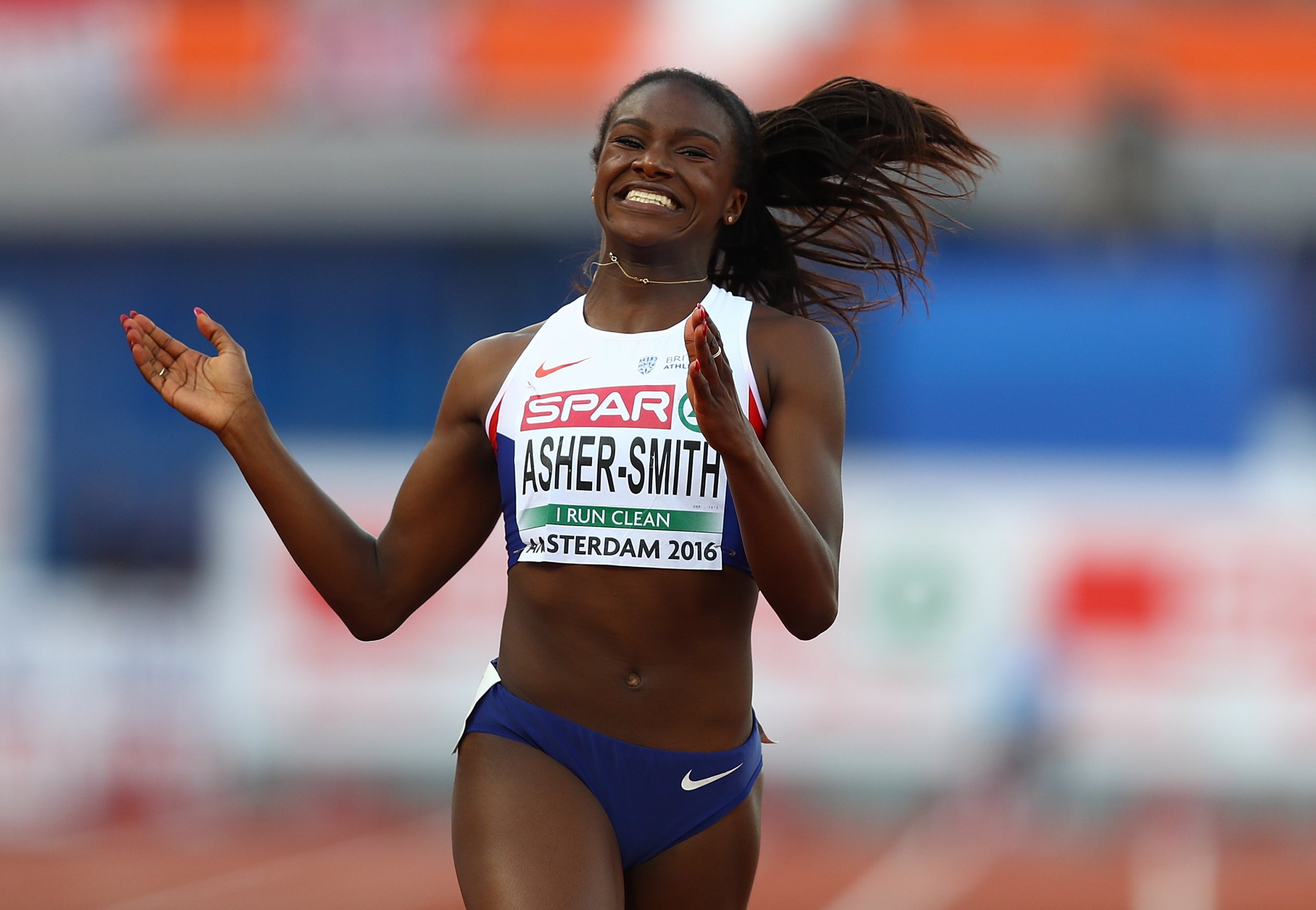 Simone Biles
Olympic sport: Gymnastics
Age: 19
Home is: Texas, United States
Why we are watching: Biles is tipped to win a possible five gold medals in Rio, after performances at the World Championships from 2013 onwards that have seen her win ten golds, the most won by a female gymnast in the history of the World Championships.
Her skill in the all-around has seen her become the first African-American world champion in the event, and the first woman to win three consecutive titles.
Biles began her gymnastic career at 14, and one year later in 2012 started being home-schooled in order to focus on her training. It paid off, allowing her to become one of the most successful female American gymnasts at only 19, and ahead of her first-ever Olympic Games in Rio.
The 4ft 8in gymnast is the favorite for the all-around in Rio, but her powerful run and consistent tumble will put her in a very strong position for the floor, beam and vault too.
Dina Asher-Smith
Olympic Sport: Athletics
Age: 20
Home is: London, England
Why we are watching: Because she is Britain's fastest ever woman over 100 and 200 meters and still holds the title of being the fastest teenager in global history.
On July 25 2015 Asher-Smith became the first ever British woman to run the 100-meters in under 11 seconds, running it in 10.99 seconds at the London Anniversary Games. On 28 August 2015 she set a new British record of 22.07 seconds in the 200 meters, finishing fifth at the World Athletics Championship in Beijing.
Despite her sporting accomplishments, Asher-Smith says "the best morning" of her life was receiving the A-Level results she needed to go to university. She's currently studying history at King's College London around her training.
Katie Ledecky
Olympic sport: Swimming
Age: 19
Home is: Washington D.C., United States
Why we are watching: Ledecky made her mark on international swimming four years ago, impressing at the U.S. trials by winning the 800-meter freestyle event, sealing her spot as a competitor in London at just 15 years of age. She did one better at the 2012 Summer Olympics in the 800, taking the gold medal in London and coming within 0.53 seconds of the world record.
That breakthrough London performance has propelled her to set 11 world records, breaking her own historic marks in the 800 and 1500-meter freestyle events multiple times. She also set—and subsequently broke—her own world record in the 400-meter freestyle as well.
It should come as no surprise that Ledecky arrives in Rio 2016 in top form. She was named swimmer of the meet last month in Omaha, where she won the 200, 400 and 800-meter freestyle events.
Ellen Hoog
Olympic sport: Hockey
Age: 29
Home is: Bloemendaal, Netherlands
Why we are watching: As the star of the Dutch women's field hockey side, the Hoog has enjoyed a near perfect career.
She has been part of teams that have won the Olympics and World Cup twice, plus three European Championships, and she was named the 2014 International Hockey Federation Player of the Year.
Despite all the success, Hoog and her teammates often make the headlines for how they look, rather than their stick work. An unofficial online poll before the 2012 London Olympics voted them the most beautiful team at the Games and the news was greeted with despair by gender equality campaigners.
Hoog told CNN she thought it was, " nice when people say we are a good-looking team, but in the end we want to win gold medals."
Among the superstitious sport stars attending the Olympics, Hoog watches The Notebook with her teammates before matches.
Dafne Schippers
Olympic sport: Athletics
Age: 24
Home is: Utrecht, Netherlands
Why we are watching: Schippers was known primarily as a heptathlete until 2015, when she decided to focus on sprinting exclusively.
She emerged as a sprinting sensation at the 2015 World Championships when she claimed the 200-meter gold medal and 100-meter silver medal.
As a heptathlete, she earned the bronze medal at the 2013 World Championships and finished 12th at the 2012 London Olympics.
Her breakout moment came in the 2015 World Championships. Her time in the 100-meter, 10.81 seconds, set a national record. Her 200-meter time, 21.63 seconds, broke the European record. She was named one of three finalists for the 2015 IAAF Athlete of the Year award.
At 5'10", she is considered very tall for a sprinter and her nickname is the "Flying Dutchwoman." She's also an enthusiastic foodie and keeps a blog featuring healthy recipes.
Caster Semenya
Olympic sport: Athletics
Age: 25
Home is: Polokwane, South Africa
About: The South African runner is back and tipped to blow away the field in Rio—and her ambition, aside from winning, is to take a selfie with Usain Bolt and Shelly-Ann Fraser-Pryce.
However, those who have followed her career closely fear that the reaction to her winning would reignite uncomfortable debates from the past.
Semenya won gold in the women's 800-meters at the 2009 World Championships with a time of 1:55.45 in the final. Semenya also won silver medals at the 2011 World Championships and the 2012 Summer Olympics, both in the 800-meters.
Following her victory at the 2009 World Championships, it was announced that she had been subjected to gender testing. She was withdrawn from international competition until 6 July 2010 when the IAAF cleared her to return to competition.
The publicity and fallout seemed to take its toll on Semenya: her times slipped and she had to settle for a silver medal at the 2012 Olympics.
Missy Franklin
Olympic sport: Swimming
Age: 21
Home is: California, United States
Why we are watching: Franklin is a Canadian-American competition swimmer and four-time Olympic gold medalist. She currently holds the world record in the 200-meter backstroke and American records in both the 100-meter and 200-meter backstroke. As a member of the U.S. national swim team, she also holds the world record in the 4×100-meter medley relay.
In her Olympic debut at the 2012 Summer Olympics at age 17, Franklin won a total of five medals, four of which were gold. She swept the women's backstroke events, winning gold in both the 100-meter and 200-meter backstroke. Franklin's successes have earned her Swimming World's World Swimmer of the Year and the American Swimmer of the Year award in 2012 as well as the FINA Swimmer of the Year Award in 2011 and 2012.
In total, she has won 27 medals in international competition—16 gold, six silver, and five bronze—spanning the Olympics, the World Championships, the short course World Championships, and the Pan Pacific Championships. Franklin's 11 gold medals at the World Aquatics Championships is a record in women's swimming.
Out of the pool, Franklin had a cameo in the Anne Hathaway movie The Internship.
Claudia Fragapane
Olympic sport: Gymnastics
Age: 18
Home is: Bristol, England
Why we are watching: Fragapane made history by winning four gold medals for Team England at the Commonwealth Games.
Her first title taste of success came in 2011 when she picked up a bronze medal for the vault at the Junior British Championships. But it was 2014 when she made her name on the global stage, beginning with a team silver medal at the European Championships, followed by a historic success at the Commonwealth Games where she won four gold medals for Team England, including the all-around title. The wins made her the most successful English female gymnast at the games in 80 years.
Since then she has continued to make the podium in international competitions, landing a floor silver at the 2015 European Championships and a team bronze at the World Championships later that year.
Claudia is strong across all disciplines—earlier this year she won all-around gold at the British Championships—but look out for her in particular in the floor and vault competitions where she excels.
Becky Downie
Olympic sport: Gymnastics
Age: 24
Home is: Nottingham, England
Why we are watching: Downie has been the British senior women's all-around champion twice. She competed in the Beijing Olympic Games and finished in a British record 12th place in the all-around. In 2013 she was crowned English and British bars champion and made both the European and World bars finals. In 2014 Becky took beam gold and two silvers at the British Championships on the bars in the all-around competition and also the European bars title.
In 2015 she was part of the team that won team bronze at the World Championships, and also claimed bars and beam silver at the European Championships. As well as competing individually in Rio, Downie will be part of the artistic women's gymnastics team.
Along with five other pairs in Team GB, Becky competes alongside a sibling; her sister, Ellie, and her are known as the Double Downies.
Larissa Franca
Olympic sport: Beach Volleyball
Age: 34
From: Fortaleza, Brazil
Why we are watching: Since 2002, Franca, who is now one of the best volleyball players ever, has racked up no less than 57 FIVB (Federation Internationale de Volleyball) career gold medals and won the 2011 Beach Volleyball World Championships with teammate Juliana Felisberta. Despite retiring for two years after London 2012, she returned to the sport to team up with current partner Talita Antunes in 2014—and the pair won the 2015 FIVB Beach Volleyball World Tour.
Franca married fellow women's volleyball player Liliane Maestrini in 2013 and has the names of her family tattooed on her right arm, so they are with her during the game.
Lydia Ko
Olympic sport: Golf
Age: 19
Home is: North Harbour, New Zealand
Why we are watching: If you thought golf was all argyle sweaters and whiskey in the clubhouse, think again. Ko is still a teenager, but she has already made a name as one of the all-time greats in the golfing world. At 15, she became the youngest winner of a Ladies Professional Golf Association title and at 17, became the youngest player to be ranked number one. By age 19, she was the youngest ever two-times major champion—male or female. Rio 2016 is the first year since 1904 that golf has featured in the Olympics.
South-Korean born Ko loves karaoke and has been known to bet out Adele's Rolling In The Deep .
Nicola Adams
Olympic sport: Boxing
Age: 33
Home is: Leeds, England
Why we are watching: Nicola Adams, MBE is the first woman to win an Olympic boxing title. The gold-medal winner at flyweight at the 2012 Summer Olympics, Adams is the reigning Olympic, World, Commonwealth Games and European Games champion at flyweight.
She was the first-ever female boxing champion at both the Olympic and Commonwealth Games and is nicknamed the "Baby-Faced Assassin." Adams, who is openly bisexual, is seen as one of the most influential figures from sport in the LGBT community.
When not boxing, Adams enjoys snowboarding and watching her favourite film, Shrek .
Laura Trott
Olympic sport: Cycling
Age: 24
Home is: Essex, England
Why we are watching: Trott was hailed a hero at London 2012 when she became the first athlete to win not just one, but two Olympic gold medals on home turf—and she hasn't stopped climbing since. With 10 titles to her name by the end of last year, she's currently the most successful cyclist, male or female, in the history of the European Track Championships. She's also the reigning world champion in the omnium—an event consisting of six races of different lengths, held over the course of two days.
Trott took up the sport thanks to her mother, who started cycling to lose weight.
Ibtihaj Muhammad
Olympic sport: Fencing
Age: 30
Home is: New York, United States
Why we are watching: At a time when Donald Trump has called for a ban on Muslim immigration, Muhammad's religion has made her a lightning rod for attention.
As a child, Muhammad's parents encouraged her to fence, as a sport in which she could be comfortably fully covered. She began fencing at 13, and has not looked back since.
Muhammad has been a member of the United States National Fencing Team since 2010. She currently ranks number two in the United States and number eight in the world. She is a five-time Senior World medalist, including 2014 World Champion in the team event.
Outside sport, Muhammad launched her own clothing company, Louella, in 2014, to bring modest, fashionable clothing to the United States market.
Jessica Ennis-Hill
Olympic sport: Athletics
Age: 30
Home is: Sheffield, England
Why we are watching: Ennis-Hill's gold at London 2012 was an incredibly moving moment for sporting fans across the U.K. Now she is tipped for another win—and, as she is considering retiring after 2017, it could be her last.
Ennis-Hill has had obstacles to overcome over the four-year Olympic cycle. She gave birth to her first child, Reggie, in July 2014, and for months afterwards she was unable to lift objects above her head. Her early foray back into sport involved sessions on a wattbike in her garage between nursing sessions.
Ennis-Hill also knows the importance of these games. She missed out on competing in Beijing in 2008 due to stress fractures in her right foot. Her coach Toni Minichiello said she cried for seven days after pulling out.