The 2016 Olympics in Rio de Janeiro kick off on Friday. Michael Phelps, winner of a record 18 gold medals, will carry the flag for the Americans during the opening ceremony, which will take place in Rio's Maracanã Stadium. There will probably be fireworks and a lot of good old-fashioned pageantry too. Can you feel the excitement? Not really? You're not alone.
According to a new Gallup poll, only 48 percent of Americans plan to watch a "great deal" or "fair amount" of the Olympics, while 51 percent plan to watch "not much" or "none at all." These numbers mark a huge decline in interest from what Gallup has typically found since it began polling Americans about their plans to watch the Olympics in 2000.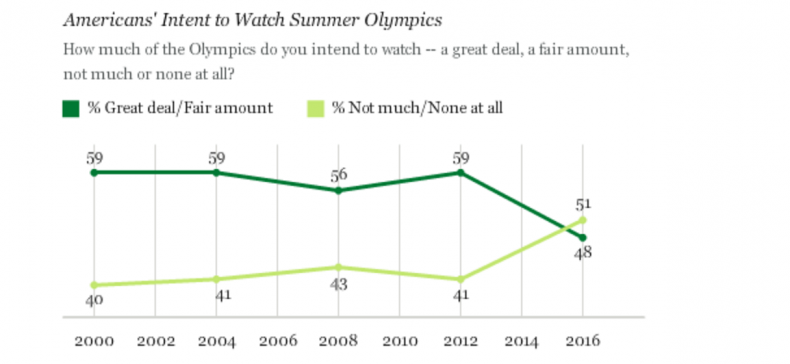 This is pretty remarkable, especially considering the consistency of interest in the four previous Summer Games. The Olympics offer pretty much the same thing every summer they come around. There is agony, ecstasy, triumph and defeat. There are inspirational stories. There are records broken. There are winners awkwardly biting their gold medals as if they expect to find chocolate inside.
As far as competition goes, it's virtually impossible for there to be a "bad" Olympics, like the chances of a "bad" Super Bowl or NBA Finals. There are simply too many events and too many athletes who have dedicated their lives to competing in them. No one is holding anything back. It's a goddamn inspiration, which is why people tune in every year. Which is why, in 2014, NBC paid $7.75 billion to carry the Summer Games through 2032. It's a ratings bonanza.
But this year no one is talking about the events or the athletes. Usain Bolt and Phelps are probably the two biggest names who will be competing, but both have already made history. Golf is an exciting new addition, but the top four golfers in the world—Jason Day, Jordan Spieth, Dustin Johnson and Rory McIlroy—have dropped out, ostensibly due to Zika concerns. The relative vacuum of on-the-field storylines has been replaced with dread over the mosquito-borne virus, pollution, decrepit conditions in the Olympic Village and performance-enhancing drugs. This isn't inspiring, it's terrifying, and for Americans who may or may not decide to spend their August watching the Olympics, it's a pretty big—and quite literal—turn-off.
The depressing stories coming out of Rio may not be the only reason for a potential dip in ratings. Although the Summer Olympics align with presidential election years, it's fair to say the American public may be a little more preoccupied than usual with this particular election. It's hard to get jazzed about running and jumping and swimming and diving when most of the country is convinced the world is going to end if things don't go their way in November. There's been an apocalyptic pall hanging over America the entire year, because of Donald Trump's doomsday rhetoric, because of the endless string of shootings and, of course, because of Prince's unexpected death. If this wasn't enough, zoo personnel shot to death a gorilla named Harambe, which in Swahili means coming together and helping each other.
Maybe the Olympics are just what America needs, then: a pure, unpoliticized parade of patriotism to remind us why we're really great. We are hardworking, we are industrious, and we can flat-out compete better than the rest of the world. This may be true, and this is what we need to be reminded of, but it also seems fitting that, given the first seven months of 2016, all we're hearing from such a unifying, inspiring event are stories about antibiotic-resistant superbacteria and shit-covered mattresses floating in Guanabara Bay.
It's far easier to wallow in this shit-news than to sift through it for meaning, especially when we're already so beaten down from the election and everything else that has happened this year. We may need the Olympics, but we may not have the energy. If they do indeed contain some helping hand of hope for the country, the numbers indicate that that hand is going to have to grab us from behind and pull us out of the mire itself. We can barely manage to even turn on the TV.
Uncommon Knowledge
Newsweek is committed to challenging conventional wisdom and finding connections in the search for common ground.
Newsweek is committed to challenging conventional wisdom and finding connections in the search for common ground.
About the writer
Ryan Bort is a staff writer covering culture for Newsweek. Previously, he was a freelance writer and editor, and his work has appeared at Esquire, Quartz, Paste, Grantland, VICE Sports, and elsewhere. He is originally from Dallas, Texas.