Why Are Olympians Eating So Much McDonald's in Rio?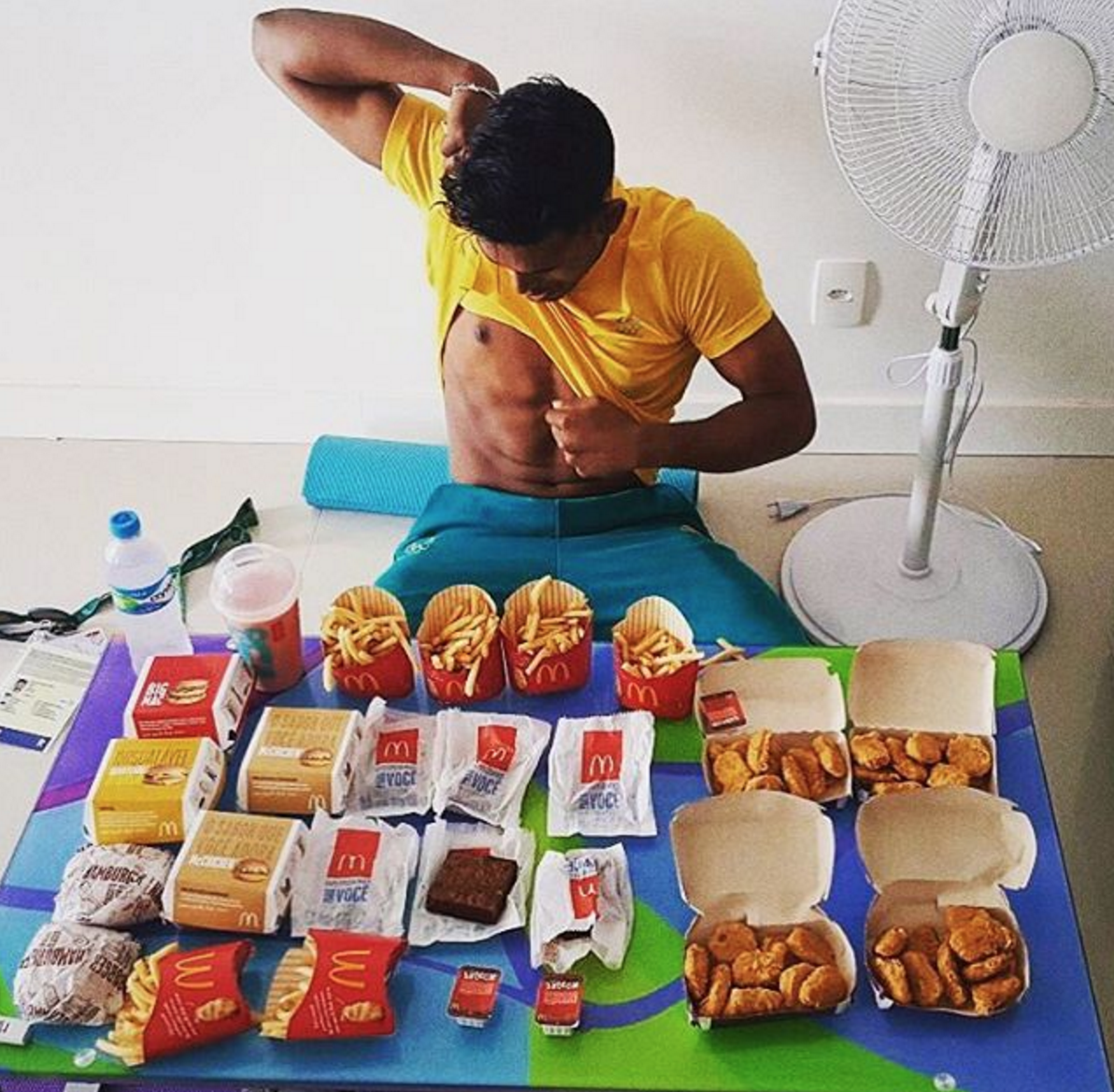 McDonald's is the official restaurant of the Rio Olympics. This means more than graphics of the Golden Arches and some Olympic-themed commercials dotting NBC's 19 days of coverage. No, McDonald's actually wants to make sure athletes are able to satisfy their Big Mac cravings while they are in Rio, a tradition that started in 1968 when the chain flew burgers to U.S. athletes competing in the Winter Games in Grenoble, France. Almost 50 years later, they've decided to go ahead and just open a McDonald's in the Olympic Village, where athletes can eat free of charge.
To those of us at home, this may seem like a hollow promotional gesture. Nutritional science has come a long way since 1968, and it's hard to believe the best athletes in the world would want anything to do with McDonald's as they go for gold. Are we really supposed to believe they're now going to ditch a healthy diet of grilled chicken and steamed vegetables for preservatives and empty calories, after they've come all this way?
Yes, apparently we are, because demand for McDonald's among the world's most finely tuned physical specimens has been so great that the Olympic Village location had to impose a cap on the number of items a single Olympian can order. That number is 20. If someone wants to order more, he or she can, but the restaurant is prioritizing orders of 20 items or less. This is really happening. What the hell is going on?
For one, there aren't many other options. According to The Washington Post, the Olympic Village also contains a cafeteria and a casual dining restaurant, but neither is very popular among athletes. So they go to McDonald's, where the line is so long that pictures of it—day and night—have been popping up on social media since the games began. At one point, according to the Post, it extended for the length of a football field.
If this is one of the only palatable food options, the long lines are understandable. There are nearly 18,000 athletes and coaches living in the Olympic Village this August. For a sizable queue to form, it doesn't take many of them craving a Big Mac for breakfast. What's astonishing is the quantity of food being ordered. Athletes routinely leave the location with dozens of burgers, nuggets and chicken sandwiches, which is why McDonald's was forced to impose the item limit. Check out the spread Australian badminton player Sawan Serasinghe sat down with after he and his partner were eliminated.
Serasinghe is not a weightlifter. He is a 174-pound 22-year-old who bats around a feathery ball with a racket that looks like a flyswatter. Why is he eating an entire table covered in 8,000 calories of junk food? "Now it's time to eat some junk food after months of eating clean!" he wrote. OK.
Maybe, then, these athletes are just overindulging after they either win their medals or are eliminated from contention. After living with such a strict diet for the months and even years preceding the games, they've certainly earned it. But this isn't necessarily the case. The Chinese basketball team has reportedly been feasting on Big Macs for just about every meal since arriving in Rio, and plenty of other athletes have made McDonald's their go-to refueling post.
Usain Bolt, recent winner of an unprecedented third consecutive 100-meter gold medal, was spotted brandishing some dipping sauce along with a 10-pack of chicken nuggets (and a six-pack of abs). Bolt famously claimed he ate 100 nuggets a day while competing in Beijing in 2008. That year he won three gold medals, setting the world record in each event.
Part of the reason Bolt downed so many nuggets in China was that he disagreed with Chinese food, and a similar reason might be behind why athletes have turned to the Golden Arches in Rio. McDonald's is not foreign to anyone, regardless of country of origin. It is comfortable. The athletes know what they are getting. The casual dining restaurant in the Olympic Village serves Brazilian food, and the cafeteria probably features a multinational menu. Considering the countless stories about Rio's polluted water, Zika and other problems athletes probably don't want to think about when they're eating, it's hard to blame them for favoring something as familiar and safe McDonald's over relatively dubious local fare. What's worse than eating a few unhealthy meals? How about getting sick and not being able to compete at all?
Then again, maybe Olympians are just relishing the opportunity to live out childhood fantasies of eating as much free McDonald's as they can stomach. After all, it's an aspiration that probably predates any dreams of winning a gold medal for their country.