People on Twitter Think 'Via Getty' Is the Name of a Capitol Rioter. It's a Photo Credit
Rioters breached the Capitol in Washington, D.C., during protests on Wednesday, and while inside, some people posed for photos that later ended up on Getty Images media library. When those photos surfaced on social media with the tag "Via Getty," some folks online believed the image credit was the actual name of a rioter.
It all started when Politico's chief White House correspondent Ryan Lizza shared a photo of a rioter inside the Capitol carrying a lectern. Lizza captioned it, "Via Getty, one of the rioters steals a podium from the Capitol."
One Twitter user who responded to the post was under the impression that "Via Getty" was the name of the man depicted in the photo. "BOOM! WE got one of these maga CHUDS! Via Getty look him up I bet he flunked out of high school and f**ks his sister! Via Getty that is his name let's get this guy and serve justice," the tweet read.
It wasn't long before several more people began referring to the man in the photo as "Via Getty."
Of course, Lizza's use of "Via Getty" was merely a way to credit the photo, which was originally shot by Win McNamee and shared by Getty Images, a global imagery licensing company. So once people started referring to the rioter as "Via Getty," others who were aware of Getty Images couldn't help but to poke fun at those who were not.
"A little bit of humor... Some people on Twitter think 'Via Getty' is the name of a protester as opposed to an acknowledgment that Getty Images own the photos showing the protests..." one person tweeted on Wednesday.
Another read: "Absolutely losing it over the fact that folks think this a**hole's name is 'Via Getty."
"This has to be the funniest/most embarrassing thing I've seen in a long time! These leftists saw a watermark with the words 'via Getty' on photos from Getty Images, and they seriously thought it was the guy's name," another Twitter user wrote.
Lizza later cleared up the confusion with another tweet confirming that "'Via Getty' is not a person."
"It just means that this photo comes via Getty Images," he added.
The man was actually identified as Adam Johnson, who lives in Parrish, Florida, with his wife and five children, according to a Bradenton Harold report on Thursday.
Following a day of mayhem at the Capitol, the FBI issued a request asking Americans to help them identify the individuals who were a part of the riot on Wednesday. The department is accepting tips, photos, videos any other information that can help them with their search.
"The FBI is seeking information that will assist in identifying individuals who are actively instigating violence in Washington, DC," the agency said in a statement on its website. "The FBI is accepting tips and digital media depicting rioting and violence in the U.S. Capitol Building and the surrounding area in Washington, DC, on January 6, 2021."
While thousands of rioters were wreaking havoc on Washington on Wednesday, D.C. Police Chief Robert Contee confirmed that only 52 people were arrested in connection to the event, including 26 who were captured on Capitol grounds.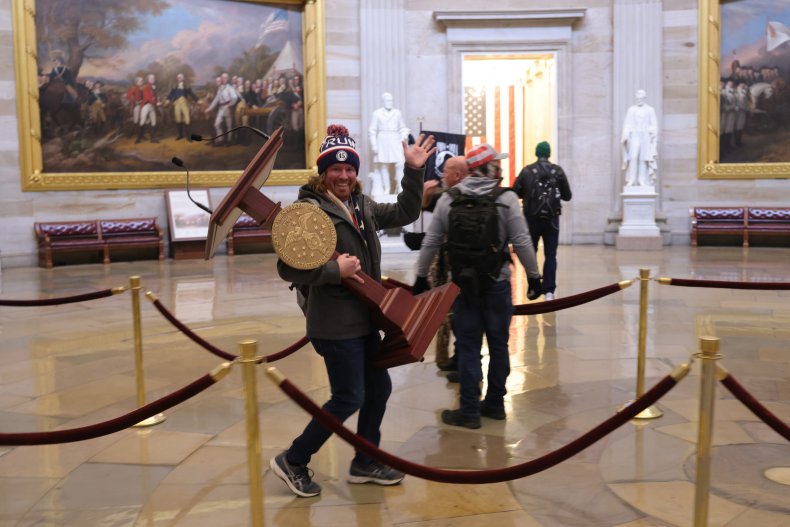 Updated 1/7/2020, 4:05 p.m. ET: This article has been updated to include Johnson's identity.