Riot Games Reveals 'Valorant' and Here's Everything We Know So Far About the FPS
The first person shooter from the company that brought us League of Legends has finally been revealed. Formerly known as Project A, Valorant is a five-versus-five tactical shooter where players take control of characters with unique abilities that can purchase weapons at the start of a round. It's a cross-between Counter Strike: Global Offensive and Overwatch, focusing on high-octane gameplay and precision to win over the match.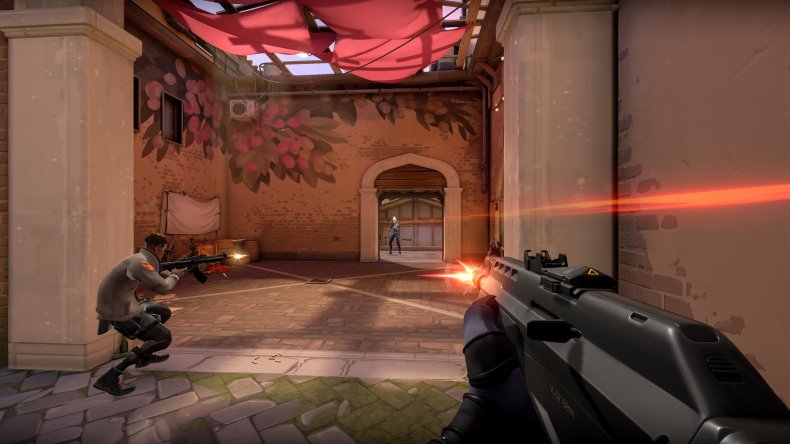 What We Know About Valorant
Valorant was officially revealed on Monday morning, with a brand new trailer and some gameplay being shown off. The expected release date is "summer 2020" which isn't that far away. Considering we still haven't heard anything new about Riot Games' other titles (like their fighting game), it's a pretty good sign that we are getting all of this information.
From the gameplay trailer, we can see that those five-man groups are tasked with either planting or disarming a futuristic bomb. To help with that mission, you'll have a series of abilities to mess around with, like clouds of smoke or a wall of poison that slowly damages over time. Each character has four abilities that they can use throughout a match. There's also a whole collection of weapons with sci-fi inspired names based on real-world armaments.
With this two-minutes of gameplay, we get a fairly good idea of what Riot is working on. The fast-paced nature of the shooter revolves around aim and precision, with many of the same skills from games like Quake and CSGO carrying over. According to lead game designer Trevor 'Classick' Romleski on Discord, players will be able to shoot through walls and recoil increases while moving.
Here's a list of the 17 guns shown off in the trailer that could appear at launch and what their real-world counterparts might be. These guns may not be the final weapons we get when the game launches.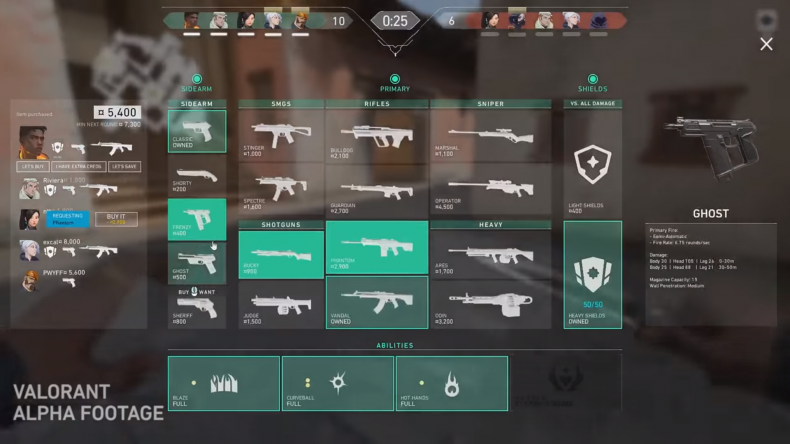 Classic- Handgun
Shorty- Handgun
Frenzy- Automatic Handgun
Ghost- Luger
Vandal- AK47
Guardian- DMR
Ares- Light Machine Gun
Odin- Heavy Machine Gun
Stinger- Sub Machine Gun
Bucky- Shotgun
Judge- Shotgun
Bulldog- Rifle
Phantom- Rifle
Spectre- MP5
Marshal- Level Sniper
Sheriff- Revolver
Operator- Bolt Sniper
Newsweek will have more information about Valorant in the near future.
Players looking for a new tactical free-to-play shooter are going to love Valorant. With Fortnite's childish aesthetic currently dominating the freemium scene, there's room for a new FPS to take the top spot. If the servers are stable and the gameplay is rewarding while still containing some challenge, then there is no telling what this game can do.