Even after the federal authorities declared the U.S. Capitol Building cleared of riotous protesters supportive of President Donald Trump, remaining mobs of protesters streaming across district and state lines pose a lingering threat that the officials say the federal government is failing to sufficiently address.
Washington, D.C. Mayor Muriel Bowser has mobilized the entirety of the District's National Guard force to quell violent demonstrations that disrupted congressional proceedings to certify President-elect Joe Biden. She has requested backup from neighboring Virginia, where Governor Ralph Northam has also declared a state of emergency as a result of ongoing unrest in the area.
But with no federal agency taking charge outside of federal property, one member of the D.C. National Guard currently on orders in the District, who spoke to Newsweek on the condition of anonymity, described a chaotic atmosphere that left the chain of command unprepared and unclear.
"What's most concerning is the lack of preparation here," the DC National Guard member said. "I don't know who in the chain of command dropped the ball. There was no plan and we were not in position when we needed to be."
With one woman shot dead during the siege, armed standoffs within the congressional chambers and multiple potential explosive devices discovered, the level of danger was clear, and the DC National Guard member felt irresponsibly placed in harm's way.
"We are also put at a needless risk," the DC National Guard member said, "going out to face a mass act of terrorism with no body armor or weapons."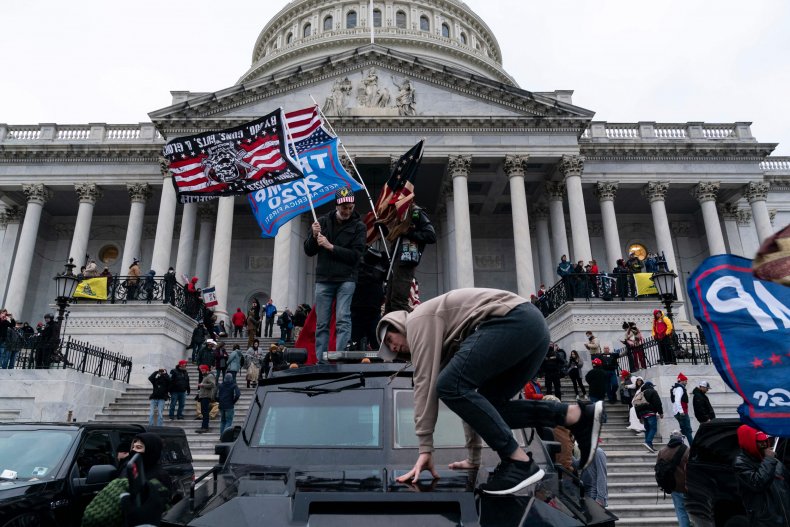 The storming of the Capitol following repeated calls by Trump to challenge Biden's electoral certification is the first attack on the building since British forces burned the iconic structure more than two centuries ago during the War of 1812.
"The rest of the world is waking up to images of the U.S. Capitol being seized," a senior U.S. intelligence official told Newsweek. "This has not happened since 1814."
While federal agencies have offered assistance, no agency has been designated to be the lead agency to an expanding threat.
Now scenes of related disorder are reportedly appearing in other cities including Los Angeles, where bloody brawls broke out between Trump supporters and members of the Black Lives Matter movement, and in Olympia, Washington, where armed protesters have attempted to break into Governor Jay Inslee's residence. Gunmen also gathered at the Oregon capital of Salem to support Trump's efforts to overturn his electoral loss to Biden.
The FBI is among the federal agencies responding to the riot, though their role—like other agencies—is limited to providing assistance to the U.S. Capitol Police tasked with protecting the legislative building.
"The FBI has been deployed to assist our U.S. Capitol Police partners as requested in protection of federal property and public safety," an FBI spokesperson said in a statement sent to Newsweek.
The Pentagon is also on standby. Acting Defense Secretary Chris Miller issued a statement activating the D.C. National Guard to assist Capitol Police and offer additional services.
"We are prepared to provide additional support as necessary and appropriate as requested by local authorities," Miller said. "Our people are sworn to defend the Constitution and our democratic form of government and they will act accordingly."
The Department of Homeland Security reported that its personnel were also assisting Capitol Police.
"Federal Protective Service and Secret Service have been requested to provide assistance to Capitol Hill Police. They are fulfilling that request," a DHS spokesperson told Newsweek. "The Department of Homeland Security has stood up the DHS Virtual Situation Room to facilitate department and interagency communication and coordination, as we do for many large events in D.C."
Trump offered conflicting messages to the crowd, first telling them to remain peaceful before asking them to return home and then praising their efforts via Twitter, which then locked his account. His actions have caused many in the Republican Party to turn on him and condemn his inflammatory rhetoric.
One of the president's former political appointees to DHS described the situation to Newsweek as "an embarrassment to conservatives everywhere."