Riots, Not Protests: The Media Is Gaslighting You | Opinion
Bad-faith media members tell you civil unrest in American cities are really peaceful protests. And when they do actually acknowledge violence, some media frame it as a direct result of President Donald Trump.
You are being lied to. It's an audacious attempt to gaslight the American public, as some media continue their effort to help defeat President Trump.
The Pacific Northwest is under siege. Nightly, riots overtake Portland. In Seattle, there were three costly and dangerous riots over the course of just a week. People are getting injured, and both businesses and public buildings are being destroyed or vandalized. And the media is pretending it's not really happening.
After 60-plus nights of literal nightly violence, in which Antifa, agitators and other criminal activists have tried to burn down a federal courthouse, Yale professor Dr. Phillip Atiba Goff told MSNBC that "the only people firing here are federal agents." He laughably claimed all the protests were peaceful, "and then all of a sudden federal agents show up and it's become violent."
In an interview with Seattle Mayor Jenny Durkan, Al Sharpton chided Trump for describing "what he deems as out-of-control protesters, though we've not seen that." Durkan responded by calling it "absolutely right." Two days before this interview, rioters burned down five construction trailers at the area's future juvenile detention center, destroyed a Starbucks and threw a munition at a police precinct. It was a riot.
This isn't just sloppy, neglectful coverage by media outlets unfamiliar with the Pacific Northwest. These statements are lies. It's a master class in gaslighting.
I've covered the demonstrations and they're anything but peaceful. But you don't have to be in Seattle or Portland to understand what's going on. A casual Twitter search yields video after video after video after video of the violence.
So why are we being told the violence isn't happening? It's part of a strategic campaign to push back against Trump's re-election.
Some members of the media don't hide their disdain for President Trump. I suspect many are angry that they gave then-candidate Trump so much airtime for his speeches in 2016. They thought the speeches would bury his chances, ensuring the anointed Hilary Clinton would ascend to the highest office. That strategy didn't work out well for them; now, they're looking to bury his re-election chances to atone.
But Trump's instincts to highlight the lawlessness in American cities—which extends far past the Pacific Northwest—is a winning political message. No matter your stance on any specific issue raised by protestors, your average American sees the folly of allowing fringe, radical socialists and Marxists to destroy property.
And if you're politically moderate, alternating the parties you support based on the issues you find important at the time of the election, it's an easy decision: If you value safety and law and order, Trump is the brand you go with. Joe Biden? His brand owns the lawlessness. It's his voters burning down businesses and attempting to kill or maim cops. So the media will come to Biden's defense, as he hides out in his Delaware home.
What violence, viewers may ask? You won't catch many videos of destruction and vandalism on CNN or MSNBC, after all, even though the media generally enjoys those kinds of attention-grabbing images. But you'll catch plenty of talking heads downplaying or ignoring the violence.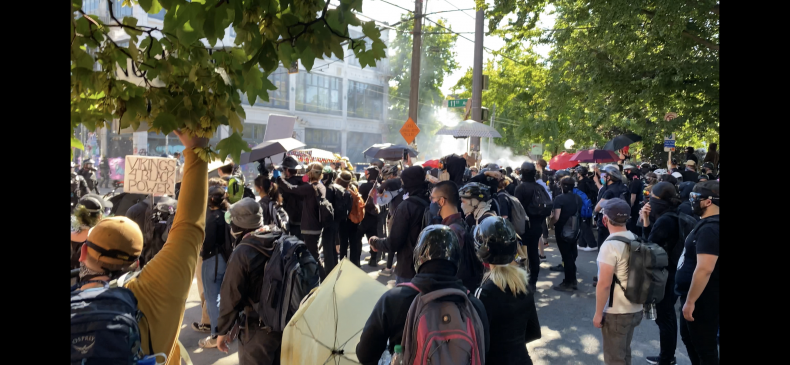 When they do acknowledge the violence, they shift the narrative to a partisan Democratic talking point: President Trump is to blame! Trump had the audacity to send federal law enforcement officers to protect federal property in Portland and Seattle.
In the Rose City, the criminal agitators have been unrelenting in their assault against the property and the officers inside. This, too, is being blamed on Trump—even though the nightly violence unfolded for weeks prior to federal agents' arrival.
While agents weren't used in the Emerald City, with rioters smart enough to stay away from the federal courthouse this past weekend, Durkan blamed Trump for the violence anyway. The riot, which Durkan called "peaceful," followed almost the exact same pattern as the two riots earlier in the week. Those riots occurred before the city even learned federal agents were coming.
The media doesn't just pick up this revisionist history—it lets go unchallenged even more sinister talking points.
On CNN, Mayor Durkan claimed Trump was sending federal agents into cities as part of a "dry run for martial law." The scripted line was repeated on MSNBC.
This line is coordinated. Indeed, other politicians and media members are now using this talking point to scare voters away from Trump. The idea is to challenge our perceptions that Trump is here to protect us and restore law and order. Quite the opposite, he will use law enforcement to enslave us. After three and a half years of this kind of alarmist, dangerous rhetoric, one wonders if the Democrats will learn this tactic doesn't work.
But we can't be too careful. The casual consumer of news may pick up on the nonsense some media outlets continue to push. So we all need to fight back.
The best way to push against the media-aided Democratic strategy is to amplify the voices that tell you the truth about what's happening on America's city streets. There are plenty of images on Twitter and Facebook to retweet and share. There are plenty of pieces written for you to email to friends and family. Tucker Carlson Tonight posts nightly videos exposing the violence on city streets—share them. And, of course, do the same with this Newsweek column.
Do what some media outlets won't do: Spread the truth.
Jason Rantz is a frequent guest on Fox News and is the host of the Jason Rantz Show on KTTH Seattle, heard weekday afternoons. You can subscribe to his podcast here and follow him on Twitter @jasonrantz.
The views expressed in this article are the writer's own.