RIP Alex Trebek: Tributes Pour in to Commemorate Life and Career of 'Jeopardy!' Host
Television personality and beloved Jeopardy! host Alex Trebek passed away on Sunday, after a lengthy battle with pancreatic cancer. He was 80 years old.
"Jeopardy! is saddened to share that Alex Trebek passed away peacefully at home early this morning, surrounded by family and friends. Thank you, Alex," the long-running game show wrote in a message shared on social media around 12:30 p.m. ET.
Trebek began his tenure as Jeopardy! host in 1984, when the show first launched its revival. He became a fixture of the popular quiz series over several decades on air, and decided to continue working as host even after receiving his Stage 4 cancer diagnosis early last year. Trebek announced the diagnosis in May 2019.
Tributes commemorating Trebek's life started to pour in shortly after the news of his death surfaced on Sunday.
"Words can't even describe what a tremendous loss this is for our JEOPARDY! family," wrote Steve LoCascio, president of CBS Television Distribution, the game show program's distributor, in a statement. "Not only was Alex a television icon, but he was one of the most genuine, kind, caring people you could ever know. The way he openly and bravely battled cancer, while continuing to host the show, was a true inspiration."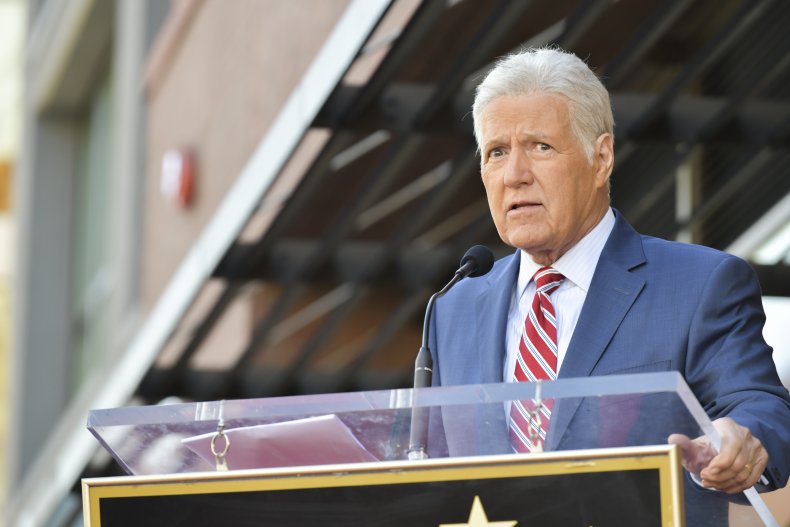 Numerous celebrities, journalists and fans shared similar sentiments about Trebek's career success and character over the hour that followed Jeopardy!'s announcement confirming his passing.
"I was obsessed with Jeopardy as a nerdy kid growing up in Ohio," tweeted John Legend. The musician added: "I've loved and revered Alex Trebek since I can remember. What an iconic career. RIP Alex Trebek."
In another commemorative post, Ryan Reynolds recalled his interactions with Trebek when the host filmed his cameo appearance in Free Guy, an upcoming comedy film that Reynolds co-produced. Trebek is seen briefly in the film's trailer.
"Alex Trebek was kind enough to film a cameo for our film free Guy last year despite his battle," the actor wrote. "He was gracious and funny. In addition to being curious, stalwart, generous, reassuring and of course, Canadian. We love you, Alex. And always will." Like Trebek, Reynolds is Canadian-American.
Ken Jennings, famed Jeopardy! contestant, posted a tribute to the host: "Alex wasn't just the best ever at what he did. He was also a lovely and deeply decent man, and I'm grateful for every minute I got to spend with him."
Adding to the countless messages from Jeopardy! viewers that flooded Twitter throughout the early afternoon, reporters shared anecdotes about past conversations with Trebek, some during interviews.
"Clue: A class act. The consummate professional. Came into our living rooms for almost four decades. A kind and generous gentleman. Answer: Who was Alex Trebek," wrote Ana Navarro-Cárdenas—who co-hosts The View and appears in commentating roles on multiple networks, including CNN, ABC News and Telemundo—in a memorial tweet that played off the Jeopardy! format.
"Rest In Peace, Sir," she finished.
Since his cancer diagnosis, Trebek periodically provided Jeopardy! fans with health updates, while continuing to prioritize his work on the series. This past March, the host spoke candidly about chemotherapy in a video message reflecting on one year of treatments.
"Now, I'd be lying if I said the journey had been an easy one," Trebek said in the video, which saw him dressed in his typical suit-and-tie apparel while speaking from the Jeopardy! set.
The personality touched on "moments of great pain" before ultimately leaving viewers with words of strength and hope—specifically directed at others who might be going through something similar— as he had previously, and continued to do during the months that followed.
"If we, because so many of us are involved in this same situation, if we take it just one day at a time with a positive attitude, anything is possible," he said. "I'll keep you posted."
Updated 2:01 PM ET, with additional information.