Former Beatles Members, Others Pay Tribute to Late German Photographer Astrid Kirchherr
Beatles drummer Ringo Starr and the estates of John Lennon and George Harrison paid tribute to German photographer Astrid Kirchherr, who reportedly died in Hamburg, Germany on Tuesday at 81 years old.
Kirchherr is perhaps best known for her early photographs of the Beatles while the band played clubs in Hamburg during their early years pre-Beatlemania. The photographer is often cited as the source of the band's iconic mop-top haircut during their early years. She dated then-bassist Stuart Sutcliffe, giving him the haircut that later became associated with the band.
Following the photographer's death, Starr shared a photo of the band with Kirchherr. "God bless Astrid a beautiful human being And she took great photos peace and love," he wrote. The band's original drummer Pete Best also wrote a tribute to the photographer. Harrison's estate wrote that Kirchherr was loved by the whole family, including the Beatles guitarist.
During an interview with Retro Sellers, Kirchherr said that she was asked about the band's haircuts the most, despite it only being a fraction of why they're successful. "Of course it's their haircut which I do get furious sometimes because it has got nothing to do with the genius of the Beatles. That was just a little tiny part which helped them to put them on their way," she said.
During a 2008 interview with National Public Radio, Kirchherr said that she had an instant connection with Sutcliffe, who died in 1962. "When I saw him for the first time, I knew that was my man," she said. "He was and still is the love of my life, even though he's gone for such a long time. I never ever--and I was married a couple of times--met another man who was so fascinating, so beautiful, and so soft and well-mannered, you name it, and that he was."
Beatles biographer and historian Mark Lewisohn announced her death on Twitter on Friday. "Danke schön, Astrid Kirchherr. Intelligent, inspirational, innovative, daring, artistic, awake, aware, beautiful, smart, loving and uplifting friend to many. Her gift to the Beatles was immeasurable. She died in Hamburg on Wednesday, a few days before turning 82. RIP," he wrote, later writing another tweet stating that she'd died on Tuesday.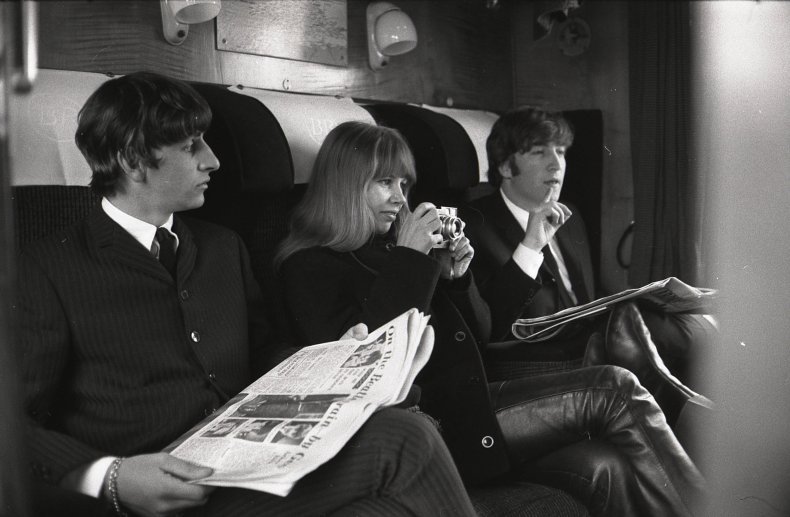 Other tributes poured in on Twitter from fans and celebrities. Lennon's son Julian also wrote "Rest in Peace Astrid" on his Twitter. Paul McCartney's guitarist and bassist Brian Ray also wrote a tribute to the photographer on his Twitter, mentioning the haircut origin.
Fans shared photos of her with the band and some of the iconic pictures she took of the band. "[S]he has finally been reunited with her Stu," one fan wrote.