Actor and comedian Carl Reiner died on Monday night in his Beverly Hills Home at 98.
According to TMZ, the actor was surrounded by family. Over the course of his lengthy career, which began with a 1948 appearance on The Fashion Story, Reiner won 7 Emmy Awards and is dearly remembered for his numerous television appearances and his work with comedy icon Mel Brooks.
In his prolific career, Reiner had numerous film appearances including in the Ocean's film series and as the voice of Carl Reinerocerous in Toy Story 4.
Here are seven of the most memorable Carl Reiner TV moments to remember him by, be it with Mel Brooks or all on his excellent lonesome.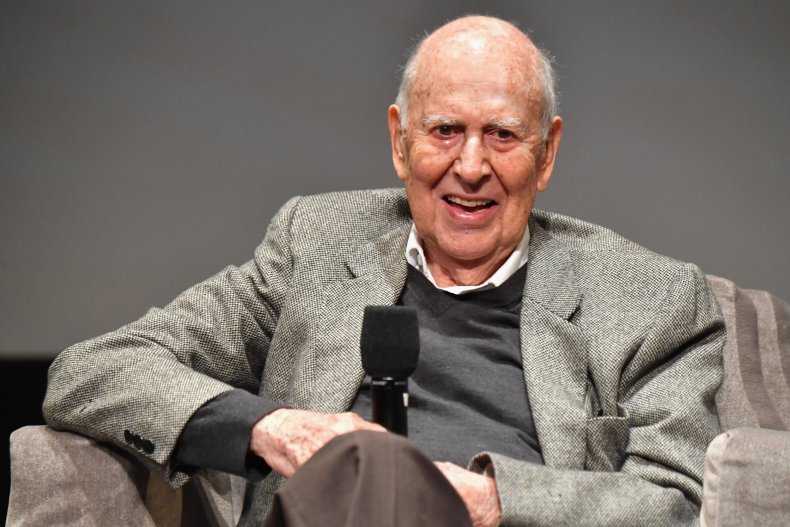 The Dick Van Dyke Show-Yale Sampson
While Reiner most consistently played the often-unseen Alan Brady throughout The Dick Van Dyke Show's run, he also had a series of characters that he performed throughout the series, as well as having a hand in creating the show. One of his most memorable characters was the fast-talking, gibberish babbling Yale Sampson. Van Dyke's Rob Petrie puts it best that Reiner's character is merely good at saying things that "seem vague, but are in reality, meaningless."
"The 2000 Year Old Man"
Reiner played the straight man to Brooks's ancient character asking him questions about the origins of different worldly behaviors and items. Even though the focus is on Brooks, Reiner's setups are essential for the 2000 year old man's eccentricities. The pair later revived the duo with an update for The Tonight Show in 1997.
Smothers Brothers Comedy Hour
Regularly appearing on variety shows, Reiner had a few characters of his own. In a sketch for the Smothers Brothers, Reiner parodied how different commercials would appear in Germany and Italy. In the sketch, Reiner delivers spot-on accents while also showing off his mastery of both prop and physical humor.
"Phillip J. Heinker"
While it's easy to get lost in Brooks' various characters and impressions, Reiner was a straight man who could play off Brooks' consistently ludicrous characters like the taxman Phillip J. Heinker. Playing the optimistic interviewer, Reiner just tries to get the record straight on exactly who Heinker is and how he's managed to beat taxes.
Two and a Half Men-Marty Pepper
While Reiner is best known for his various silly performances, his brief time on CBS' Two and a Half Men shows a raunchier, grumpy comedic edge. As TV producer Marty Pepper, Reiner drops dirty jokes about Lucille Ball and snarks at Holland Taylor's Evelyn Harper when she introduces him to her sons.
CONAN
Even in his more recent TV appearances, Reiner was just as engaging and funny as ever. Telling stories about comedian George Burns and Dick Van Dyke Show newcomer Mary Tyler Moore, Reiner could still hold an audience's attention with a dirty joke or telling Conan O'Brien about what it was like to write early sitcoms.