Rip Currents Kill Three in North Carolina on Same Day: What To Do If You Get Caught in One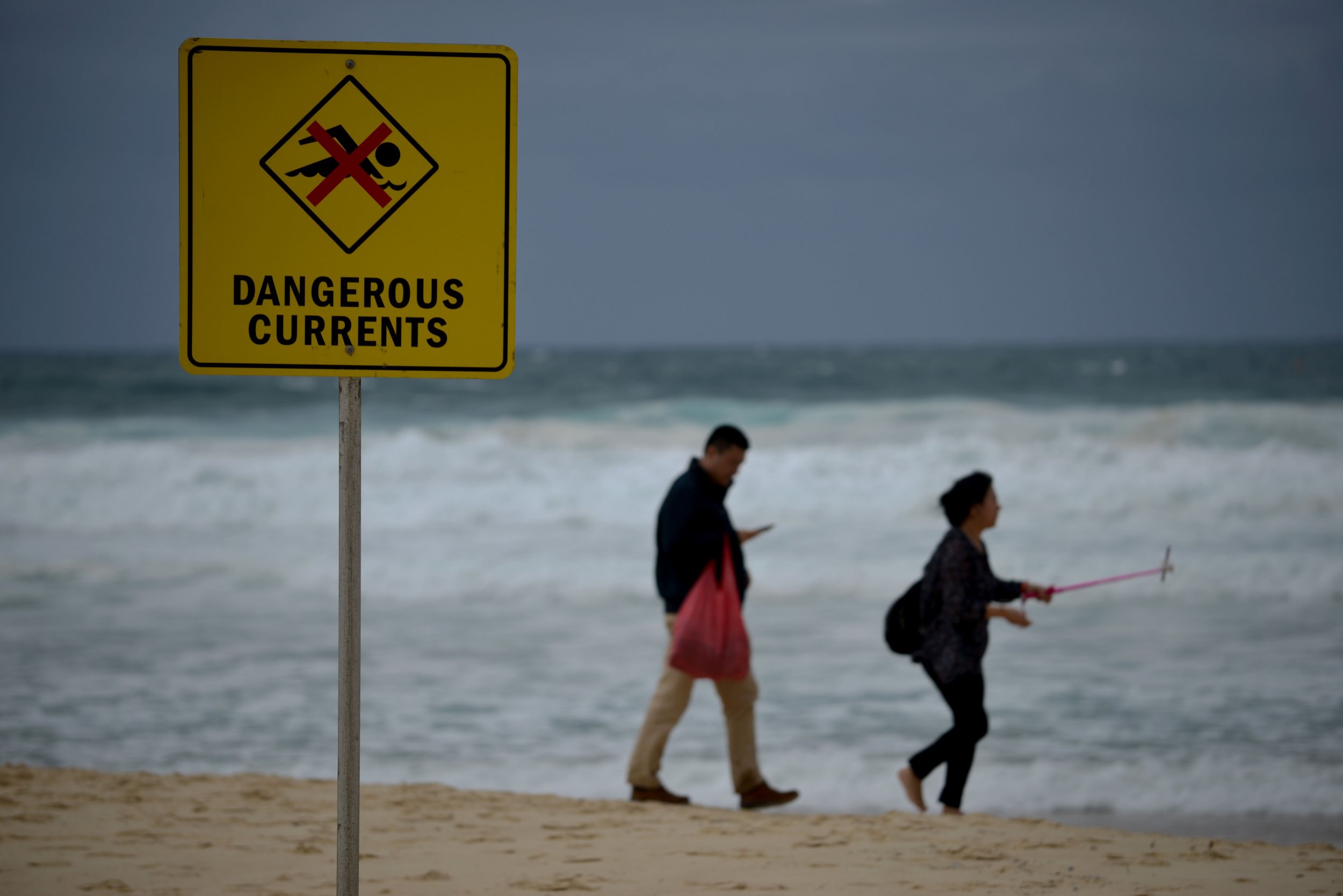 On Saturday, three people were killed after getting caught in rip currents off the coast of three different North Carolina beaches. When it comes to rip currents, the actions a person takes in a split-second moment can mean the difference between life and death.
Rip currents are "powerful, channeled currents of water flowing away from shore," that cause an estimated 100 deaths per year, according to the United States Lifesaving Association (USLA). Over 80 percent of beach lifeguard rescues are due to rip currents—and they aren't confined to the ocean, either. A rip current can occur at any beach with breaking waves, including lakes.
USLA media representative Tom Gill explained to Newsweek that the best way to survive a rip current is to swim on a lifeguarded beach and stay calm. Lifeguards are trained to spot rip currents and the height of stands on the beach gives them a vantage point high enough to see where danger is lurking.
Similar to the eye of a hurricane, the place where the surf is calmest can signal the most dangerous spot to be in a rip current. Waves breaking in the ocean mean there's a sandbar, so if the ocean is very calm, it's likely that the sandbar has broken down and water is rushing out to sea.
If you do find yourself in a rip current, Gill stressed that it's vitally important to scale back your panic, remain calm, and find a way out. Contrary to the popular word of advice, he said, swimming sideways isn't always the best method of escaping a rip current.
"If you do get caught, stay calm, float, and at some point, you'll get dropped onto the sandbar or catch a wave and send yourself back in," Gill explained. "If you can float, you can survive a rip current. If you can't float, you shouldn't be in the water."
A good indication that you've floated outside of the major rip current and have reached a sandbar is when you reach a part of the ocean where waves are breaking.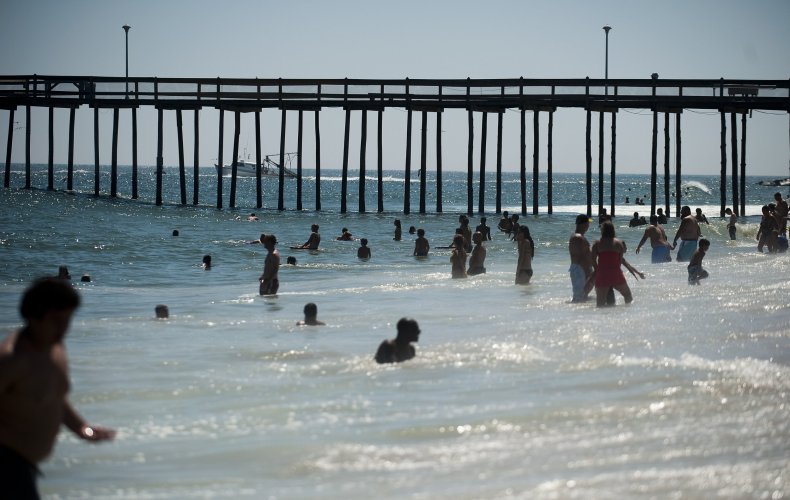 Swimming parallel to shore is still advisable, but primarily for someone who's a strong swimmer. For those who aren't strong swimmers, there's a good possibility they could tire themselves out swimming before they find their way out of the current. Exhaustion, combined with fear and panic, "leads to drowning," Gill said.
Plus, a rip current doesn't run perfectly perpendicular to the shore. They can curve, go in an S formation, and angle, so swimming sideways doesn't always mean you're escaping the rip current's path. While panic is a natural reaction, Gill told Newsweek that making it back to shore is highly dependent on a person being "composed enough to wait it out."
When a lifeguard spots someone in a rip current, they're able to use the rip current to assist them in reaching the swimmer. Then, when the victim is securely on a flotation device, their training enables them to find the best means of escaping the dangerous situation. During emergencies, time is extremely valuable and Gill told Newsweek that when the lifeguard leaves for the day, so should beachgoers.
He added that lifeguards leave the beach in the evening, which is when it's "dinner time for everybody," including sharks, so it's smart to stay landside.
"If the lifeguard goes off duty it's time to go enjoy your vacation and get an umbrella drink," Gill said. "It's just not safe."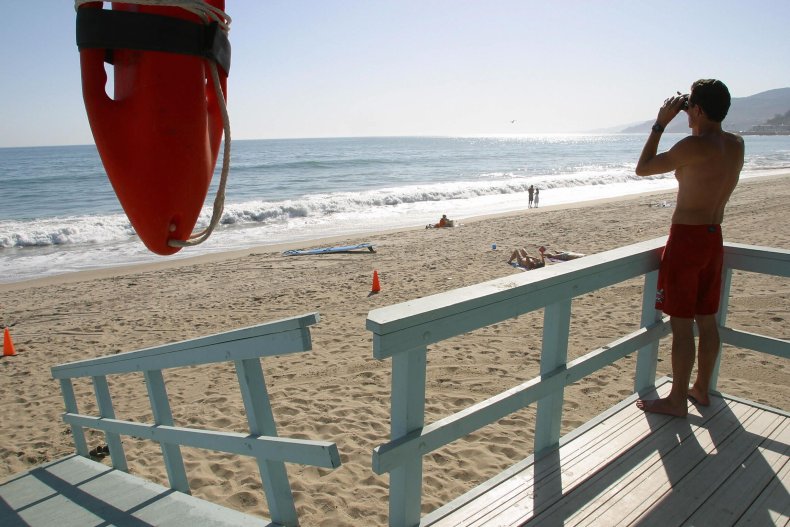 For those who are on the beach and see someone in the water in distress, Gill urged people on shore to call 911 and not enter the water themselves.
"Citizen rescuers time and time again are becoming the fatality," he said. "We absolutely honor the people who want to help others but they are putting themselves in incredible, incredible risk."
On Saturday afternoon, a "citizen rescuer" lost his life on Sunset Beach, North Carolina, after entering the water to save someone else, according to the Star-News. The person who the man went into the water to save was reported to be fine.
Earlier that day, about 60 miles away, a Wrightsville Beach lifeguard spotted a man in distress in the water, however, when the lifeguard reached the man, he was not breathing.
"He was a passive victim, which means he was not breathing or conscious when they arrived to him," Wrightsville Beach Fire Chief Glen Rogers told the Star-News. "They initiated their treatments while still in the water, which involved mouth to mouth."
Emergency officials performed CPR on the man once he was brought to shore, but the man was pronounced dead on the scene. Coastline Rescue Chief David Robinson told WRAL that on Saturday, a surfer also pulled a 20-year-old man believed to have gotten caught in a rip current, from the water off the coast of Holden Beach.
On Thursday, another man died after entering the water in an attempt to save three young men who were caught in a strong current, according to WVEC. Eleven people have drowned in the ocean off North Carolina in 2018 so far.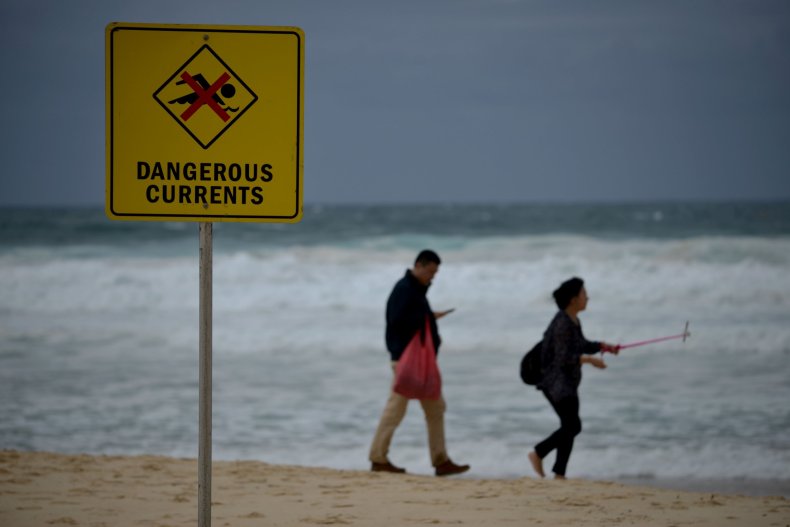 Rip Currents Kill Three in North Carolina on Same Day: What To Do If You Get Caught in One | U.S.