Legendary Rocker Eddie Van Halen Dead at 65, Announces Son Wolf Van Halen
Rock and heavy metal innovator Eddie Van Halen has died at age 65 following a battle with cancer.
The founding Van Halen guitarist's death was announced by his son Wolfgang Van Halen, who also played bass in the band, in a tweet on Tuesday.
"He was the best father I could ever ask for. Every moment I've shared with him on and off stage was a gift," he wrote.
"My heart is broken and I don't think I'll ever fully recover from this loss," he continued. "I love you so much, Pop."
Van Halen's ex-wife Valerie Bertinelli responded to her son's tweet with a series of broken hearts.
Van Halen battled cancer since the early 2000's. According to Billboard, the musician confirmed that he was diagnosed with the disease in 2001. In October 2019, TMZ reported that he had been traveling between Germany and the United States for five years to receive treatment for throat cancer.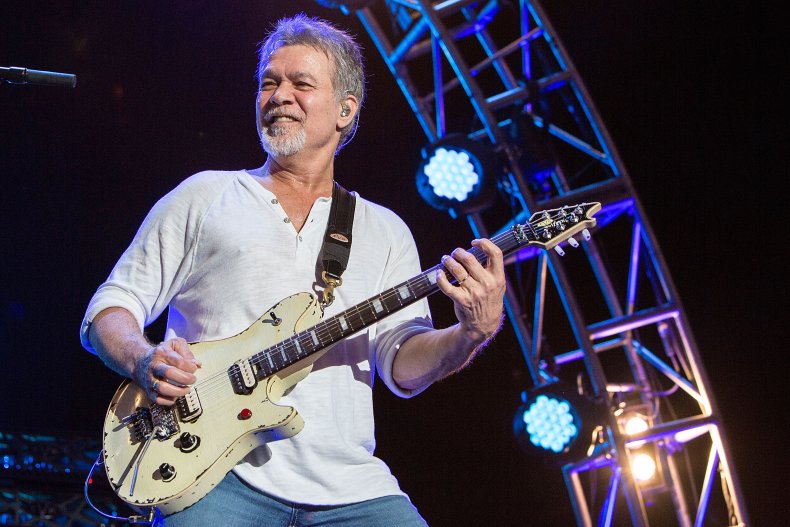 The rocker is best known for starting the band which bares his last name with his brother Alex Van Halen, who played drums in the band. The group released their debut self-titled album in 1978 with vocalist David Lee Roth and bassist Michael Anthony. The band had a number of hits including songs like "Runnin' With the Devil", "Unchained," and a cover of The Kinks' "You Really Got Me."
The band fused hard rock and pop seamlessly, but its trademark was Van Halen's shredding ability, which mostly utilized a finger tapping technique that wasn't yet regularly heard in hard rock and heavy metal. The technique has since become a staple in hard rock and heavy metal, being used an incorporated by a number of musicians since Van Halen's self-titled debut record.
As the band continued into the 80s, the guitarist began incorporating synthesizer into its sound, leading to what would eventually be what may be the band's most famous and recognizable song "Jump." Even after Roth's departure 1985, Van Halen's guitar playing abilities still shined through alongside new vocalist Sammy Hagar.
Despite Van Halen being his prime focus, the guitarist still offered his talents to a number of projects besides the hard rock giants. His most famous non-Van Halen project was easily contributing the lead guitar solo in Michael Jackson's hit song "Beat It" off his best-selling album Thriller.
EVH married actress and model Valerie Bertinelli in 1981, but divorced in 2007. The two had their son Wolf in 1991, who would later join the band alongside his father and uncle in 2007, playing bass for the band's reunion tour with David Lee Roth. Van Halen married Janie Liszewski in 2009.
Correction: An earlier version of this story stated that Van Halen married Janie Liszewski in 2008. They were married in 2009.