RIP Honor Blackman: Twitter Reacts to Losing Pussy Galore, The Ultimate Bond Girl
Actress Honor Blackman passed away in Lewes, East Sussex at the age of 94, due to natural causes. The English actress is known for her iconic portrayal of Pussy Galore in the 1964 James Bond film, Goldfinger.
In 1962, Blackman co-starred with Patrick Macnee in the popular British show, The Avengers. After playing crimefighter Cathy Gale, Blackman then appeared two years later in the Bond movie. At first, Galore assisted the diabolical Goldfinger in robbing Fort Knox. She then switched sides and helped the British spy, played by Sean Connery, defeat the greedy tycoon.
Blackman's family released this statement to the BBC, "As well as being a much adored mother and grandmother, Honor was an actor of hugely prolific creative talent. With an extraordinary combination of beauty, brains and physical prowess, along with her unique voice and a dedicated work ethic, she achieved an unparalleled iconic status in the world of film and entertainment."
"We ask you to respect the privacy of our family at this difficult time," the statement concluded.
Blackman is survived by her daughter, Lottie Kaufmann, her son, Barnaby Kaufmann, and four grandchildren, per The New York Times.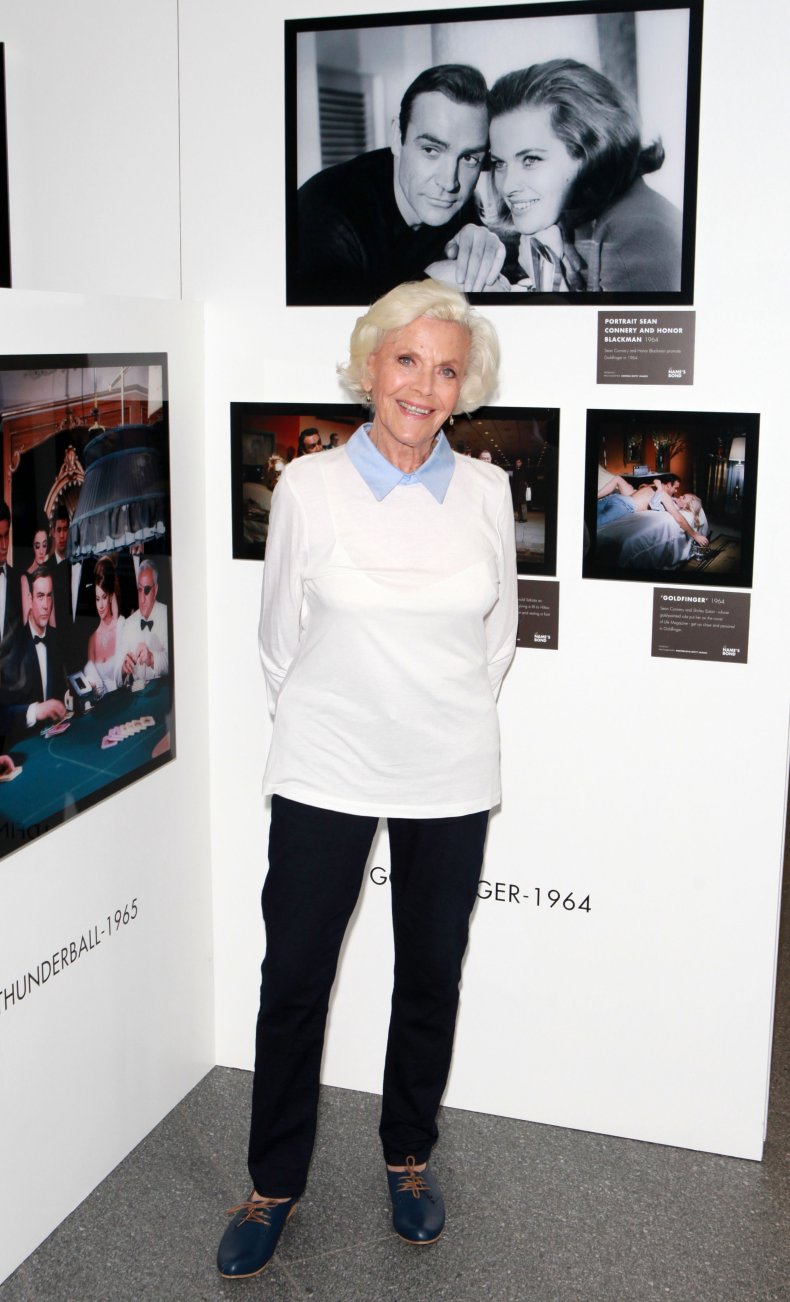 Check out how Twitter reacted to the news of losing Pussy Galore:
@steve_jennings tweeted, "Being a man of a certain age I have always been in love with Honor Blackman. Goldfinger will always be the ultimate Bond movie for me. Rest in peace Pussy Galore."
@barbrady1 stated, "RIP Honor Blackman. Best Bond girl ever. Met her a few years back she was lovely."
@simon_dukey mentioned, "RIP Honor Blackman. Bond girl and the star of one of my favorite TV shows of all time, The Upper Hand.
@agendadebonaire picked Blackman as their "favorite Bond Girl."
@KelE_79 said, "Pussy Galore. Best Bond girl ever. Good night, Honor Blackman."
@DrWeasel38 added, "So sad. A fantastic actress. I met her once and she was lovely. My thoughts go out to her family and friends."
@Stewpot also stated, "Farewell to Honor Blackman who has died at the age of 94. She played Cathy Gale in The Avengers and James Bond's Pussy Galore."
@facaldaqui bid his farewell, "RIP Honor Blackman. She had the lot. Talent, brains, a body off the Scoville Trouser-Twitch Scale, and the face of an oversexed Professor of Neuroscience. One look at her and men started gabbling nonsense, hence this tweet."