Football legend John Madden has passed away at the age of 85, the National Football League (NFL) announced Tuesday.
"We all know [John Madden] as the Hall of Fame coach of the Oakland Raiders and broadcaster who worked for every major network, but more than anything, he was a devoted husband, father and grandfather," said NFL Commissioner Roger Goodell.
"Nobody loved football more than coach. He was football. He was an incredible sounding board to me and so many others," Goodell continued. "There will never be another John Madden, and we will be forever indebted to him for all he did to make football and the NFL what it is today."
A cause of death has not been released, but the NFL said that Madden died "unexpectedly."
Known as one of the most famous personalities in the game, Madden was the head coach of the Oakland Raiders for nine years, winning Super Bowl XI in 1976. Under his tutelage, the Raiders became an NFL powerhouse, winning the AFC West division six out of eight years and racking up 103 regular-season wins, the most in franchise history.
He ended his time on the sidelines, stating he didn't have the energy to coach anymore, with a .759 win percentage, the highest in NFL history. Madden's illustrious NFL coaching career earned him eventual enshrinement in the Pro Football Hall of Fame in 2006, long after he left the Oakland sidelines.
Madden moved further into the public consciousness after coaching thanks to television screens. He was a gifted broadcaster, intent on explaining the game while also maintaining a level of humor and playfulness. He became synonymous with delivering an exultant "Boom!" following a big hit or block. Madden also often turned to the telestrator to demonstrate plays on-screen the way a coach would in the locker room.
He also became one of America's most prominent pitch men. Brands found Madden's high-energy style and mix of folksiness an alluring combination for alcohol and food commercials.
Throughout his nearly three decades behind the mic, Madden worked as a color commentator for all of the NFL's major networks: CBS, NBC, Fox Sports, and ABC. His pricey move to Fox after the then-startup cable news operation wrangled NFL broadcasting rights from CBS signaled the company's level of seriousness when it came to delivering the NFL to viewers.
Much like the NFL, Madden also became synonymous with football on Thanksgiving. He distributed postgame turkey legs to those who played well in the game he broadcast. For more than a decade, he delivered a turducken—part chicken, part duck, part turkey—to players on the winning team.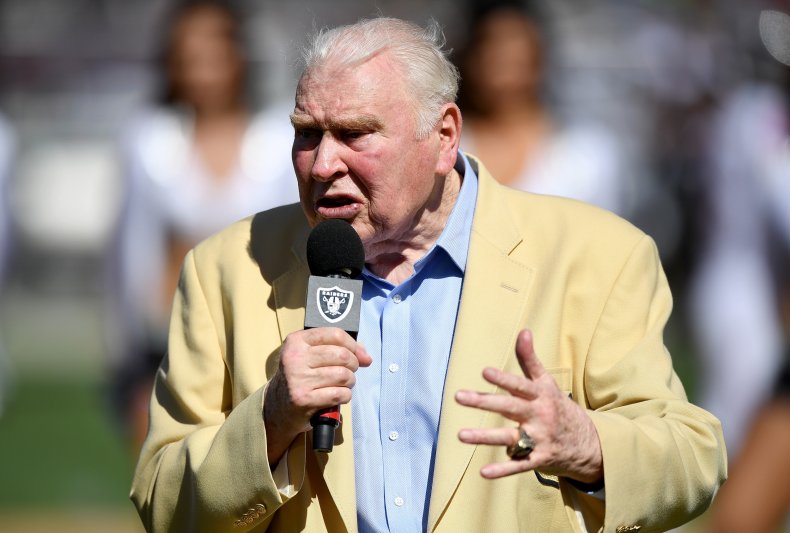 In addition to his coaching and broadcasting, younger fans will likely remember Madden as the namesake for the NFL's licensed football video game, Madden NFL. The series, originally known as John Madden Football, was first released in 1988 and has become one of the best-selling video game franchises of all time.
The franchise evolved into colloquially being referred to as simply "Madden" by generations who played. Being on the video game's cover became an element of bragging rights for numerous NFL players from the 90s to the current day. When launched in the late 1980s, video games were less about emulating actual on-field play and more about sheer entertainment. Madden NFL was so well-received, in part, because of Madden's demand it comes as close as possible to real football in both gameplay and presentation.
In the aftermath of Madden's death, many football fans and NFL personalities alike paid tribute to the titan of the game.
Dallas Cowboys owner Jerry Jones, who reportedly considered Madden "a dear friend," released a statement saying that he had created a "legacy of love."
"I am not aware of anyone who has made a more meaningful impact on the National Football League than John Madden, and I know of no one who loved the game more," Jones wrote. "For me he was a trusted confidant, advisor, a teacher and above all, a very dear friend. When he walked into the room it was a better day."
"There is no one who lived a more beautiful football life than John Madden," Jones added.
The former Oakland Raiders, the team Madden coached to greatness, released a statement saying that they were "saddened" by his death.
"Few individuals meant as much to the growth and popularity of professional football as Coach Madden, whose impact on the game both on and off the field was immeasurable," the team, now known as the Las Vegas Raiders, stated.
In the past, the NFL has often recognized Madden's achievements, and continued to do so even after his retirement from broadcasting in 2009.
Just three days ago on Christmas, Fox Sports released a documentary on the football mogul called All Madden. The program was a dive into "Madden's extraordinary impact on America's most popular sport, the indelible mark he made on broadcast television and how he revolutionized the video game industry," according to Fox Sports.
Madden is survived by his wife, Virginia, and two sons, Joe and Mike.
Uncommon Knowledge
Newsweek is committed to challenging conventional wisdom and finding connections in the search for common ground.
Newsweek is committed to challenging conventional wisdom and finding connections in the search for common ground.