Celebs Mourn the Passing of TV Legend Regis Philbin: 'We Were Beyond Lucky to Have Him'
Television icon Regis Philbin died on Friday of natural causes at 88 years old.
Philbin's family confirmed the TV host and actor's death to People in a statement Saturday. "We are deeply saddened to share that our beloved Regis Philbin passed away last night of natural causes, one month shy of his 89th birthday," they said.
Beginning his career in 1962, Philbin made his debut as a guest host for The Tonight Show, according to his IMDb page. The TV personality went on to host and appear on a plethora of other programs, including The Regis Philbin Show, Live With Regis and Kathie Lee (with Kathie Lee Gifford), and Live with Regis and Kelly. He was also best known as the host of the popular game show Who Wants to be a Millionaire?
Regis is best remembered for his morning Live series, which still airs with Kelly Ripa and Ryan Seacrest as co-hosts. Philbin hosted the program from 1988 until 2011.
Ripa and Seacrest acknowledged Philbin in a statement on Instagram Saturday: "We are beyond saddened to learn about the loss of Regis Philbin. He was the ultimate class act, bringing his laughter and joy into our homes everyday on Live for more than 23 years. We were beyond lucky to have him as a mentor in our careers and aspire everyday to fill his shoes on the show. We send our deepest love and condolences to his family and hope they can find some comfort in knowing he left the world a better place."
Gifford, the longtime former co-host of Live With Regis and Kathie Lee, tweeted later that afternoon: "REGIS. There will never be another."
Philbin also had a number of TV and movie roles throughout his career, often playing an exaggerated version of himself like he did in a particularly memorable episode of How I Met Your Mother. He also appeared in a few episodes of his Live co-host Kelly Ripa's sitcom Hope and Faith as Handsome Hal Halverson.
While primarily known for his television work, Philbin also released three musical albums, including 1968's It's Time for Regis Philbin. He later put out a standards album in 2004 titled When You're Smiling. His final record was a Christmas release, fittingly called The Regis Philbin Christmas Album.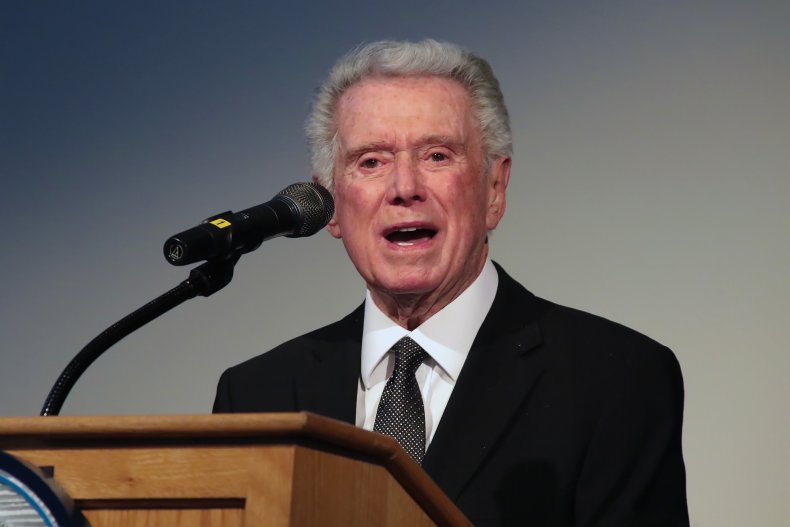 One of the biggest tributes for Philbin following news of his death came from President Donald Trump. He called Philibin a "fantastic person" and offered condolences to his wife Joy. According to Trump in a tweet, Philbin kept telling him to run for the presidency.
Some people who got a chance to work with the host spoke warmly about those opportunities including Jillian Barberie, who had co-hosted Live with Philbin, and comedia Rob Riggle. Actor Henry Winkler also remarked that Philbin was one of the first people to interview him when he was on Happy Days.
Numerous celebrities also paid tribute to the morning TV star, among them Dane Cook, Josh Gad, Paul Reubens (of Pee-wee Herman fame) and Bob Saget.
Updated 7:30 PM ET, with a tweet from Kathie Lee Gifford.