RIP Taylor Swift? Mural Appears After Feud With Kim and Kanye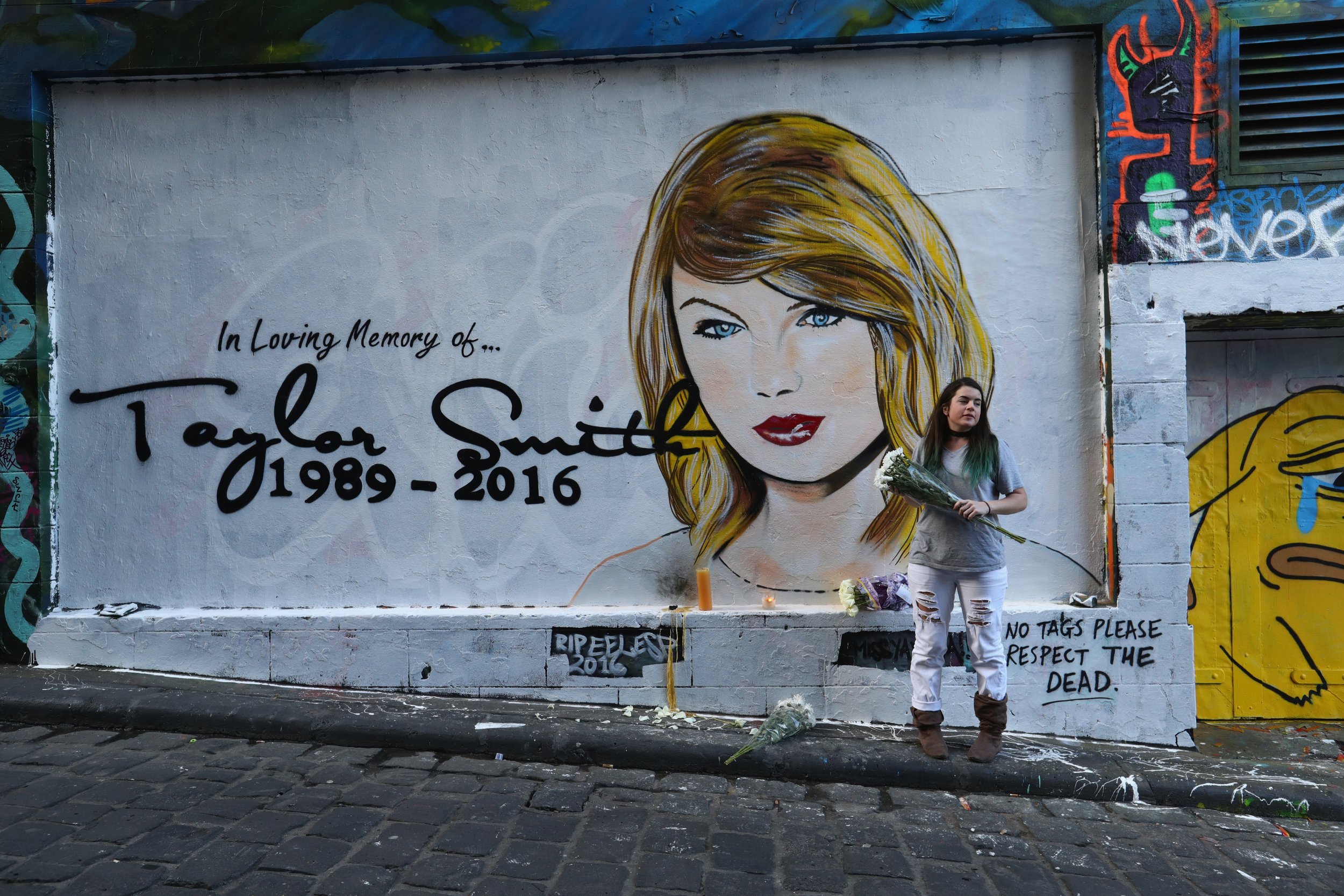 Updated | On Tuesday, a giant mural appeared in Melbourne, Australia, to mark the "death" of Taylor Swift's career. The wall art was created by Australian graffiti artist called Lushsux, who previously painted a nude mural of Kim Kardashian in the same city in March.
Swift hit the headlines this week over continued controversy with Kanye West's single "Famous," about the lines: "I feel like me and Taylor might still have sex/Why? I made that bitch famous."
West said that Swift approved the lyrics before release, which Swift denied. On Snapchat, Kardashian-West released a recording apparently of her husband and Swift on the phone, where the 26-year-old popstar allegedly said: "It's obviously really tongue in cheek, either way…And I really appreciate you telling me about it, that's really nice."
Swift has since accused the pair of "character assassination."
The wall art referencing the public spat features Swift's face next to an epitaph, which reads: "In loving memory of Taylor Smith 1989-2016." The artist told Pedestrian.tv that Swift appeared as "Smith" because "I think I just did the cursive too thick."
On Wednesday, Lushsux shared a photo of the creation with over 96,000 followers on Instagram. This has since been removed and the artist's account has been made private.
Lushsux also posted a 30 second video clip of the Taylor Swift mural, with the caption:
"Please pay your respects at Hosier Lane today by laying flowers or lighting a candle in mourning, taken from us too soon sweet princess [Taylor Swift]." Fans have followed instructions; flowers have been laid and candles have been lit, though the video appears to have been removed from Instagram.
"I think the City of Melbourne won't be the problem, it will be some ice head graffiti goon that will ruin the fun, touch wood it lasts a little bit so people can come have their fun with it and pay respects to our fallen sweet princess Tay [sic]," Lushsux told Mashable Australia.
The artist added that painting the mural took about "the same time it took for Kim and Kanye to Snapchat Taylor into oblivion."
This article has been updated to reflect the fact that the artist has removed the photos and videos from Instagram and made the account private.