R.I.P. Wilford Brimley: Actor Known for 'Cocoon,' Diabetes Commercials Dies
Actor Wilford Brimley died Saturday morning after a long illness. He was 85.
"Wilford Brimley was a man you could trust. He said what he meant and he meant what he said. I'm sad that I will no longer get to hear my friend's wonderful stories. He was one of a kind," Lynda Bensky, the actor's representative, told Newsweek.
Bensky told Newsweek that Brimley had been on dialysis and had other medical problems near the end of his life, and he passed away Saturday morning at the ICU at the hospital in St. George, Utah.
Brimley started his Hollywood career as an actor in the 1960s as an extra and stuntman, appearing in westerns like Bonanza and Gunsmoke. He appeared uncredited in the 1969 John Wayne film True Grit. However, his first major role was in The Waltons, where he played Horace Brimley in seven episodes, starting in 1974. His first credited film role was as Ted Spindler in the film The China Syndrome, about a nuclear meltdown.
His most famous role was Ben Luckett in Ron Howard's Cocoon. The 1985 film was a light science fiction story about elderly people at a retirement home rejuvenated by a swimming pool given healing energy by aliens. Brimley's character was the leader of the group of retirees, which also included Don Ameche as Art and Hume Cronyn as Joe. Though his costars were much older, Brimley himself was only 49 when he took the role.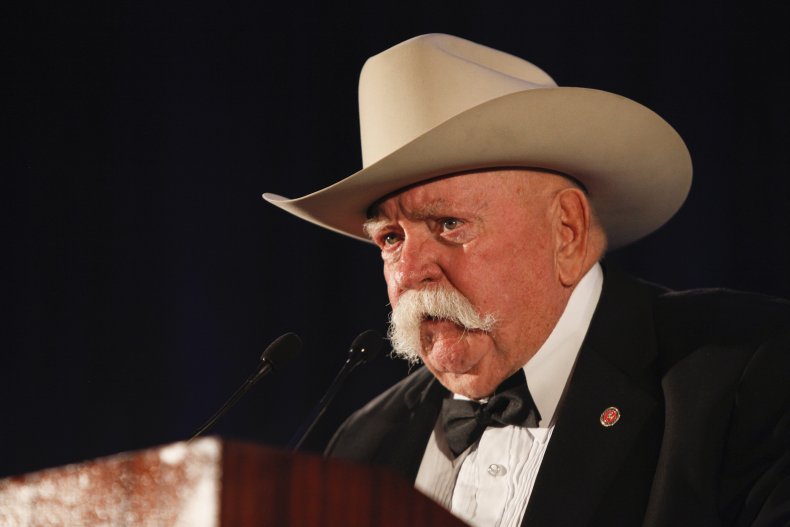 In addition to his acting roles, he also appeared in advertisements for diabetes education, Liberty Medical and the Quaker Oats company. He was also known as a singer and harmonica player, and released an album, This Time, the Dream's on Me in 2004. Despite his many talents, he told the Powell Tribune in 2014 that "I'm not a musician. I'm not even an actor. Just a guy, just a feller."
Before becoming an actor, he served in the U.S. Marine Corps, stationed in the Aleutian Islands for three years. In addition, he also worked as a ranch hand and blacksmith and as a bodyguard for film director and business tycoon Howard Hughes. He got his start in Hollywood shoeing horses for TV and film productions; he soon started acting as an extra after being urged by his friend, actor Robert Duvall.
Brimley was diagnosed in 1979 with diabetes mellitus, which spurred him to work with the American Diabetes Foundation (ADA) on a series of talks and advertisements about diabetes awareness. In 2008, the ADA gave him an award in thanks for his lifetime of service. However, Brimley didn't just advocate for diabetes awareness on screen; he also would visit Veterans' hospitals to talk to others with diabetes about managing the disease.
In 2009, Brimley and his second wife, Beverly, founded Hands Across the Saddle (HATS), which helped people in the Bighorn Basin, Wyoming. According to HATS' Facebook page, the organization was founded to "help folks who, thru no fault of their own, have fallen on tough times and need a little 'hand up.'" The organization says it has given out over $500,000 in aid.
He is survived by Beverly and his three children.