The Rise and Fall of MF Global Chief Jon Corzine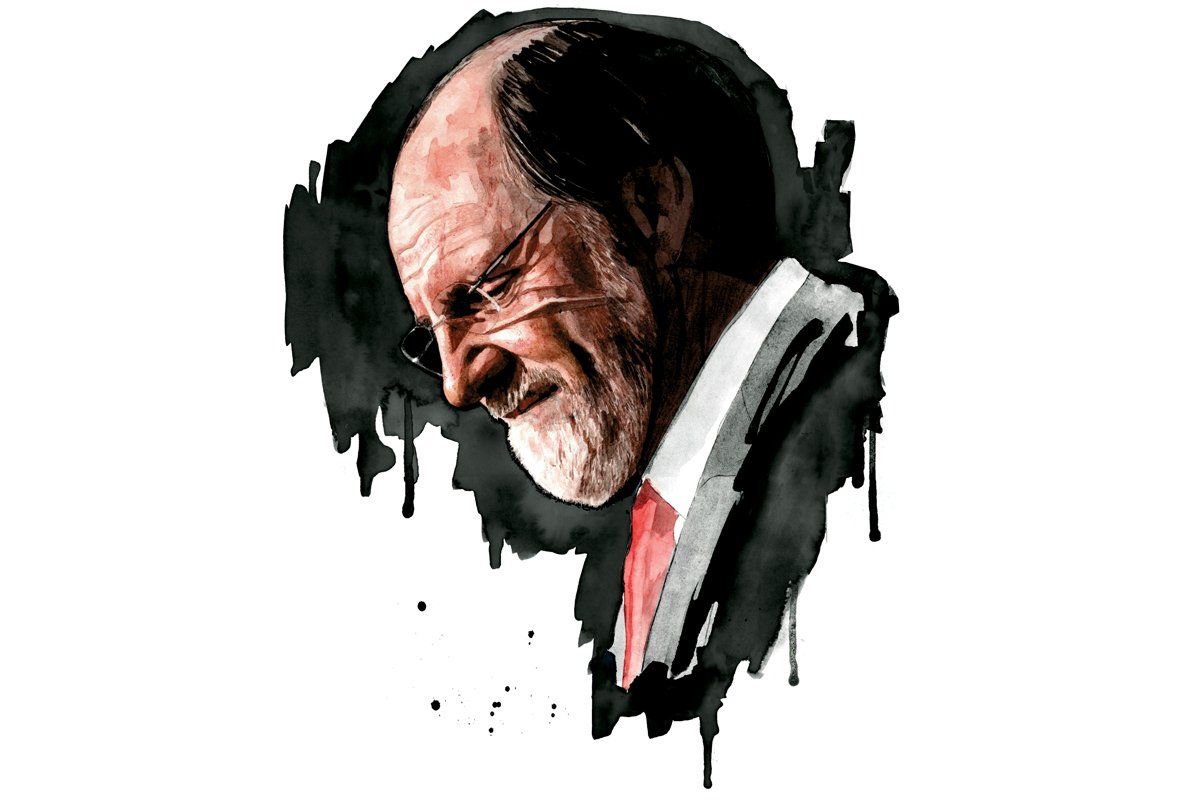 On other mornings, the leather upholstered chair at Esquires barbershop could have been a throne, from which Jon Corzine would rise to stride supreme up the street where he had made his name and his fortune. But on this gray, drizzly dawn just before Thanksgiving, the once mighty 64-year-old emerged from the shop at 14 Wall Street looking sunken and defeated. He moved up the block with a skittish quickness, his blue blazer hanging almost scarecrow-loose on his shoulders, as he nervously raised and lowered a coffee cup to his face, seemingly not so much to take sips as to conceal his face—lest somebody recognize him and maybe ask the big question:
"Where's the money?"
The money being up to $1.2 billion in customer funds that had vanished after the implosion of the investment firm he ran, MF Global. The immediate cause of the eighth-largest bankruptcy in American history was a $6.3 billion bet on European debt that Corzine had declared was a sure thing. He seems to have been blinded less by greed than by need, a need to elevate little-known MF Global into the league of Goldman Sachs, where this son of an Illinois tenant farmer had risen to become CEO, only to be deposed more than a decade ago.
Apart from a press release in which he announced his resignation as MF Global's CEO and expressed "a great sadness" for "what has transpired," Corzine has maintained a shamed and, in the view of many, shameful silence, so successfully avoiding the press and angry investors that CNBC jokingly put his face on the side of a milk carton.
That silence may end as early as this week with a bipartisan tar-and-feathering before Congress. The House Agriculture Committee has voted in a rare unanimous moment to subpoena Corzine to appear on Thursday, and he will also likely be called by a committee in the Senate, where he himself served before resigning to become the governor of New Jersey. Corzine in public office was the most progressive of politicians and often stuck to his principles at whatever the cost. But at MF Global, that same willful confidence and indifference to public opinion combined with an outsize sense of himself to create disaster. What made Corzine so admirable in the Capitol and the statehouse could conceivably land him in the big house with the likes of Bernie Madoff.
Corzine is either the worst of the good guys or the best of the bad guys. He does not seem to be a thief. The question is whether he allowed hundreds of millions in customer funds to be lost in a last-ditch effort to stave off MF Global's collapse. One senior executive of the firm insists that nobody was more stunned by the money's disappearance than Corzine himself.
"I can't believe the fuck-up we just discovered," the executive heard Corzine say in the hours after the collapse.
This same MF Global executive suggests that what is largely missing from press accounts of the firm's demise is the condition MF Global was in when Corzine first became CEO last year. The firm has been described as a "bastard stepchild," spun off by its parent the Man Group after it acquired the remnants of Refco, which had collapsed after its CEO stole hundreds of millions of dollars (Refco CEO Phillip Bennett pleaded guilty in 2008 to 20 counts of securities fraud and is serving a 16-year term). The new company had then been rocked when one of its traders lost $140 million in unauthorized wheat deals.
When Corzine arrived, MF Global was a losing proposition in dire need of new revenue streams and, according to one executive, leveraged an astonishing 50-to-1. The executive, who requested anonymity, says the rating agencies warned Corzine at the outset that they would downgrade the firm's credit if he did not swiftly increase profitability.
Corzine set about cutting costs, laying off those he deemed unnecessary and bringing in new talent. He raised MF Global's stature by persuading the Federal Reserve Bank of New York, whose president is his old Goldman pal William Dudley, to name it one of only 20 "primary dealers" authorized to underwrite U.S. government debt.
While he was building up his firm's reputation at home, ironically his core strategy focused on Europe and buying burgeoning government debt in Italy, Spain, Belgium, Portugal, and Ireland.
He explained that the firm was taking advantage of "dislocations," where seemingly irrational fears of government default resulted in comparatively high yields in short-term debt. Corzine believed there was absolutely no chance those financially troubled nations would go broke before the bonds reached maturity a year hence.
Thanks to a little magic called repurchased or "repo" agreements, the firm was able to take out loans to buy the bonds, using those same bonds as collateral—thereby incurring monumental debt to buy monumental debt. The interest on the loans was lower than the interest produced by the bonds, and the difference translated into what Corzine considered virtually risk-free profits: $47 million in one quarter and $38 million in the next, with much more promising to come.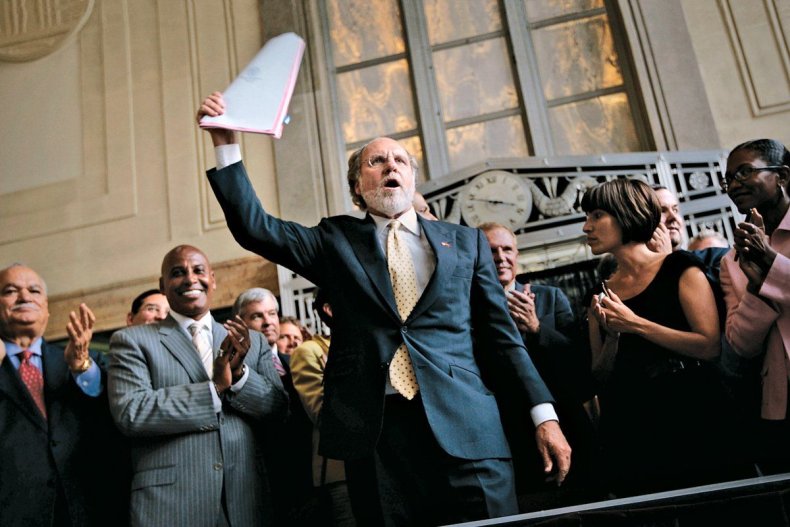 Corzine was so convinced his bet was a sure thing that he failed to heed what he himself was preaching as a visiting professor at Princeton University. He gave a lecture in September 2010 on the importance of learning lessons from the financial disaster of 2008. "We need to address the accumulation of debt at every level of our society," Corzine declared.
Corzine had then hopped in a car whose chauffeur happened to be a Mafia loan-shark victim, and returned to MF Global. By this point the company was betting $6.252 billion on European debt.
MF Global's board repeatedly expressed concern about the size of the position, according to a published account by Bloomberg. And Corzine is said to have repeatedly reassured them that his strategy was foolproof. What made the looming disaster more perplexing was that Corzine is not a Madoff or some other type of Wall Street greedster. His friend and former fellow New Jersey senator Robert Torricelli figures Corzine remained haunted by his sudden fall from power at Goldman Sachs in 1998 and failed to understand how much Wall Street had changed since then.
"A split in him and a disconnect in time," Torricelli says.
As for the rating agencies, which so famously abetted the subprime-mortgage insanity, the senior MF Global executive says they met regularly with Corzine and were aware of his strategy all along. Less pliable was the Financial Industry Regulatory Authority, which instructed MF Global to increase the amount of actual money it kept on hand to back up the loans. Corzine had better luck winning over the Commodity Futures Trading Commission, headed by another former Goldman buddy, Gary Gensler. The CFTC was considering a change in something called Regulation 1.25, which allowed a firm to borrow otherwise segregated customer money to buy short-term securities. The CFTC was poised to curtail the practice, and prohibit it altogether with foreign sovereign debt, when MF Global urged the CFTC in writing not to "fix something that's not broken" and Corzine met personally with Gensler. The vote on the change was put off.
All seemed to be working in Corzine's favor until the market turned on him this summer. MF Global reported a disastrous third quarter that, combined with further economic turmoil in Europe, prompted Moody's to drop its rating on MF Global's debt to a notch above junk on Oct. 24. Corzine held a conference call with investors the next day and spoke of "the most volatile period I've ever experienced," adding, "I wasn't around in 2008 because I took a time-out for other purposes." He nonetheless told investors not to be alarmed. "We will be back on track," he pledged.
Two days later, Moody's and Fitch dropped MF Global's rating to junk. Investors fled in the equivalent of a run on the bank, giving Corzine a real-life lesson in the principle formulated long ago by British economist John Maynard Keynes and taught in all business schools: "Markets can remain irrational far longer than you or I can remain solvent."
By Oct. 30, Corzine seemed to have averted a catastrophe by passing the bastard stepchild onto another foster parent. A deal to sell MF Global's assets to Interactive Brokers Group was all but finalized when auditors noticed that some $600 million of customer money was missing—an estimate that would eventually rise to as much as $1.2 billion.
The roots of Corzine's rise and fall may go back all the way back to an 18th-century John Corzine of Dutch extraction who, according to the Historical Encyclopedia of Illinois, "at one time owned 60 acres in that portion of New York City known as Wall Street." The 18th-century Corzine sought bigger and better things by heading west, and two generations later the Corzines had settled in Christian County, Ill. The most direct descendants became a well-to-do clan of merchants. Others stuck to agriculture, including Jon Corzine's grandfather, who did well enough to establish a 2,500-acre farm. The grandfather began to hedge against the vagaries of weather and market by dealing in the commodities exchange. That led him into banking, and he became prominent in local politics, until it all came crashing down in the Great Depression.
Corzine's father toiled as a tenant on a leased 120-acre farm in Willey Station, not a 20th the size of the one the grandfather had owned. Jon Corzine later told the writer William Cohan, author of Money and Power: How Goldman Sachs Came to Rule the World, "My father never had a credit card, was afraid of any kind of financial risk because he saw what happened to his father." Corzine's father moonlighted selling farmers' insurance, and his mother taught at the elementary school in nearby Taylorville. Jon Corzine met his future bride, Joanne Dougherty, there in the first grade.
"She's a super gal," says childhood friend Jack Marzotti. "They were the perfect couple."
In high school, Corzine was captain of the basketball team and starting quarterback of the football team. Marzotti recalls, "Everybody liked Jon. He was a hard competitor, and driven, but I don't think Jon had an enemy anywhere. Nobody talked ill about Jon. He was just one of those guys you were glad to know."
Corzine was not enough of a basketball star to get recruited by the University of Illinois, but he was scrappy enough to make the team as a walk-on. Under threat of the wartime draft, Corzine joined the Marine Corps Reserve, which kept him out of Vietnam.
The writer Cohan would note that the son of the man who never had a credit card would use one to get through business school. "That's true of all this baby-boom generation," Corzine recalled. "They learned to borrow early and big."
He was soon at Goldman Sachs, and he made partner at 33. At one point he called his father to say he had earned $150,000 in a single year without tilling so much as a row of soybeans. "You ought to come home," his father is supposed to have said.
Corzine stayed in New York, but maintained a folksy friendliness, sporting a beard and sweater-vests in a realm of clean shaves and suits. He was nicknamed "Fuzzy" and was known to greet his fellow traders with a peace sign. The partners who vied with him for leadership found that Fuzzy was also stubbornly willful and unrelentingly ambitious. He became head of the trading division, which racked up incredible profits. Those were followed by huge losses that in other circumstances might have threatened his career. But when the head of Goldman Sachs quit, taking dozens of partners with him, the firm needed somebody who understood how to extricate it from the bad trades, someone who was popular enough to keep more partners from departing.
At 44, Corzine became CEO. Fuzzy proved imperial in his convictions about the direction the firm should take, and his No. 2, a hyperambitious and fellow Illinois farm boy named Henry Paulson, became a fierce rival. Corzine was confident he controlled enough votes on the executive committee for his position as he set off for a Colorado skiing vacation during Christmas 1998. He returned to discover a presumed ally had turned on him and Paulson had seized control of the firm.
The deposed Corzine sat in his big house in Summit, N.J., with some $350 million and no place to go on Wall Street that could equal where he had been.
He decided just six weeks later to run for the Senate.
Political consultant Robert Shrum showed him an early poll indicating that his Wall Street reputation led voters to consider him a middle-of-the-road moderate. Shrum remembers Corzine replying, "This is not me; I'm not going to run on this ... I'm going to run as a progressive because that's what I am."
After spending $63 million of his own money, Corzine was elected, and he proved as progressive as he had described himself. He was among the 23 senators who voted against the Iraq War, the first to speak out against the genocide in Darfur, and a champion of universal health care and universal access to college. He wrote much of the Sarbanes-Oxley Act of 2002, and was accorded the honor of sitting in the presiding chair for the vote on this bill establishing new protections for investors in the wake of Enron. Corzine still bridled at being a junior member of a crowd of 100. He complained that he would have to "wait until I'm 80" to become a committee chairman and have the kind of sway he wanted. He had not yet finished his first term when he ran for governor of New Jersey and won.
Corzine never did believe the rules of risk applied to him, an indicator of which came in 2006, when he suffered near-fatal injuries in a car crash. He had not been wearing a seat belt, despite previous urging by staff members.
At the hospital, security guards were instructed not to admit under any circumstances a woman with whom Corzine had broken other rules at the risk of his marriage. Carla Katz was the head of New Jersey's biggest public employees' union. Corzine had met her when he was running for the Senate.
After the Corzines divorced, Joanne suggested that her husband's affair with Katz was part of a moral lapse that began when he entered politics. He had kept his political principles, even his beard, but he was willing to use his Goldman connections to secure the support of New Jersey's Democratic organization. "All day, people around him were telling him to do whatever he wants to do to get ahead, things that the Jon I've known since we were in high school would have never been comfortable with," Joanne Corzine told a reporter after the divorce. "And I think it's made him lose sight of anything but success, getting to where he wanted to get."
Corzine may have come to feel he'd lost more with his family than he had intended to risk, and he cut things off with Katz, giving her what was estimated to be $6 million and forgiving a $470,000 loan. She seems to have continued to pursue him even as the state and her union were in contract negotiations, as suggested by emails that later appeared in the media.
"BTW, I had an over the top erotic dream about you last night. Bad boy!!" read one missive from her BlackBerry.
Complications in Corzine's personal life still proved less of a hamper to his quest for a second term as governor than were the instances where he stood by his political principles. And the cost of political courage was exponentially compounded by his failure to understand how his actions are perceived. He seemed to imagine that commuters would be mollified by being told his turnpike toll hike was to be spread over 20 years, but the only number they heard was that the ultimate increase would be 800 percent. A senior aide terms Corzine "politically tone-deaf" and "the worst public-image manager you've ever met."
"He just doesn't get public opinion," the aide says. "He never has."
Corzine lost his bid for a second term to Chris Christie, 49 to 45 percent, and retired with no political future to his Hoboken penthouse, which overlooks the Hudson River and Manhattan.
He was then offered a chance for a new future in finance by an old Goldman friend. J. Christopher Flowers had struck out on his own to become a billionaire, and his investment firm was now a major stockholder in MF Global.
"Goldman was small when I joined it, too," Corzine was quoted as saying.
As he renewed his life as a financial CEO, Corzine also remarried. He and his new wife, psychotherapist Sharon Elghanayan, look glowingly happy in the wedding photos, a perfect couple who had met not at the start of their lives, but were bound for a happy ending. In April of this year, the couple hosted a $35,800-a-plate fundraiser for President Obama in the elegant Fifth Avenue apartment she had received in her own divorce settlement. The guests were served chicken potpie, and the president spoke, saying, "Some of you know that Jon was a big supporter of mine in my first U.S. Senate race when nobody could pronounce my name." There was talk of Corzine becoming the new Treasury secretary in the way of his old Goldman nemesis Paulson.
That dream vanished with MF Global's collapse. Corzine would instead be returning to Washington as the subject of inquiries in both houses of Congress. Tea Party Republicans happily prepared to pillory a big-time Obama liberal from Wall Street. And the chairwoman of the Senate agriculture committee signaled that in the era of the 99 percent, Corzine should not expect any breaks from his former Democratic comrades. "The farmers, small-business owners, and others who trusted this firm are now facing tremendous hardship and may ultimately never recover all of their money," Sen. Debbie Stabenow said. "Anyone engaged in wrongdoing in this matter must be swiftly held accountable, to help bring justice to victims."
While preparing to defend himself, Corzine continues to pay regular visits to Wall Street—if only to sit in the throne-like chair at Esquires, as he has since the days when he gazed into the barbershop mirror and saw the CEO of Goldman Sachs reflected back at him. It bears noting that J. P. Morgan once kept an apartment on the uppermost floor of the 32-story building where Esquires is located, directly across the street from the New York Stock Exchange, which the tycoon singlehandedly rescued from itself during the Panic of 1907. For all his many virtues, Corzine had become the latest Wall Street sinner, the latest to have been blind to the lessons of the past.
With the help of his concealing coffee cup, Corzine was able to leave the barbershop and proceed up the block on that recent drizzly morning without being recognized. His driver was waiting in a black SUV with New Jersey plates, parked just down from Zuccotti Park and the Occupy Wall Street protesters. Corzine was no sooner in the front passenger seat than he was pulling away and riding down Broadway in the same direction as the famous bronze bull and federal bankruptcy court, where the big question is the missing money. He at least had on his seat belt.
null