'Rise of Skywalker' Sith Troopers Are First Harbingers of Palpatine's Return in 'Star Wars: Episode IX'
On Wednesday, the official Star Wars site unveiled the Sith Trooper, a new variation on the stormtroopers that make up the bulk of Galactic Republic, Galactic Empire and First Order armies throughout the series. But the Sith Trooper is something unique, combining the regimented Empire and the darker, spiritual might of the Sith, presaging the return of Emperor Palpatine in The Rise of Skywalker.
A full-sized Sith Trooper will join eight other costumes used during filming of the Star Wars movies at San Diego Comic-Con 2019, July 18-21 at the San Diego Convention Center, including an Imperial stormtrooper, TIE pilot, shoretrooper, biker scout, First Order stomtrooper, First Order TIE pilot, death trooper (introduced in Rogue One: A Star Wars Story) and Captain Phasma costume.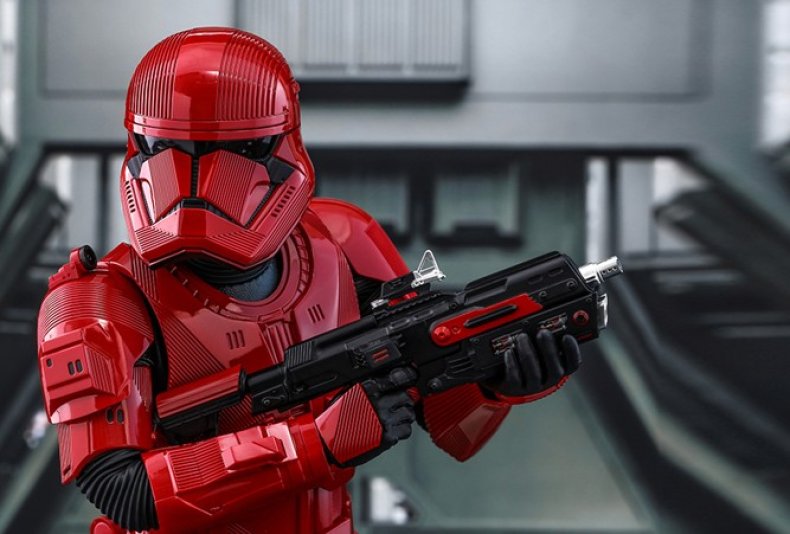 While the Sith Trooper helmet is in line with other stormtroopers of the First Order, its corduroy wale and chunky midsection quickly differentiate it from the standard troopers. The chunkier design is even evocative of the Clone Troopers, reaching all the way back to the era of Palpatine's political rise, before Jar Jar Binks called for the emergency powers that brought down a Republic and raised up an Emperor. "It has some subtle ties to previous stormtrooper designs, which I think fans will enjoy discovering," Lucasfilm archivist Madlyn Burkert said in the announcement of the SDCC stormtrooper exhibition.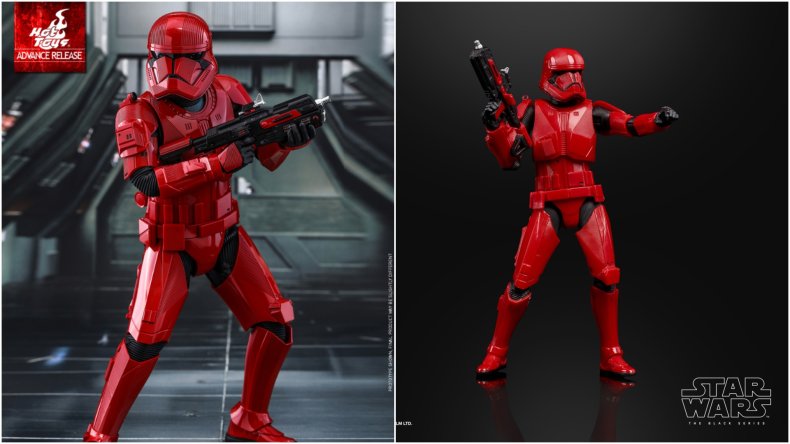 Described as a "modern and more menacing look befitting its namesake," the Sith troopers may share a number of design similarities with the sleek, Jony Ive-esque First Order troopers, but there's one overwhelming reference at work in the Sith Trooper color palette: the Emperor's Royal Guard.
These enigmatic troopers first appeared in 1983's Return of the Jedi, standing silent vigil inside Palpatine's throne room. Supreme Leader Snoke had his own variation on the Royal Guard with his Elite Praetorian Guard, defeated by Rey and Kylo Ren in The Last Jedi. The Sith-red troopers suggest Palpatine will take control of the First Order in The Rise of Skywalker.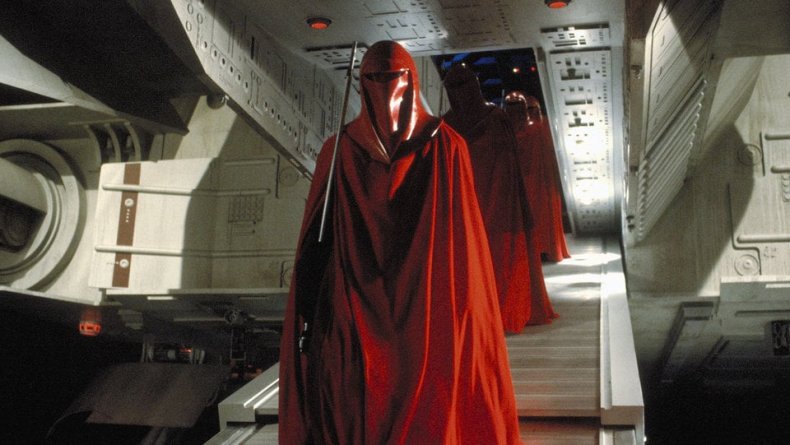 Their introduction also implies a collapse between the spiritual and militaristic sides the First Order, which, like the Empire before it, was mostly run by a stuffy bureaucracy of officers, with the struggle between the Dark and Light side of the Force a concern only at the absolute top. With Sith Troopers running around, The Rise of the Skywalker may finally bring the Sith Lords out of the shadows where they've lurked for generations.
Star Wars: The Rise of Skywalker is out in theaters December 20.