The Other Time Trump Was Huge: Newsweek's 1987 Look at the Presidential Candidate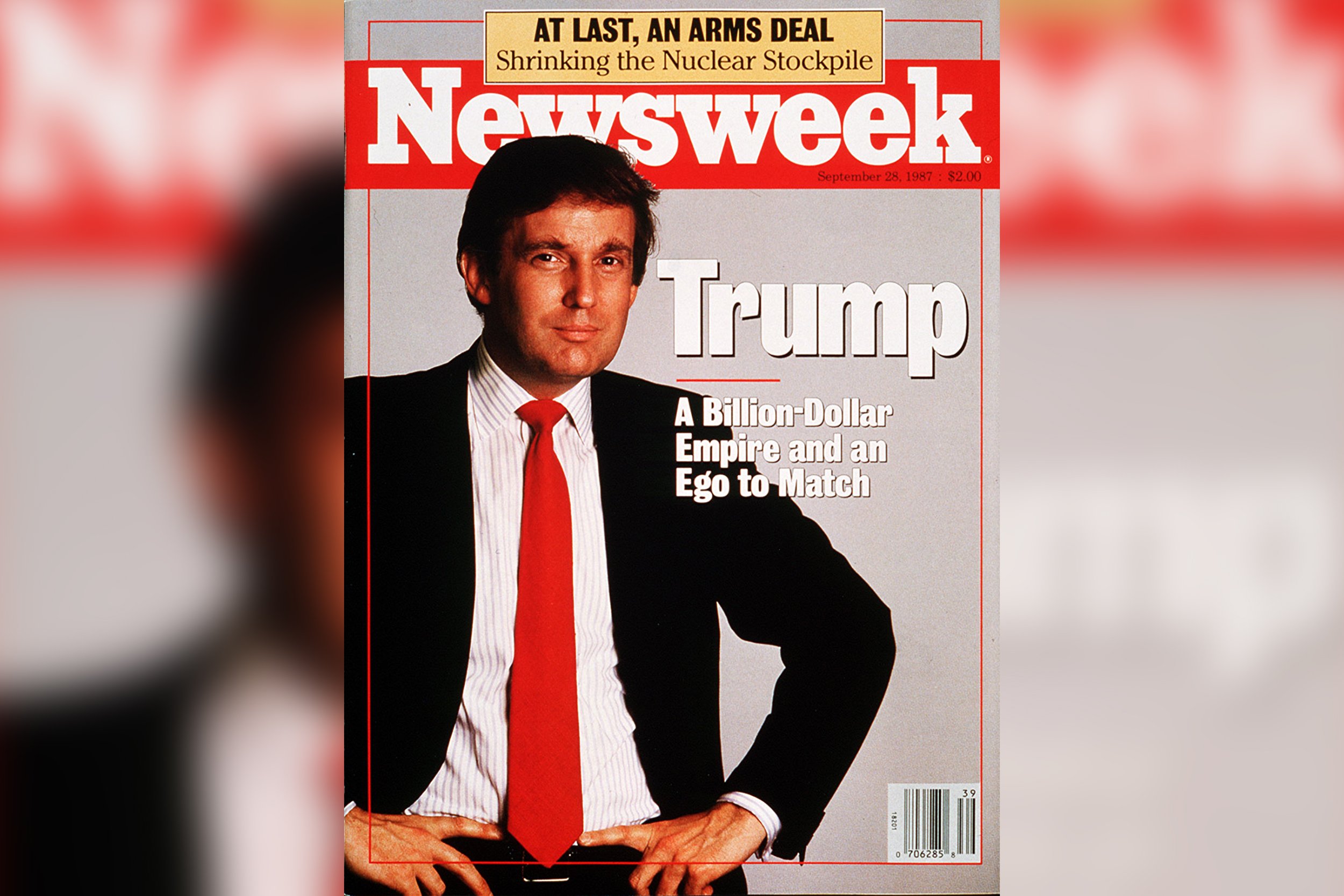 Donald Trump has spent much of his adult life in the media spotlight, and has clearly relished the attention. His often bombastic comments have been known to strike a chord with the American public, evident in recent weeks as he leads in polls for the Republican presidential nomination despite delivering inflammatory statements on topics as wide-ranging as immigration and John McCain's military record. Twenty-eight years ago, reporters Bill Powell and Peter McKillop chronicled Trump's dramatic rise to fame and fortune for a September 28, 1987 Newsweek cover story titled Citizen Trump. The article paints a fascinating picture of the then 41-year-old "brash billionaire," annoyed—but unswayed—by the opinions of others and confident, even then, in his ability to successfully run for president.
Newsweek would go on to capture Trump's equally spectacular bankruptcy in the early '90s in Trump: The Fall, published on June 17, 1990.
Citizen Trump
A megadeveloper with a roaring '20s lifestyle—and an ego to match his billion-dollar empire
Donald Trump, America's brash billionaire, wants the land Harry Stein's restaurant-equipment store stands on, and he wants it badly. It's behind Trump Plaza, a hotel and casino in Atlantic City that on a good day drops roughly $2 million into its owner's pockets. Where the Steins' store now stands, Trump wants to build a huge wall and turn it into a waterfall—a $4 million touch. If he can buy out Harry Stein and knock down the building, the waterfall will look better. The Stein family has been in business in Atlantic City for more than 90 years; Harry and his son Bill sit alone with Trump in a windowless casino. No lawyers, no bankers, no aides.
"I don't really need your land," Trump says, calmly and politely, "and, as you know, land prices aren't what they were a few years ago. And I'll put up the wall anyway. Once we decide to build the wall, I will have zero interest in your building. So give me a number. All I want to know is if we have a deal."
The Steins fidget. "We were looking for $200 a square foot."
"Three years ago I'd have given it to you."
"It will cost us $1.5 million to move."
"But you'll save a fortune in taxes. The price you're asking is far above what I paid others. The alternative I have is to preclude you forever. Once I don't buy it, I don't believe the property will have any value. The gravy train is leaving the station."
Trump tells the Steins to call his New York office in a week. He shakes hands and leaves. "You wait," he says later, "they'll come around. They always do."
A huge black helicopter with red lettering—TRUMP —flutters above the southern tip of Manhattan. The French-made military chopper can travel 180 miles per hour; at $2 million, the price Trump paid Warner Communications for it, it was a steal. He is flying to Atlantic City to promote an upcoming heavyweight fight that his casino is sponsoring. With him is Don King, the bombastic boxing promoter and heavyweight champ of hair. It is a cloudless morning, and before banking to the southwest the pilot hangs the copter directly above the gleaming twin towers of the World Trade Center for half a minute. Neither Trump nor King pays much attention to the staggering view. A reporter is present, and it's showtime. Trump, after a long soliloquy detailing his problems with his current archenemy, Ed Koch, the mayor of New York, turns the floor over to King.
"Donald trump is a man of vision," King bellows. "New York City needs a man like Donald Trump. I have come up with a word to describe him: 'telesynergistic.' That means, 'progress ingeniously planned by geometric progression— the capability of transforming dreams into living reality, in minimal time, at megaprofits'."
"Go on Don, I kinda like this," Trump says sarcastically.
"Now, I believe the rift between Donald and Mayor Koch must be healed. We must get it behind us. New York needs Donald Trump's energy and vision. That's why I am offering my services as an intermediary. To act as a peacemaker, to do anything I can help to bring them together."
"Don," replies Trump, stroking his chin thoughtfully, "I'm not interested in peace, I'm interested in competence."
Donald Trump sits in his office in the midtown Manhattan building that bears his name —"the most luxurious building in the world," he calls it. All week he has been lampooned in Garry Trudeau's comic strip, Doonesbury. In one series, Trudeau has Trump in front of a press conference, protesting that his alleged presidential ambitions are nothing more than "a billionaire developer exercising his right to float trial balloons."
"'Doonesbury,' Doonesbury,' everybody's asking me to respond to 'Doonesbury,'" Trump says, a bit exasperated. A day earlier he said he was only vaguely aware of the comic strip and had dismissed the barbs with a wave of his hand: "People tell me I should be flattered." Now he will lay the political rumors to rest. "I'm not running for president," he says, "but if I did… I'd win. There, I said it. I didn't think I would, but I did."
Donald John Trump —real-estate developer, casino operator, corporate raider and perhaps future politician—is a symbol of an era. He is a man with the Midas fist. For better or worse, in the 1980s it is OK to be fiercely ambitious, staggeringly rich and utterly at ease in bragging about it. He is the latest of a breed unique to the decade: the businessman who becomes larger than life, like a star athlete or popular actor. Trump has made it into that rarefied group as fast as anyone, and he revels in his high celebrity status as few have before him. "There is no one my age who has accomplished more," he boasts openly.
Trump has created one of the most profitable empires in the most public of fashions. His high profile, in fact, has been central to his success. "The aura of the Trump name," as one of his attorneys puts it, "is a big asset." For the new rich, says a New York real-estate broker, the name is synonymous with "status." So Trump plasters it on practically every building he builds or casino he operates—and he promotes them brilliantly. "The P.T. Barnum of real estate," a friend once called him. He has become so wealthy in the process, he concedes, that life has become something of "a game" for him. The ultimate scoreboard, he says, "is the unfortunate, obvious one: money." Trump, who at 41 has amassed an empire whose assets are worth more than $3 billion, agrees with an assessment that others might find less than flattering. Asked if he's the ultimate Yuppie, he replies, "Yeah, maybe."
The ambition may be pure '80s, but the Trump lifestyle is roaring '20s. He owns three homes, and the word opulent does them no justice: 110 rooms at Mar-a-Lago in Palm Beach, the former mansion of cereal heiress Marjorie Merriweather Post; a huge triplex apartment in Trump Tower, the Fifth Avenue skyscraper he built four years ago, and a 10-acre, 45-room weekend estate in Greenwich, Connecticut.
He also owns a Boeing 727, the Darth Vader helicopter, and now he's negotiating to buy a yacht owned by Saudi arms broker Adnan Khashoggi that's about six times the size of the average Manhattan apartment. ("Not many people live a life like Khashoggi," he says, and then adds with a grin, "but I'm coming damn close.") Town & Country, an upper-crust print version of "Lifestyles of the Rich and Famous," recently ran a 12-page cover spread featuring Trump's wife, Ivana, a beautiful ex-model (In the final "Doonesbury" strip last week, a reporter asks what experience noncandidate Trump has with "people of modest means." Plenty, Trump replies, "evicting them.") Trump can hardly walk the streets of his native New York without being hounded by autograph seekers, most of whom seem starstruck.
Clearly, neither New York nor Atlantic City is big enough for Trump's ambition. In the last year he has thrust himself, his money and his ego onto the national stage. A businessman sitting atop an empire worth $3 billion, Trump in the last year joined the richest army in the world—the growing legion of corporate raiders. Three separate times he made millions of dollars after buying up big chunks of publicly traded companies and then selling after rumors of a possible acquisition drove the share prices up. It was all pretty easy, he says, easier than real estate.
Open pleas: Maybe too easy for a man who seems attracted to power as he is to wealth. Last month Trump paid $94,801 to run a full-page advertisement in The New York Times, The Washington Post and The Boston Globe. He wasn't hawking luxury condos or the upcoming fight in Atlantic City. In an "open letter," Trump thumped U.S. foreign policy, saying, "The world is laughing at America's politicians" for protecting "ships we don't own, carrying oil we don't need destined for allies who won't help." Trump has agreed to an October speaking engagement in New Hampshire, where a lone political activist without any ties to the noncandidate is running around trying to organize a draft-Trump movement. Since the ad ran, Trump has denied presidential ambitions on several occasions; but since he does not intend to cancel the New Hampshire trip, talk of his political ambitions probably won't stop anytime soon.
To Trump's enemies—and he has enemies galore—his flirtations with politics confirm their worst suspicions: They view him as Citizen Kane sprung to life, an arrogant tycoon whose insatiable ambition leads him to seek political power. John Moore is an attorney who led a tenant group into bitter battle with Trump after he bought their rent-controlled building and announced he wanted to tear it down. "He is a dangerous man," Moore says. As a political leader, he's "the type who'd make the trains run on time."
Trump is undoubtedly enjoying the hype associated with his recent political forays. He has long recognized the benefits of publicity. The equation is simple; if more people know your name and your reputation, more people will buy your flashy condominiums, dump quarters into your slot machines or pick up a copy of your new book. Trump feeds the hype machine because nothing matters more to him than success. At times, say people close to him, it seems it's all he cares about. Says his sister Maryanne Trump-Barry, a federal district judge in New Jersey, "success brings success, which brings more success. The more he gets, the more he wants."
Ice Show: How successful a promoter is Trump? Though he is now the largest casino operator in Atlantic City, he's still known in his hometown mainly as a real-estate developer. Several developers have had a bigger impact on the New York skyline recently than Donald Trump. Yet only one building constructed in New York during the last 10 years has become a tourist attraction—Trump Towers. The difference is, the other developers don't build buildings with soaring waterfalls, lobbies made of pink marble and astonishing opulent apartments that sell for more than $2 million. More also don't name buildings after themselves. Few would humiliate the city's mayor by reconstructing a public skating rink in four months after the city had spent seven years trying to do it. And absolutely no one else would proceed to insult the mayor at every turn thereafter.
Trump has managed to thrive flamboyantly in two scandal-ridden industries—casinos and New York real-estate development—and he's done it without a taint of corruption. A high-level law enforcement official in New York says, "There aren't even rumors" about the Trump organization in the construction industry. In Atlantic City, the gaming enforcement division several years ago asked Trump to sever his ties to a convicted felon who had worked for him in New York. He did so, and has had little trouble with the state since. He has also managed to avoid conflicts with unions in both industries, primarily because he pays union workers relatively well.
No one, not even people who loathe Donald Trump, denies his talent as a business man. Born in Queens, the fourth of five intensely competitive children, he is the son of a successful New York real-estate developer, Fred trump, and his wife, Mary. As a teenager, Donald worked for his father's company, prowling around construction sites in Brooklyn and Queens in his spare time. After graduating with an undergraduate degree in finance from the University of Pennsylvania in 1968, Trump worked for his father full time. At 28, he set off on his own and moved into Manhattan. As Fred Trump got older he turned over most of his assets to Donald. Trump "very much wanted to match his father's success," says Trump-Barry. Trump became the consummate dealmaker, possessing what seems to be an intuitive knack for acquiring attractive assets cheaply. He is smart, tough and as tenacious as anyone in getting what he wants. Those traits, combined with his ability to attract customers to casinos or condos—"I do know how to sell," he says—made Trump very rich, very quickly.
Trump laid the cornerstone of his New York empire in 1975, when he took on a project no other developer would. With the city practically broke, he cut a deal: He offered to rehabilitate a crumbling old hotel next to Grand Central Terminal—a block then in seemingly irreversible decline. In return, the city agreed to grant Trump a tax break worth $120 million to him.
The deal was vintage Trump. "Nobody believed I could pull it off," he recalls. But after getting the subsidy, he persuaded lenders to give him $70 million, and Trump constructed what is now the hugely profitable Grand Hyatt Hotel. Though the tax break was controversial then, few in New York today doubt its wisdom. "The project triggered a tremendous amount of investment when that end of 42nd Street could have fallen into dereliction," says Richard Kahan, a former state official.
Trump learned a lesson in the Grand Hyatt deal: It was important to have government officials on his side, particularly in New York, where a thicket of regulations makes it extremely difficult to build anything. He became, in the words of one major developer, "the ultimate inside player." When other developers made relatively small campaign contributions to government officials, "Trump was giving $50,000—and bragging about it," says a former government official. He also hired key government people after they left public service because he wanted their intimate knowledge of bureaucracy.
Screwing back: Whether that tack has actually helped him is questionable. When he tried to get another major tax subsidy for Trump Tower on Fifth Avenue, the city fought him. He finally won in court, but only after a long delay. Then he tried to get tenants evicted from a building he wanted to tear down from Central Park. The tenants fought back and eventually won a favorable settlement from Trump.
Now he has alienated Koch by demanding a $1 billion subsidy for a quintessential Trump project: a 150 story building—the world's tallest—that he wants to build on a piece of land he bought for $92 million three years ago. The land sits against the Hudson River on Manhattan's West Side and, thanks to a real-estate boom in New York, is already worth much more than what Trump paid for it. In addition to the 150-story tower, Trump wants to build 11 other skyscrapers, all 45 stories high.
He calls the project Television City, because he wants his new buildings to house the National Broadcasting Co. NBC's parent company, General Electric, has been threatening to move the network out of New York. Trump says Koch should grant him tax relief so he, in turn, can offer NBC subsidized office space and keep it in New York. Though publicly cast as a struggle to keep the network in the city, the issue in fact has become a test of wills between Koch and Trump.
Even some city officials privately say they'd bet on Trump. Those who have sat across the table from him say his negotiating style is infuriating, but effective. A rival developer says Trump "does business through intimidation. It's bravado and shock. Intimidate until they collapse. Ask for the moon and you will get something." Trump doesn't necessarily disagree with all of that. He just characterizes it differently. "If people are fair to me, I'm fair to them," he says. "If people screw me, I screw back in spades."
Family trees: That combativeness applies to anyone, anywhere. At Trump Tower he told Irving Fischer, chairman of HRH Construction Corp., for years the Trump family's main contractor, to get rid of a bunch of trees that had been installed in the building's lobby. It had been an ordeal getting the tall trees into the building to begin with, and Fischer was unclear as to how Trump thought they could get them out. "Ever hear of a chain saw?" he snapped. It cost Trump $100,000 more, but he got rid of the trees he didn't want.
Does toughness necessarily translate into more money for Trump? Ask Eric Silverstein. His sign-painting company had been working overtime to get ready for the opening of Trump Plaza, one of Trump's Atlantic City casinos. Silverstein was a minor contractor on a huge project. But for him, the $800,000 fee was enormous.
No choice: Trump kept asking for small improvements in his work, Silverstein says, and delayed payment until they were completed. Then, he claims, Robert Trump, who managed the project for Donald, called Silverstein to a meeting he swears took place in one of the hotel's men's rooms. Trump, Silverstein says, had a new offer. He would give him 50 cents on the dollar to settle the contact. If he didn't like it, he claims he was told, he could sue. Silverstein says he had little choice. A suit would take years, and he simply couldn't afford the legal fees.
Robert Trump says Silverstein's company got paid less than what he contracted for because it did "shoddy work and was late in finishing it, besides." Silverstein disputes those claims, but Robert Trump says "Anything he got paid was too much." Donald says he is unaware of the incident, but adds, "If a contractor does a great job, he gets full payment on the first of every month. Sometimes even earlier. If a contactor does less of a good job, I will try to renegotiate. If a contractor has done a bad job he will go through hell."
To Trump, that's simply good business. And outside time spent with his wife and three children, business consumes him. He recently bought a Florida condominium project in a poor location—an atypical move for Trump. He did it, he says, because when he stays at Mar-a-Lago, he needs something to do. "Now," he says, "I have someplace to go" on weekends.
Such ambition leaves little time for friendships. "Friendship is not part of his agenda," a business associate says, and Trump concedes as much. "I hate to have to rely on friends," he says. "I'm not a trusting guy. I want to rely on myself." His only "real friends," he says, are family members.
Where his ambition will take him is by no means clear. Trump believes one of his strengths "lies in my unpredictability." He could, without question, become one of the most feared corporate raiders around. Trump has cash and almost unlimited borrowing capability. He could go after almost any company he wants. Recently he took over Resorts International, a rival casino operator, the first time Trump had acquired a public company. In the last 12 months he has made more than $122 million buying large chunks of stock in three different companies—Allegis (formerly United Airlines), Holiday Corp. (owner of the Holiday Inns hotel chain) and Bally's. In each case, news of his stake triggered takeover speculation that drove the stock price up.
But Harvey Freeman, one of Trump's closest advisers, says his boss isn't necessarily the next T. Boone Pickens. "He's not going to go after companies for the hell of it," says Freeman. "Each one of those deals this year were situations we had looked at closely, in businesses related to ours. Donald will just continue to pick his spots."
The political talk is probably also overdone. Even if Trump were serious about a career in public life, it would be difficult for a casino operator, no matter how well known, to get elected to anything. Nor is it at all clear that he is serious. Trump admits that he only has a glancing familiarity with important issues and intimates that he would hate running for office. "He'd love to be president, but only if he were appointed," says one friend.
In fact, Trump may have no grand strategic plan. His colleagues say he focuses on what's in front of him. The project at hand completely consumes his energy. For now, that's apt to be Television City and his casinos. A few years from now it may be something else; he just doesn't yet know what. He will simply pursue success obsessively in everything he does, time and time again. "No achievement can satisfy what he wants," believes one friend. "What he wants still is acceptance from his father. He is playing out his insecurities on an incredibly large canvas."
'Correct today': Fred Trump, 83, still goes to work every day at his modest office in Brooklyn. He got rich years ago building thousands of brick, pillbox-size homes for the emerging middle-class in Brooklyn and Queens. Fred talks to his son nearly every day and says he is "awed" by what Donald's done. His son is still very much a product of the Brooklyn office. His vernacular is neither that of an aristocrat nor of a polished executive. That may be why today, despite the outrageous trappings of wealth and unyielding ambition, Donald Trump remains a rather familiar figure.
In David Mamet's Pulitzer Prize-winning play, "Glengarry Glen Ross," a slick, street-smart real-estate salesman named Ricky Roma talks of ambition and money and what they mean. Forget Roma, for the moment, and substitute Trump.
"I do those things which seem correct to me today. I trust myself. And if security concerns me, I do that which today I think will make me secure. And every day I do that, and when that day arrives that I need a reserve, (a) odds are that I have it, and (b) the true reserve that I have is the strength that I have of acting each day without fear. According to the dictates of my mind. Stocks, bonds, objects of art, real estate. Now: what are they? An opportunity to what? To make money? Perhaps. To lose money? Perhaps. To 'indulge' and to 'learn' ourselves? Perhaps. So f---ing what? What isn't? They're an opportunity. That's all. They're an event. A guy comes up to you, you make a call, you send in a brochure, it doesn't matter. "There're these properties I'd like to see.' What does it mean? What do you want it to mean…"
For Trump, it can only mean more money, more power and—what his $1 billion ego seems to covet most—more attention.