Chancellor Rishi Sunak was filmed serving food to the wrong table as he tried his hand at being a waiter at an east Asian food chain Wagamama restaurant.
Speaking to customers, Sunak was filmed taking food to a table where one of the slightly bemused customers said they hadn't ordered food.
The chancellor approached the table with a plate of food in each hand and said: "I've been told to bring you some food that apparently you ordered."
One of the women replied: "We actually haven't" before another woman said: "One of them possibly."
A slightly perplexed looking Sunak replied: "Is that not your order?"
Eventually, he served the customers with their food.
The unfortunate mishap occurred hours after the chancellor set out a range of measures to help the U.K. economy which is facing its worst recession in 300 years according to the Bank of England as a result of the COVID-19 lockdown.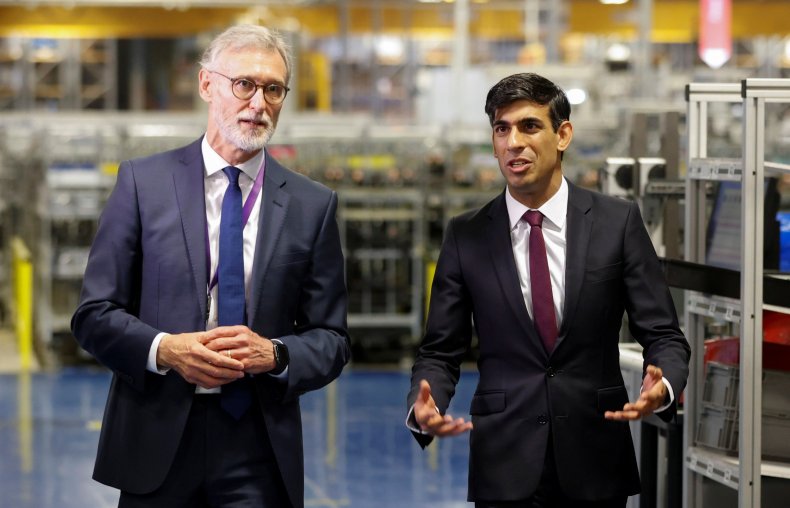 The visit to Wagamama was designed to show the chancellor's support for the hospitality sector, in which he set out a 15 percent cut to Value Added Tax (a tax applied to purchases of goods or services) on food, accommodation and attractions.
The cut will apply to eat-in or hot takeaway food and non-alcoholic drinks from restaurants, cafes and pubs, accommodation in hotels, B&Bs, campsites and caravan sites, attractions like cinemas, theme parks and zoos.
Sunak said the "£4bn catalyst" would help protect "over 2.4 million jobs."
He also announced the launch of an Eat Out to Help Out initiative, which will see households given vouchers to use when dining out.
Taking place in the month of August, the vouchers will give households a 50 percent reduction on the meals, up to £10-per-head ($12.50), on sit down meals and non-alcoholic drinks.
The vouchers can be used on Mondays, Tuesdays and Wednesdays.
Reaction to the chancellor's Summer Statement continued, with Sunak criticized for not doing enough to help the self-employed.
One viewer told BBC Breakfast: "I can't get my head around how the chancellor expects anyone to survive on zero income."
Sunak said he was proud of the government setting up the self-employment scheme to provide support for over 2.5 million people who are self-employed, which he described as one of the most "comprehensive and generous schemes" around the world.
He also said that the government was "sorry for not helping "everyone in exactly the way they would have wanted" but was "throwing everything" at stemming job losses with a £30bn ($38bn) package to help the economy.