Rising Water Levels, Downed-Trees and Power Outages Become Growing Concern As Florence Weakens
MYRTLE BEACH, North Carolina — Tropical Storm Florence continued to crawl across the Carolinas on Saturday -- non-stop rain, strong winds and catastrophic flooding led to further evacuations and a rising death toll.
Among the dead were a mother and her infant child in Wilmington, North Carolina, not far from where the Category 1 hurricane made landfall at Wrightsville Beach early Friday morning. The mother and child were killed when a tree fell on their house, according to local officials. The father sustained injuries during the incident and was transported to New Hanover Regional Medical Center.
Gabriel Marguiles, 33, an adjunct instructor at the University of North Carolina Wilmington, told Newsweek that a 200-year-old oak tree fell on an apartment behind his grandmother's house in downtown Wilmington. Two people were inside the apartment when the 200-foot tall tree came crashing down, but were unharmed.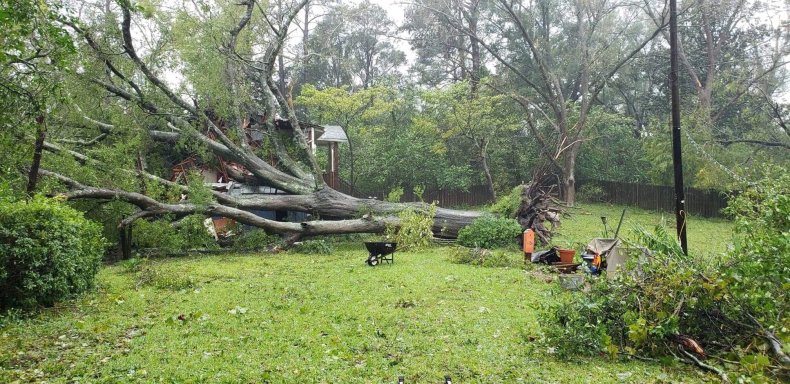 The National Hurricane Center said late Friday that "catastrophic flash flooding" is expected in parts of the states and "prolonged significant river flooding."
In Kinston, roughly an hour and a half north of Wilmington, the primary concern for city officials are the eastern and southern parts of Lenoir County. Emergency services are expecting the Neuse River to rise above the 21-foot requirement for the National Weather Service to classify the flood as "major," the most severe rating.
The major flood classification means mass evacuations and extensive property damage to homes, buildings and farms that are in the path of the flood zone.
Local officials are predicting the Neuse River to break the record set two-years prior during Hurricane Matthew, when the river crested at 28.3 feet.
"It would mean a lot more damage than Matthew," former Kinston mayor BJ Murphy told Newsweek. Murphy, who is now the publisher of Neuse News, said that if the Neuse River surges to 30-feet, the rain-fed waters would likely impact the downtown area of Kinston. But he says the city is better prepared.
"I would say we are better prepared as I'm now on the outside looking in, but for two main reasons. Matthew had every model, but one going the route it took and it caught many of us by surprise, including, weathermen," the former mayor said. "And, since Matthew was only two years ago, many of the same personnel are still here."
The National Weather Service Advanced Hydrologic Prediction Service currently predicts the Neuse River will surge to 26.2 feet as of Saturday afternoon, which is just under the record set by Hurricane Floyd in 1999 at 27.7 feet.
The 275 mile long Neuse River runs throughout North Carolina, starting in the Piedmont plateau region of North Carolina and emptying into Pamlico Sound below New Bern, some 35 miles east of Kinston. As of Saturday afternoon, the Neuse River in Kinston stood at over 17 feet and rising. The flood stage is at 14 feet.
Chris J. Suggs, who is the CEO of Kinston Teens, a youth-led nonprofit organization based in Kinston, told Newsweek that they are expecting the Neuse River to crest early next week.
"We've had lots of wind and rain here, trees are down all over town and lots of power outages," Suggs said. "Two out of the five reported deaths from Florence were here as well and we're expecting more catastrophic flooding once again. We're trying to assess the damage and needs today so that we can get to work tomorrow."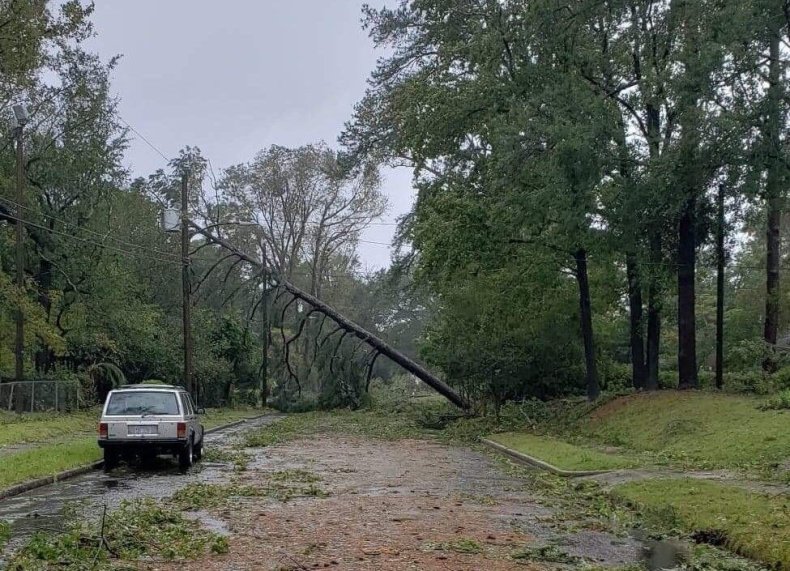 In Jacksonville, North Carolina, home to Marine Corps base Camp Lejeune, major intersections are underwater as 94 people have been reportedly rescued as Tropical Storm Florence continues to thrash the Carolinas and parts of southwest Virginia.
Former U.S. Marine Staff Sgt. William "Bobbie" Bee told Newsweek that Florence is significantly different than Hurricane Matthew in 2016 or Hurricane Irene in 2011.
"Piney green [the metropolitan area of Jacksonville] is underwater and we're flooded in," Bee said.
Jacksonville resident Scott Wood told Newsweek that he sent his family to Maryland to avoid the flood waters. His house survived, but another house in his neighborhood has been destroyed.
"I don't think anyone was home at the time, but either they left something on or maybe lightning hit it, but it caught fire and has significant damage," Wood said.
The more than 1,700 square foot house in Jacksonville is worth more than $170,000, according to public records. Newsweek attempted to contact the homeowners, but all phone lines were disconnected.
For now, residents left in Jacksonville can only watch and patiently wait as the storm creeps through the region.
"Right now, if you're in Jacksonville, you're not getting out," Wood said.