I remember quite clearly the first time I explained what COVID was to my young children in early March of 2020. I lay down in one of their beds at bedtime and told them about what it was and how it might affect our lives for the next few weeks or perhaps even the next month or two (oh, how naive I was then!). I reassured them about their safety and ours, and pulled up a chart from China and Italy about the death rates broken down by age. I explained to them the nature of the virus, that it thankfully spared children of their age, and almost everyone under the age of 40. I comforted them that their grandparents and great-grandmother would exercise caution due to their increased risk, but thankfully, everyone their parents' age and down, but kids especially, were statistically quite safe from ill-effects, even if they were to get sick.
Nearly two years later, the data has continued to bear this out. As the New York Times' David Leonhardt pointed out this week, an unvaccinated child is at less risk of serious Covid illness than a vaccinated 70-year-old—even a vaccinated 40-year-old, according to a British study.
Indeed, the realization that COVID infection carries different risks depending on age is a well-known fact internationally. The risks for kids "are similar to the other respiratory viruses you probably don't think much about," Alasdair Munro, a Clinical Research Fellow Paediatric Infectious Diseases with NIH in the United Kingdom, explained on Twitter. In fact, for children pre-school age and under, viruses like RSV are much more likely to result in hospitalization than COVID.
Unfortunately, for many Americans, this is new information—thanks to the fact that unlike Leonhardt, too many in the liberal media have pushed a hysteria when it comes to kids and COVID. And it's skewed the way parents are relating to the subject.
As a pediatrician in a liberal stronghold on the West Coast told me recently, "I've seen a ton of COVID; when I try to reassure parents that kids don't spread it and are low-risk, I often am met with a confused response. They are not hearing the same thing from other trusted sources."
The information is out there. That's not the problem. The problem is the refusal of thought-leaders in the media and government to adjust their rhetoric on kids and COVID, which has resulted in real consequences for an entire generation of kids.
Parents in liberal strongholds ended up putting their own children at a disadvantage because of misplaced fears stoked by those in power and in the media. Fully recognizing that online schooling was of lower quality than in-person instruction, they were still reluctant to prioritize the return of in-person instruction because of misinformation in liberal circles about the dangers of COVID to kids. "While school was clearly a challenge, and it may have been the decisions of teachers and administrators to keep things online, it is also clear that the parents very often preferred that," the 2021 American Family Survey from Deseret News and the Center for the Study of Elections and Democracy at Brigham Young University found.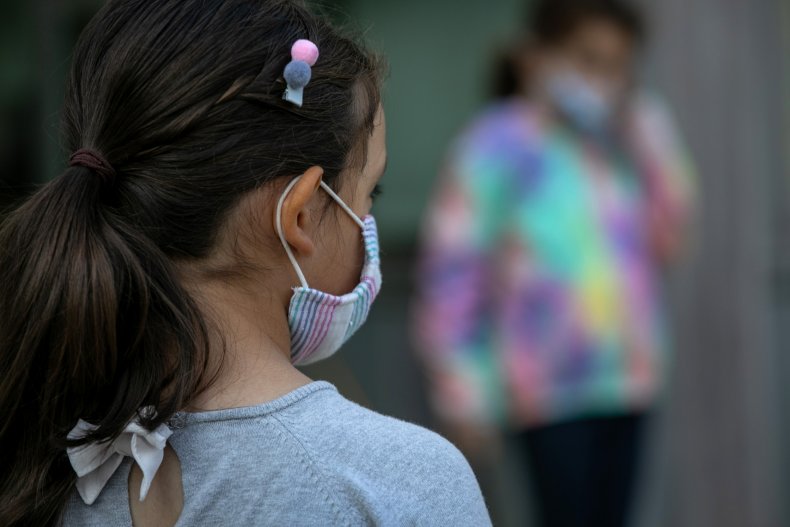 And now this misinformation about the risk of COVID to kids is driving yet another trend in this pandemic: the possibility, and many think probability, of vaccine mandates for kids to return to in-person education. This is already reality in California, and there's the possibility of it spreading to more states and counties in the U.S.
How is this happening, given how low the risk to kids from COVID is?
Throughout the pandemic, COVID extremists promised massive pediatric death tolls, whenever a school would reopen or a mask mandate was dropped. These promised death tolls, mercifully, never materialized, and yet we have learned no lessons about the dangers of COVID when it comes to kids, or the lack thereof.
Many parents are waking up. In one survey, just 44 percent of parents said it was important for students and teachers to be vaccinated, while 55 percent believed it was unimportant or were neutral. And in a new Axios-Ipsos poll, just 47 percent of parents planned to vaccinate their kids, with 42 percent leaning against.
Given the very clear data on the risk of COVID to kids—"so low as to be difficult to quantify," as the Times' Leonhardt put it, why the rush to vaccinate kids? And more importantly, why the rush to mandate it when most parents are unconvinced it's necessary, even after the scaremongering we've unscientifically been subjected to?
Bethany Mandel is an editor at Ricochet and cohost of the LadyBrains Podcast. Her writing has appeared in the New York Post and The New York Times. She is homeschooling her five children.
The views in this article are the writer's own.