At-Risk Republicans Under Pressure to Back Democrats' Demand for Witnesses at Trump's Impeachment Trial
Democrats may be the minority in the Senate, but they could get a helping hand from some vulnerable Republican lawmakers during President Donald Trump's upcoming impeachment trial.
Small cracks have already appeared in the GOP's unity on the issue, and as the case inches closer to the starting line, polls show that voters are wary of the party's strategy and the lawmakers that end up supporting it.
Particularly at risk are the Republicans up for re-election this year in Democratic-leaning or swing states. Senators Susan Collins, Cory Gardner and Martha McSally are some of the most likely lawmakers to face backlash at the ballot box if they choose to follow their GOP colleagues' lead.
And while Trump is all but certain to be acquitted on the two articles of impeachment (the Constitution requires 67 votes in the Senate to convict), Democrats need only four Republicans to get new witnesses called and documents subpoenaed, which could produce damaging evidence against the president.
The impeachment trial has been on pause for weeks as House Speaker Nancy Pelosi withheld delivery of the two articles to the upper chamber until she was assured the process would be fair. Democrats specifically wanted the upper chamber to agree to call more witnesses, such as former national security adviser John Bolton, before the trial began.
But that demand seems unlikely to be met. Senate Majority Leader Mitch McConnell said last week that he had the votes necessary to move forward with the trial without guaranteeing witnesses. The top Republican has also pledged "total coordination" with the White House throughout the trial—a comment that drew opposition from longtime Republican Senator Lisa Murkowski.
But it appears that most voters are siding with Pelosi and the Democrats on the issue. A new poll from Morning Consult/Politico found that 57 percent of registered voters think the Senate should hear from additional witnesses during the president's trial. Even Republican voters are split on the matter, with 40 percent supporting additional witness testimony and 39 percent opposing it.
"What we think we accomplished in the past few weeks is that we wanted the public to see the need for witnesses," Pelosi told ABC on Sunday in her defense of withholding the impeachment articles. "Now the ball is in their court to either do that or pay the price."
Voters in key swing states also don't seem to like the idea of excluding witness testimony from Trump's trial. Polling from Hart Research showed that 63 percent of voters in Arizona, Colorado, Maine and North Carolina—the states represented by McSally, Collins and Gardner—would react unfavorably if their senator voted against calling witnesses or subpoenaing documents.
Some of these lawmakers are also being targeted with advertisements from progressive organizations. Last week, a super PAC went after McSally with an animated ad that depicts a "McSally's" restaurant that has "flip-flopping burgers" and a "souvenir Ukraine kamikaze cup." The latter is a reference to the Arizona lawmaker's comments that the House's effort to impeach President Donald Trump was a "kamikaze mission."
Gardner was also hit with a negative ad. Coming from The Lincoln Project, a super PAC formed by conservative Trump critics such as George Conway, the digital ad says: "You're just another Trump servant.... So scared of his tweets you'll do anything Trump orders: blocking witnesses, stonewalling to keep Trump's obstruction secret, breaking your oath to follow the constitution and the law."
Senate Minority Leader Chuck Schumer told Politico it's not an unrealistic possibility that some GOP senators might the Democratic cause. He said support for new witnesses and documents is "even stronger than we thought, with large numbers of Republicans supporting it."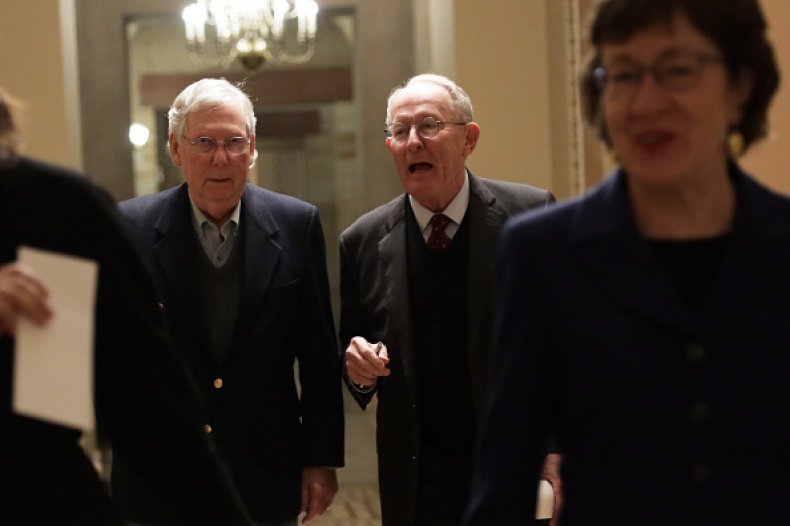 Collins also told reporters in Maine last week that she was working with a "fairly small group" of GOP lawmakers to make sure witnesses can be called during the impeachment proceedings. But she did not say who or how many Republicans she was working with on the issue.
Senator Mitt Romney, a Republican from Utah, has also voiced support for witnesses. He previously said he'd "love to hear" what Bolton has to say on the matter. Bolton's lawyer has said the former White House official has undisclosed information about the Trump administration's dealings with Ukraine.
The impeachment trial could start as soon as next week. Pelosi signaled last week that the House was preparing for a vote on a resolution to name impeachment managers and send the articles to the Senate.
Ahead of the House's vote to forward the articles, Trump suggested that the upper chamber should simply dismiss the impeachment case against him. He faces two charges: abuse of power and obstruction of Congress.