Risk of U.S.-China 'Shooting War' Is Growing, Philippine Defense Secretary Warns
The Philippines' defense secretary has warned that increasing tensions in the South China Sea between the United States and China could easily spill over into hostilities.
Delfin Lorenzana told a forum in Manila on Wednesday that the rivalry between Beijing and Washington was the overriding security concern of the region and his country would bear the brunt of any escalation.
"If ever a shooting war happens, Philippines—which is right smack in the middle of the conflict—will be involved whether she likes it or not," he told the Stratbase ADR Institute, according to The Inquirer.
"This is the crux of the security challenge in the Indo-Pacific region, the looming confrontation of the U.S. and its allies and China for the South China Sea," he said.
In 2018, a Chinese destroyer came close to an American warship that was conducting a "freedom of navigation" patrol in the South China Sea. China has increased its armed coastguard and patrols in the region. Last week, the U.S. flew two supersonic heavy bombers into China's air defense identification zone northeast of Taiwan.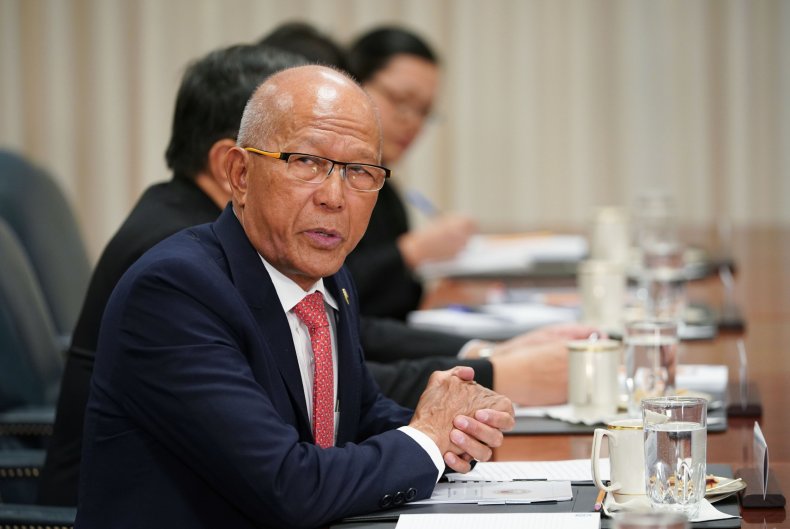 "The fear of miscalculation is ever present, like the near collision of two frigates belonging to the U.S. and China two years ago," Lorenzana said.
Despite claims from Manila, as well as regional neighbors Vietnam, Malaysia, Brunei and Taiwan, China has continued to enforce its claim over the South China Sea, including the West Philippine Sea.
The Philippine president Rodrigo Duterte has largely managed to avoid challenging Beijing over its maneuvers in the region, in return for Chinese investment, but he faces criticism domestically because the promised financial benefits have not materialized.
Camille Elemia, a journalist with the Philippine website Rappler, told Newsweek earlier this month that President Donald Trump's trade spats with Beijing had placed the Philippines in a difficult situation because it did not want to anger China, "but we also need the U.S. to retain the balance of power in the region and what China is doing in the South China Sea."
However, with a new U.S. administration coming to power in January, Duterte will have to consider how to balance American interests in the region. In June, he reversed a decision he had made in February, to scrap the two-decades-old Visiting Forces Agreement setting out rules for U.S. soldiers operating in his country.
On Wednesday, Lorenzana said he hoped the southeast Asian nations could act as one to assert their influence on China whose moves in the South China Sea were of concern internationally.
"What does this tell us? That the South China Sea is important in nations," he said, "that the tension in the South China Sea will continue to rise as China will continue to accuse the U.S. and other nations of provocation and other destabilization in the region."