The Risks of Connecting to New York's New, Free Wi-Fi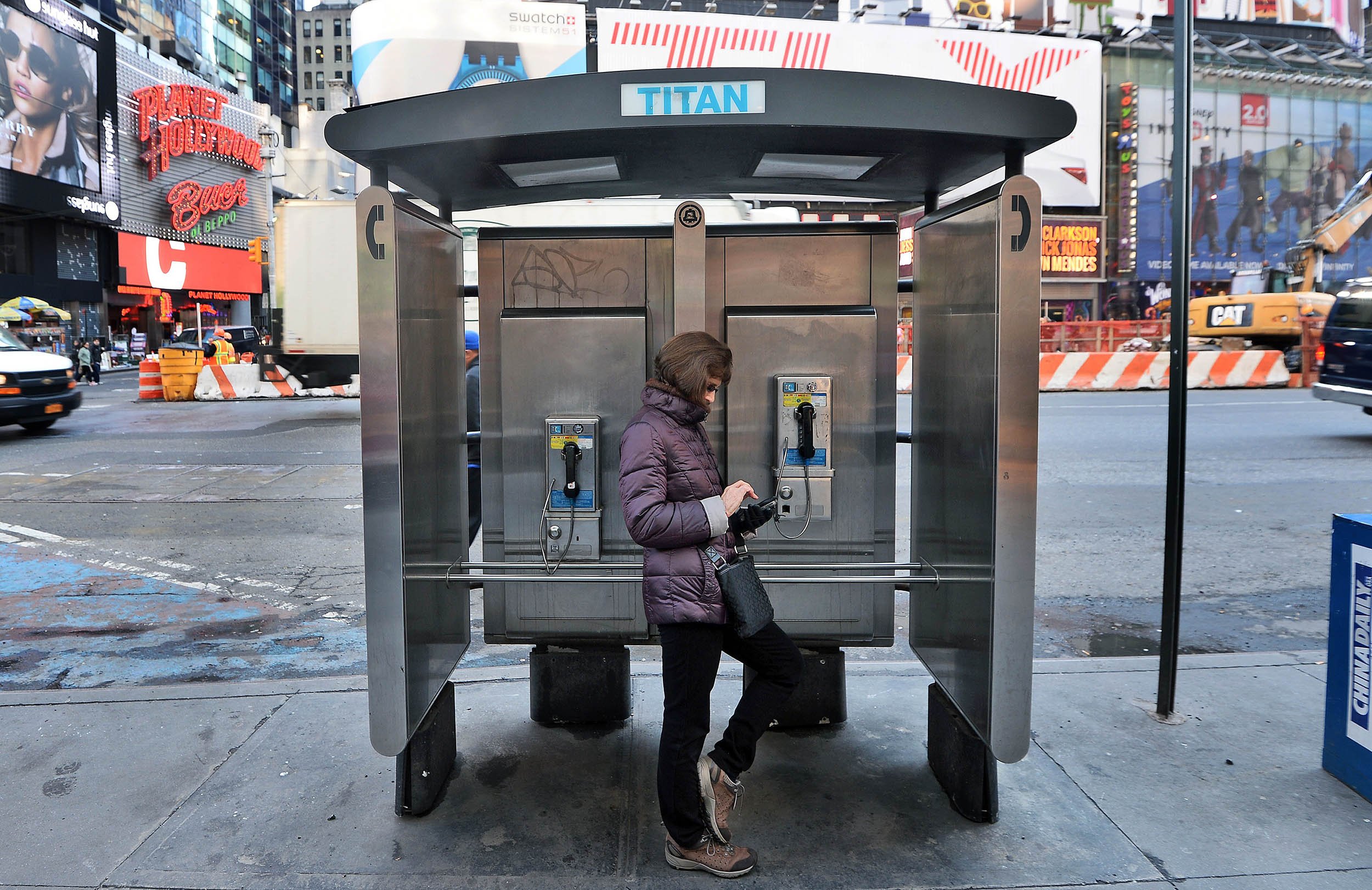 New York City is looking to replace its antiquated public pay phones in order to bring the five boroughs what it claims will be the largest and fastest free municipal Wi-Fi network in the world. While providing Internet access to the hustling and bustling masses of the Big Apple is undoubtedly a step toward the future, there are also risks to consider.
On Monday, Mayor Bill de Blasio's office revealed it had given the green light to LinkNYC, a $200 million project proposed by CityBridge—a consortium of companies including Titan, Control Group, Qualcomm Incorporated and Comark.
The new communications network plans to replace phone booths with 9.5-foot-tall kiosks that will host up to 10,000 Wi-Fi hot spots offering 24/7 Internet access at the speed of 1 gigabit per second. This speed is more than 100 times faster than the average public Wi-Fi.
The kiosks will also provide free domestic phone calls on your cellphone, an embedded tablet—powered by Google's Android operating system—to access the city's services and directions, free device charging via USB and screens for advertisements, public service announcements and emergency information.
And the project will come at no cost to taxpayers. Instead, it will be paid for by the revenue derived from digital advertising on the kiosks. CityBridge and New York City will share the proceeds.
The project is expected to bring $500 million in revenue over the next 12 years and create local jobs associated with its development, servicing and maintenance. The city predicts the program will generate between 100 and 150 new full-time jobs, as well as around 650 support jobs.
"This administration has been committed to expanding affordable access to broadband for all New Yorkers from the outset. It's essential for everything we need to do to be a fair and just city, because we can't continue to have a digital divide that holds back so many of our citizens," said de Blasio in a statement released on Monday. "With this proposal for the fastest and largest municipal Wi-Fi network in the world—accessible to and free for all New Yorkers and visitors alike—we're taking a critical step toward a more equal, open and connected city—for every New Yorker, in every borough."
While the city's hopes for tackling the digital divide are high, LinkNYC has its limitations. The Wi-Fi signal will only extend about 150 feet from the kiosk, meaning even if 10,000 hot spots are installed after six years, portions of the city will be left untouched by free, high-speed Internet.
But untouched areas are not the only concern. Newsweek spoke to Christian Fredrikson, the CEO of F-Secure—an international security firm based in Finland that conducted an experiment in June to test and expose the public's lack of knowledge associated with Wi-Fi vulnerabilities. "I applaud the idea, I think it's a very progressive move for the people of New York," he told Newsweek. But he proceeded to lay out some risks associated with the project.
First, he said, that for a low price, criminals can fake a Wi-Fi. "You make a name that resembles whatever you want it to resemble.… So then people connect because they like free Wi-Fi.… The traffic goes to my box...and I see everything: your passwords, your email passwords, any credentials...all your traffic I can see," he said. "In today's espionage world, it's a very common thing."
Second, he explained that someone can hack the Wi-Fi network. "This requires a bit more knowledge and competence...and then you get access to all the traffic," he said. "I'm sure they are going to build some protection systems around it."
And LinkNYC suggests that it will. On its website CityBridge claims, "LinkNYC will be one of the first free municipal Wi-Fi services in the country to offer an encrypted network connection between you and the hot spot."
But the third vulnerability lies with the kiosk providing USB charging. Fredrikson said, "This makes it very easy [for a criminal] to put their own part [into the USB charger]...and put malware into your device."
He also mentioned malicious advertisements that access personal data, something New Yorkers were a target of through phone booths not too long ago.
In October, Buzzfeed revealed that bluetooth devices known as "beacons" were installed in hundreds of phone booths around Manhattan. These devices emit signals, and are able to track your location and push relevant ads to you if you opt in to an application that asks for this information. According to Buzzfeed, groups that have signed deals with Gimbal, the beacon manufacturer, were able to collect data such as how long a person stood at a specific location, as well as the websites they visited. And the group responsible for installing the devices, Titan, is part of the CityBridge group installing the Wi-Fi network.
In a statement to Newsweek, Nicholas Sbordone, the spokesman for the Department of Information Technology and Telecommunications (DoITT), elaborated on Titan's involvement in building the new Wi-Fi network.
"CityBridge submitted the best response to the city's open, competitively bid solicitation to replace old sidewalk pay phones—going well beyond the minimum requirements by proposing the fastest broadband speeds available anywhere, encrypted Wi-Fi, strong privacy protections, and local economic development opportunities," he said. "If approved, we look forward to continue working with elected officials and communities across the five boroughs to bring state-of-the-art technology to all New Yorkers."
While the beacons were ultimately pulled thanks to reports exposing their existence, they made it through a thorough approval process.
Sbordone claimed they were approved due to a miscommunication about their use—DoITT was under the impression they were being used for internal maintenance purposes only.
Since the LinkNYC plan is in its infancy, decisions are still being made regarding the type of technology that will be installed in the kiosks. Titan's chief strategy officer, Dave Etherington told Newsweek, "If we do incorporate beacon technology, we will work closely with the city to inform the public of when and how they will be used. There are many great community use cases for beacons, from services for people with disabilities to wayfinding. Of course, beacons are an opt-in technology, and users would have to choose to use them."
But whatever happens, and whether you ultimately decide to connect or not, there is something you can do to protect your data. LinkNYC and Fredrikson offer the same solution: end-to-end encryption.
Correction: This article originally misspelled the last name of Dave Etherington.