Rita Moreno Blasted For Defense of 'In The Heights' Casting Criticism
Rita Moreno is facing some backlash after the veteran actress defended Lin-Manuel Miranda in wake of the In The Heights casting controversy.
The film adaptation of the musical, set in a New York City neighborhood, is receiving severe criticism for its lack of Afro-Latinx representation, with creator Miranda admitting that he "fell short."
The West Side Story actress made an appearance on The Late Show on Tuesday, where she told host Stephen Colbert that the casting criticism "really upsets me."
"You can never do right, it seems," she said.
Speaking of Miranda, she said: "This is the man who literally has brought Latino-ness and Puerto Rican-ness to America. I couldn't do it. I mean, I would love to say I did, but I couldn't. Lin-Manuel has done that, really single-handedly and I was thrilled to pieces and I'm proud that he produced my documentary."
Miranda co-produced Moreno's documentary, Rita Moreno: Just a Girl Who Decided to Go for It.
She said to the critics: "Well I'm simply saying, can't you just wait a while and leave it alone?"
Moreno is known for her legendary performance as Anita in the 1961 film West Side Story. She won a Best Supporting Actress Oscar for the role.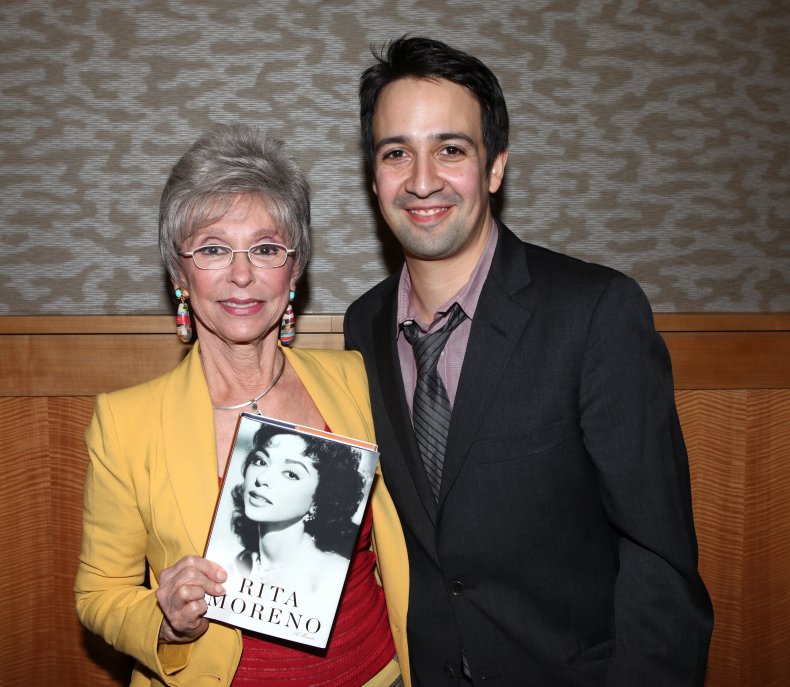 The 89-year-old's comments have not gone down well on Twitter, where many fans are expressing their disappointment of her stance on the controversy.
Film critic Robert Daniels, quoting Moreno tweeted: "'Well I'm simply saying, can't you just wait a while and leave it alone?' Moreno responded.
"That's such a damming quote, and I'm totally disappointed with Rita Moreno."
Filmmaker Bree Newsome tweeted: "I love Rita Moreno but this is the opposite of it. We have had a century of movie roles being reserved for the lightest skinned Latino, Black & Asian ppl. This is not breaking new ground & there is nothing for dark skinned ppl to be waiting for."
"#FunFact: Rita Moreno's skin was darkened for her role as Anita in the 1961 adaptation of West Side Story, which launched her career with an Oscar win," tweeted film producer Tambay Obenson.
"Although she didn't have a say in the matter. But clearly, for Black Latinx in Hollywood, 'wait a while' is so 1960s."
Meanwhile, another person added: "'Can't you just wait a while...' EXCUSE ME?? Rita Moreno really just told dark skin Latinos to sit there and wait. Let the light skin ones go first. IM SICK."
Addressing the situation via Twitter this week, Hamilton creator Miranda wrote: "In trying to paint a mosaic of this community, we fell short."
He continued: "It is clear that many in our dark-skinned Afro-Latino community don't feel sufficiently represented within it, particularly among the leading roles."
Miranda added: "I can hear the hurt and frustration over colorism, of feeling unseen in the feedback. I hear that without sufficient dark-skinned Afro-Latino representation, the work feels extractive of the community we wanted so much to represent with pride and joy.
"I'm trying to hold space for both the incredible pride in the movie we made and be accountable for our shortcomings," Miranda added. "I promise to do better in my future projects, and I'm dedicated to the learning and evolving we all have to do to make sure we are honoring our diverse and vibrant community."