Rittenhouse Jury Enters 24 Hours of Deliberation, Likely to Worry Defense, Experts Say
After already spending roughly 23 hours deliberating in the Kyle Rittenhouse trial, jurors will return to the courthouse on Friday to try to reach a verdict. While several days of deliberations are not unusual in cases like this, experts say the defense may begin to worry that the jury won't rule in its favor.
"I think the defense is sweating a little more [than the prosecution] because I think they felt far more confident—and had a right to feel confident," Wisconsin defense attorney John Birdsall told Newsweek.
Typically, when juries reach a verdict on the first or second day of deliberations, the lack of robust, extended discussion tends to favor the defense. But when the jurors confer for three or more days and begin asking about particular elements of the trial, it signals that they are looking even closer at the details.
"I think the state is happy that there's an actual fight going on. There's an actual discussion going on with the jurors," Birdsall said. "And that's pretty evident from what they asked to see. They came in to see the videos, they asked for the instructions."
Over the course of the first three days of deliberations, the jury sent five notes to the court in Kenosha, Wisconsin—two asking for extra copies of the jury instructions, two requesting to review videos from the trial and another asking whether they could watch the footage in the courtroom.
Former federal prosecutor and former elected state attorney Michael McAuliffe told Newsweek that those questions were "an early, hopeful sign that they are working together to reach unanimity."
He said this also suggested that the jurors wanted to scrutinize the videos alongside the jury instructions, which weren't provided until after the trial was completed.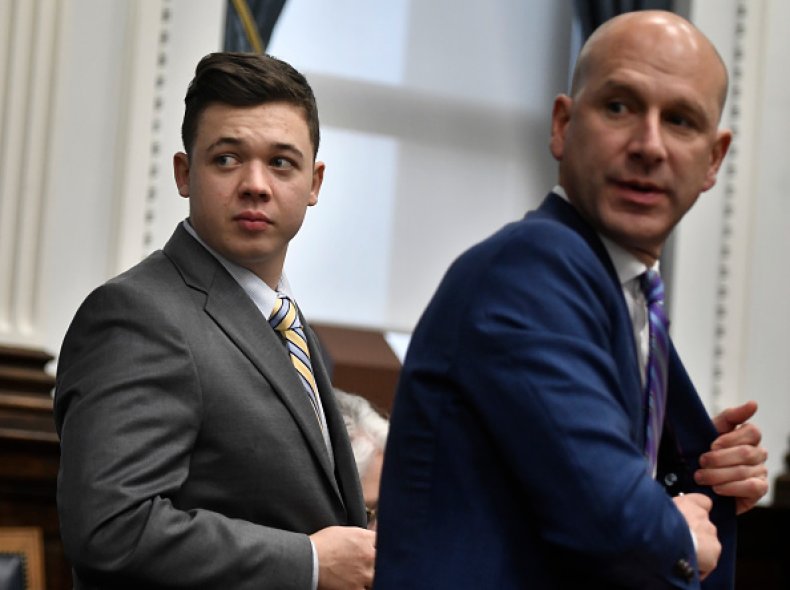 Rittenhouse, who fatally shot Joseph Rosenbaum and Kyle Huber and injured Gaige Grosskreutz on August 25, 2020, in Kenosha, has been charged with five felony counts, including intentional, reckless and attempted homicide and reckless endangerment.
On Thursday, the judge presiding over the case granted a "more than unusual" request from one of the jurors to take home the jury instructions—a decision that seemed to break from the judge's own warnings about allowing things outside the trial to influence someone's duties in court.
"I've literally never heard of [bringing home jury instructions], ever," said Birdsall, who has tried over 260 jury trials in Wisconsin. "Despite his admonition to not talk about the case with anybody, maybe [the jurors] aren't talking about it, but they're sure thinking about it. They're poring over those instructions separately, and they're supposed to do everything together."
He continued, "This morning could be really the pivotal thing. They're going to come back after a night with the instructions, so I think it's a fair bet to say we're either going to have a verdict this morning or they're going to claim they're hung."
Friday is expected to be a turning point to the case, with Rittenhouse's attorneys and the prosecution possibly learning what the jury has not agreed on.
"The first real natural endpoint will be Friday at the end of the day," McAuliffe said. "Many verdicts come in then, and/or that's when juries communicate they are having trouble reaching verdicts on all the counts."
But despite the lengthy deliberations, which didn't occur in other high-profile cases like those for Derek Chauvin and George Zimmerman, the timeline seems on par for a case of this magnitude.
"This is a pretty long time for a high-profile case, but it's also complicated. There's essentially three different events because there's three shootings," Birdsall said.
Whereas the other cases focused on one particular shooting, Rittenhouse is facing charges in connection with separate incidents, making the jury's task even trickier.
"Like the Chauvin and Zimmerman cases, this case raises tough issues of self-defense," Ion Meyn, an assistant professor at the University of Wisconsin-Madison Law School, told Newsweek. "Unlike those cases, this case involves four separate incidents, each requiring a complex set of considerations. Given how many people were shot or shot at, I think this case is even more complicated."
He added, "All in all, a lot to consider and, potentially, not only multiple incidents but multiple charges as to each."
McAuliffe pointed out that the jurors could also take longer to reach a verdict because they have not been sequestered.
"That tends to lengthen deliberations, on average, in complicated, highly contested homicide cases," he said. "It's a multiple-count murder case with lesser included offenses and a self-defense defense. It's not surprising the jurors are taking their time closely reviewing the evidence and applying the law."
McAuliffe warned about comparing the deliberation time to those of other high-profile cases because "each case has a unique profile and identity––they almost develop a distinct personality."
"That's not to minimize what's at stake; it just means comparisons are difficult," he said.