The lead prosecutor in the Kyle Rittenhouse case argued that the 18-year-old lost the "right to self-defense" by bringing an AR-15 semi-automatic rifle to the protests in Kenosha last year.
"You lose the right to self-defense when you're the one who brought the gun," assistant district attorney Thomas Binger told the jury in his closing arguments on Monday.
"You cannot claim self-defense against a danger you create. If you're the one threatening others, you lose the right to claim self-defense," he added.
In their final statements to the jury, the prosecution argued that Rittenhouse provoked the attack from Joseph Rosenbaum on the evening of August 25, 2020, and thus would not be entitled to self-defense unless he was facing death or great bodily harm and exhausted every other means to escape the attack.
Binger argued that Rittenhouse provoked Rosenbaum when he put down a fire extinguisher and pointed his gun at a bystander.
"This is the provocation," Binger said. "This is what starts the incident."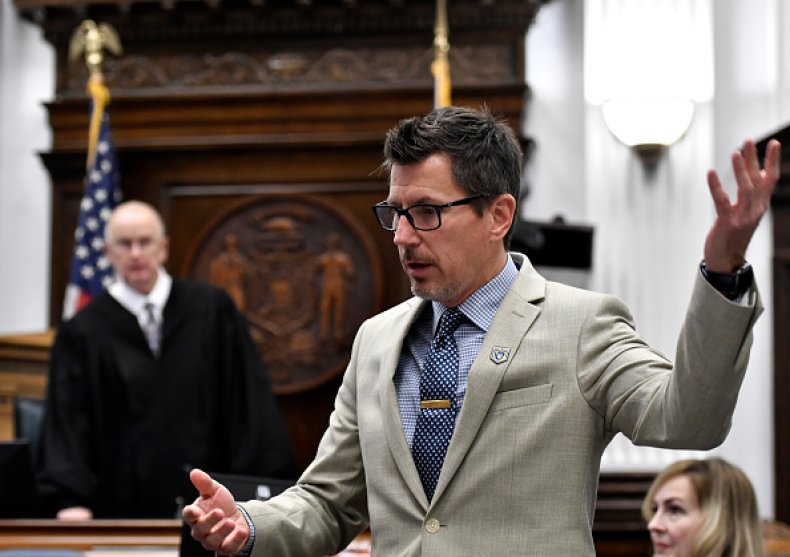 Rittenhouse is facing five felony charges related to the deaths of Rosenbaum and Anthony Huber, as well as the injuries sustained by Gross Grosskreutz.
Rittenhouse's defense team has argued that the then-17-year-old acted in self-defense when he shot the three men.
Binger told the jury that video footage showed that Rosenbaum had not been within arms reach of Rittenhouse when the first shot was fired.
"It's the defendant who chooses where to go," Binger said.
The prosecution went on to emphasize that Rosenbaum was unarmed at the time Rittenhouse fatally shot him.
"The defendant brought a gun to a fistfight," Binger told the jury. "You don't bring a gun to a fistfight. What the defendant wants you to believe is because he is the one who brought the gun, he gets to kill."
Binger also tried to argue that because the first shot Rittenhouse fired at Rosenbaum struck him in the pelvis and incapacitated him, the other three shots Rittenhouse fired could not be argued in self-defense.
"[Rittenhouse] is defenseless, he is vulnerable," the prosecutor said.
"The defendant decided to pull the trigger on his AR-15 four times," Binger added. "That is his decision. He is responsible for every bullet he shoots. He could have stopped and assessed, but went four times in .76 seconds."
In connection to Rosenbaum's death, Rittenhouse is facing one count of first-degree reckless homicide and one count of first-degree recklessly endangering safety.
He has pleaded not guilty to all charges.