Rittenhouse Trial Heats Up as Judge Screams at Prosecution: 'Don't Get Brazen With Me'
The trial of Kyle Rittenhouse reached a boiling point on its eighth day after the judge presiding over the case screamed at the prosecution in a heated exchange over Assistant District Attorney Thomas Binger's cross-examination of Rittenhouse.
The first rift between Binger and Kenosha County Circuit Judge Bruce Schroeder broke out after the district attorney pressed Rittenhouse if he was telling his account of August 25, 2020—when he fatally shot two men and wounded a third—for the first time.
After sending the jury to the library, Schroeder slammed Binger, telling him it was a "grave constitutional violation" for Binger to talk about Rittenhouse's right to remain silent.
"You're right on the borderline. You may be over. But it better stop," the judge warned.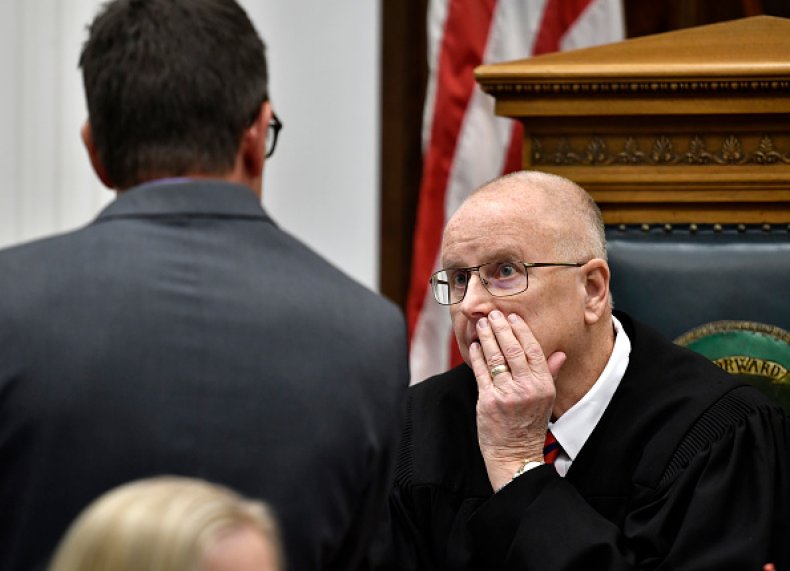 Schroeder sent the jury away for a second time during the cross-examination after Binger asked Rittenhouse about an August 10 incident that was excluded in a pre-trial order.
"You should have come and ask for reconsideration!" Schroeder yelled.
The judge clarified for the record that he held it open for a bias towards denial.
"Why would you think that that made it okay for you to bring this matter before the jury?" Schroeder told Binger.
"I was astonished when you began his examination by commenting on the defendant's post-arrest silence. That's basic law. It's been basic law in this country for 40 years, 50 years. I have no idea why you would do something like that!" he added. "I don't know what you're up to."
Binger responded saying he was trying to impeach Rittenhouse in his line of questioning by arguing that the incident was "identical to what was going on the night of August 25, in the sense that the defendant was using this exact same weapon. He was using it in a manner to protect property."
"I'm not going to rehash the motion! That's absolutely untrue," the judge replied.
Schroeder acknowledged the defense's argument that Binger is an experienced trial lawyer who would know better than to go against the court's rulings.
"Don't get brazen with me!" Schroeder screamed at Binger. "You know very well that an attorney can't go into these types of areas when the judge has already ruled, without asking outside the presence of the jury to do so. So don't give me that!"
"I don't see the similarity [between the two incidents]. I said it couldn't come in and it isn't coming in, no matter what you think!" the judge said.
The judge said he didn't want to have another issue with the prosecution as long as the case continues.
"Is that clear?" he asked.
"Yes," Binger responded.