People at Home Are So Bored They're Actually Making All The Recipes on the Back of the Ritz Crackers Box
While most product marketing is wildly variable over the years, and shaped by prevailing cultural trends, cracker brands really nailed down an approach and stuck with it: Depict your cracker topped with elaborate care and uncommon ingredients, completely unlike the slopped-on aerosol cheese and deli meat that many of its consumers nosh. Finally though, with all the time implicit in the ongoing coronavirus pandemic and shelter-in-place lockdown, someone has actually made the bizarro cracker combinations that the cracker brands imagine for us.
Inspired by a joke tweet by Wet Hot American Summer actor Michael Ian Black, a dressmaker and "sewing enthusiast" named Rox—who posts to social media under the name roxisasewingmachine—set about recreating the unlikely cracker recipes depicted on the back of a box of Ritz.
Roxisasewingmachine documented her adventures in cracker crafting to the image-sharing site Imgur on Monday, posting a video of her recreations and photos capturing the step-by-step process. In total, she recreated ten different cracker recipes depicted on Ritz Crackers packaging:
"Family Game Night" - pizza sauce, mozzarella, pepperoni, Italian seasonings
"Tailgate Party" - guacamole, sour cream, black beans, salsa, cilantro
"Backyard BBQ" - coleslaw, pulled pork, jalapeno
"Season Premiere Party" - peanut butter, white chocolate-coated popcorn, milk chocolate
"Birthday Party" - melted white chocolate, sprinkles
"Book Club" - cream cheese, strawberry preserves, toasted almonds
BLT - bacon, lettuce, tomato
Peanut Butter & Jelly - peanut butter, jelly
Cheddar & Apple - apple, cheddar
Cheese Burger - beef, ketchup, cheddar, pickles
"So, I told my husband that a stranger on the internet said I wouldn't do something and I need to prove them wrong, and he said 'OK let's go,' so we put on our masks and went to the store," Roxisasewingmachine wrote, captioning an image with all of the required ingredients.
The process involved quite a bit of cooking and some tricky techniques, including expertly drizzling melted chocolate and forming mouse-scale hamburger patties. The results were a little underwhelming, with Roxi describing the crackers as "not bad," though some were "kind of dry."
"For the most part they tasted how you'd expect," she wrote, before revealing her numerical score for each cracker, rated out of five. Top-rated crackers included PB&J, the "Backyard BBQ" with pulled pork and the "Book Club," with its combo of strawberry and cream cheese. Her lowest ratings—two out of five—were given to the "Family Game Night" pizza Ritz ("flavor was ok but it looked a mess") and the simple cheddar and apple combo.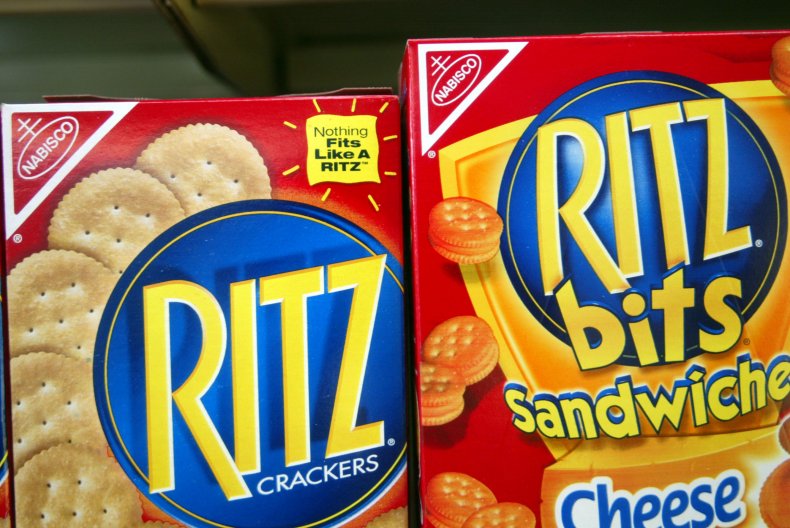 The Ritz cracker was invented in 1934 and so named to evoke a "bite of the good life" during the ongoing Great Depression. Newsweek has reached out to Ritz Crackers for their response to Roxisasewingmachine's creations, but did not hear back in time for publication. Many more recipes—some even stranger than the elaborate crackers created by Roxi—can be found on the official Ritz Crackers site.