Rival of GOP Senator Calls Him Out for Mispronouncing Kamala Harris' Name, Says That Would Never Happen to a White Male Colleague
GOP Senator David Perdue was called out by rival Jon Ossoff on Friday for repeatedly mispronouncing Democratic vice-presidential candidate Kamala Harris' name during a Georgia rally.
While closing up his remarks at the Macon event for President Trump, Perdue called Harris, whom he's worked with for three years, "KAH'-mah-lah? Kah-MAH'-lah? Kamala-mala-mala? I don't know. Whatever."
The mispronunciation drew criticism from social media users, among them Ossoff, Perdue's Democratic opponent in the upcoming Georgia Senate election.
Sharing a video to his Twitter account, Ossoff wrote: "Senator Perdue never would have done this to a male colleague. Or a white colleague. And everyone knows it."
In a tweeted statement, a campaign spokesperson for Perdue wrote that the first-term senator "simply mispronounced Senator Harris' name, and he didn't mean anything by it."
"This kind of vile, race-baiting trash talk is what President Trump has unleashed from sitting Republican members of the Senate," said Ossoff in a Friday appearance on MSNBC.
Republicans, including Trump, and Democrats have mispronounced Harris' name in the past, even after supporters have repeatedly stated that the mispronunciation is racially insensitive. Harris, who is the first Black and first South Asian-American woman on a national party ticket, explains in her biography The Truths We Hold that her name is pronounced "comma-la."
"He has been her Senate colleague for over 3 years," wrote Harris' spokesperson, Sabrina Singh, in a tweet. "3. Years. THREE. Do better."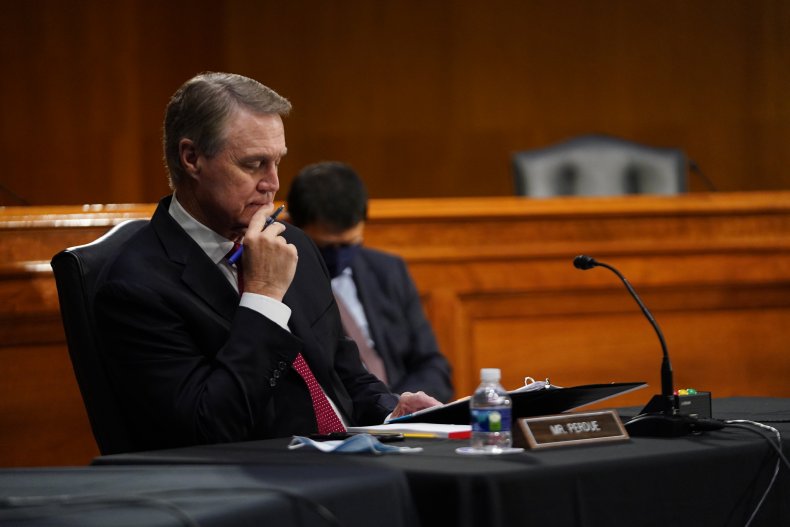 In a statement titled "Senator Perdue Must Apologize For Racist Dog Whistle," Democratic Senatorial Campaign Committee spokesperson Helen Kalla called Perdue's actions "disgusting," and referenced his campaign's advertising against Ossoff, which was recently taken down following accusations that it promoted anti-Semitism.
"Senator David Perdue has served in the Senate alongside Vice Presidential nominee and Senator Kamala Harris since 2017. He knows her name and he knows how to say it," she wrote. "His disgusting performance today is nothing more than a desperate dog whistle from a losing politician who was already caught running anti-Semitic ads against Jon Ossoff."
"Perdue has shown he lacks the dignity and respect that Georgians deserve from their U.S. senator, and he must immediately apologize," Kalla added.
Georgia's Democratic Party also urged Perdue to apologize for his disrespectful remarks.
"Senator Perdue's intentionally disrespectful mispronunciation of Senator Harris's name is a bigoted and racist tactic straight from President Trump's handbook," said Nikema Williams, chair of the Georgia Democratic Party, in a statement. "He owes Georgians an apology for his offensive display."
Considered a toss-up race by the Cook Political Report, Georgia Republicans may lose two Senate seats in November. Polls have shown different outcomes for the Georgia race, with Ossoff leading by six points in a recent Quinnipiac survey and Perdue holding the lead in both the University of Georgia survey and the SurveyUSA poll.
Newsweek reached out to Perdue's campaign for comment, but did not receive a response in time for publication.