This River Mysteriously Turned Bright Red, Baffling Locals
Is it a Biblical plague or a man-made mystery? A river in China flowed red on Friday, stunning onlookers who filmed the bizarre phenomenon.
Residents demanded answers for the unusual color of the Xiangbi River in Yibin City, Sichuan, China, Yahoo7 News reported, and officials stepped in to investigate the weird water.
The Xiangbi River flows into the Yangtze, which eventually reaches the sprawling city of Chongqing. "If it flows into the Yangtze River, the consequnces would be unimaginable," an onlooker said in the video shared by Yahoo7 News.
Although it looked like a sign of the apocalypse, the culprit was rather more modest. Workers at the nearby Heshun Packaging Company factory had accidently spilled paint into the river, officials determined on Sunday.
Officials claim the river has been cleaned and the pollutant removed, Yahoo7 News reported. Investigations into the packaging company continue, and the business may be forced to pay a fine for their role in the strange red waters.
Although the deep red water was a shock for locals, nearby residents do not use the river as a source of drinking water, Chengdu Business Daily reported. The paint itself, the publication stated, is water-based and non-toxic.
The Yangtze has also seen its fair share of scarlet waters. In 2012, the river mysteriously turned red. Scientists told Nature at the time the strange hue may have been caused by sediments flowing through the water, or even an unusually large algal bloom.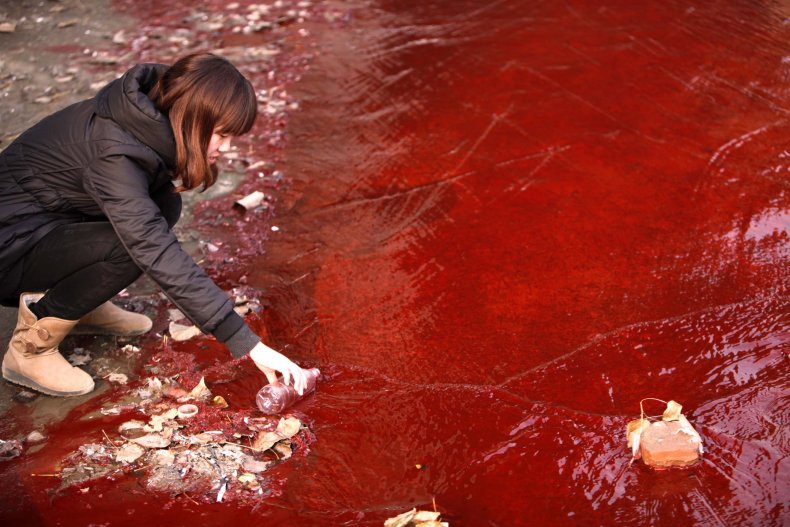 Although the blood-red rivers can be a quirk of nature, China is no stranger to man-made scarlet tides. Back in 2011, the Jian River flowing through the city of Luoyang mysteriously turned red. Investigations pointed to red dye used in plastic bags and firework wrappers, CNN reported at the time.
In 2014, a river in Wenzhou city also turned blood red, the Washington Post reported at the time. Early tests suggested illegal dumping by one of a number of nearby factories had turned the waters crimson.
And just last year, a blockage near a sewage pipe at a slaughterhouse turned a stretch of a river in Jiangxi Province scarlet, People's Daily Online reported. A similar incident occured at the same river three years before.
Factory wastewater discharge has "a major impact on river pollution," Greenpeace East Asia toxics campaigner Deng Tingting told Newsweek. "When not properly treated, it can destroy fragile river ecosystems, contaminate drinking water sources and can render water too polluted for agricultural and industrial use."
This blood-red pollution isn't limited to Chinese rivers. A river stunned locals in Siberia in 2016 when it suddenly flowed red. Either a chemical leak or a natural dispersal of the large amounts of iron found in the area were likely to blame for the transformation, National Geographic reported.
Some chemicals, Tingting said, present dangers to humans as well as local wildlife. "[Certain] chemicals can accumulate in the same fish that end up on supermarket shelves and on dinner tables, creating health hazards for humans," he said. "In addition, pollutants easily spread to downstream rivers and lakes."
This article has been updated to include comment from Deng Tingting.