'Riverdale' Season 4 Episode 1 Recap: Luke Perry Remembered in Tribute Episode
Riverdale Season 4, Episode 1, titled "In Memoriam," offered a sad change of pace from what we've come to expect from the show. The CW series last year offered bear attacks, organ-harvesting and drug-laced Dungeons and Dragons rip-offs, whereas the Riverdale Season 4 premiere was more grounded in human drama as the series said goodbye to Fred Andrews following the death of Luke Perry in March.
"In Memoriam" also featured Perry's former 90210 co-star Shannen Doherty, playing a character who offers comfort to the grieving Archie Andrews (played by KJ Apa).
What happened in Riverdale Season 4, Episode 1?
Things are calm in the town of Riverdale for now. The Farm has been vanquished, Hiram Lodge (Mark Consuelos) is in prison, and Archie and friends are planning how they will spend their last summer together before leaving for college.
Everything is so back to normal, in fact, that the residents of Riverdale are planning on bringing back their annual July 4 parade, which has been put off for the last few years as the holiday was when Jason Blossom (Trevor Stines) died. The town seems ready to move on, but Jason's sister Cheryl (Madeleine Petsch) is not. She still talks to her dead brother and does not want him to be forgotten.
This plot is sure to return in later episodes of The CW show, but the events of the episode take everyone's thoughts in a different direction. Archie, Jughead (Cole Sprouse), Betty (Lili Reinhart) and Veronica (Camile Mendes) plan on taking a camping trip when Archie receives a call from his dad's number. It is the police, who reveal that his dad has been run over trying to help a woman who had broken down at the side of the road.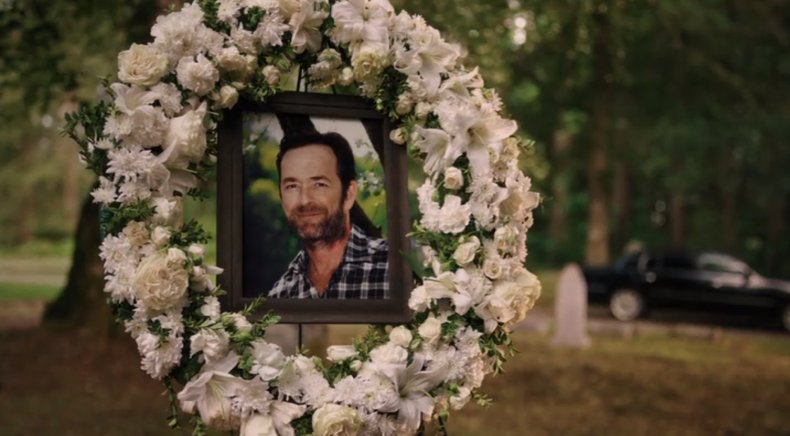 After he has a dream where the past and present residents of Riverdale tell him he should bring Fred's body back, Archie does just that, driving to get him so he can return in time for the July 4 parade. Archie is initially not allowed to move his dad's body due to being underage, but after his mother Mary (Molly Ringwald) has some words with the funeral director he is able to do so. On the way back into Riverdale, they go to find Fred's truck with some of Archie's dad's belongings in there.
Also at the scene of the death is the woman Fred lost his life to help, played by Doherty. She offers to pray for Fred with Archie, Betty, Jughead and Veronica in the first of many sequences that probably had Riverdale viewers heading to find the tissues.
This does nothing to calm down the hot-tempered Archie, however, who goes to the house of the hit-and-run driver after he learns he is out on bail. He holds him up against a wall, only to learn that the man was actually covering for his son. Archie sees himself in this young man making a stupid and dangerous decision (Archie making stupid and dangerous decisions is pretty much 80 percent of any Riverdale episode, after all) and sees Fred in the way the father is protecting his son, so is able to forgive.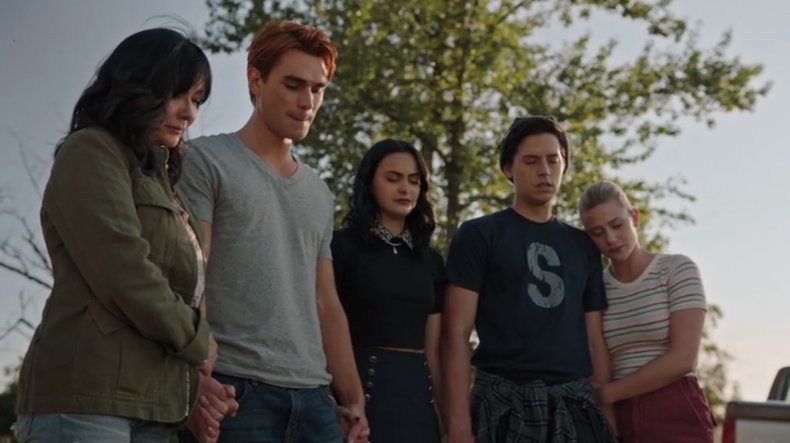 "In Memoriam" then sees Archie bring his father's body home in time for them to drive down the July 4 parade route, giving the entire town a chance to—as Archie later puts it in his eulogy—thank the man who built much of the town.
In the eulogy, Archie also tells a story of his dad buying fireworks to put on a display in the back garden one previous July 4, something that Cheryl later recreates as her own tribute to Fred.
The episode ends with what is presumably the final appearance of Luke Perry in the series, as Archie sees him in the garage where they had happily worked on cars together, before the final shot features a title card paying tribute to the actor.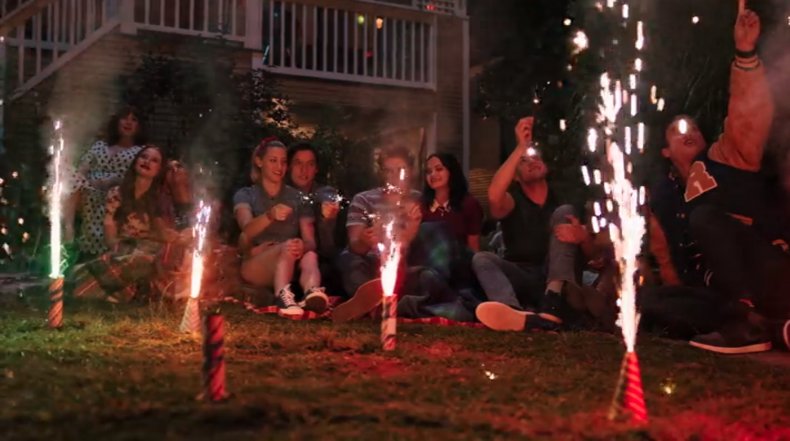 Though the Riverdale showrunners took the decision to dedicate nearly all of the episode to their Perry tribute, there were some small hints of what is to come in Season 4.
We get our first mention of Hiram when it is revealed he paid for Fred's funeral in a rare moment of kindness that is sure not to last for long. We also get not one but two visions of Jason (he also appears in Archie's dream), which could suggest Riverdale has plans to return back to its first-ever storyline⁠—though Season 4, Episode 1 of Riverdale was fairly down to earth, those who have watched the entire show would not be surprised if it found some crazy way to bring Jason back to life even after all this time.
Riverdale Season 4 airs Wednesdays at 8 p.m. ET/7 p.m. CT on The CW.
'Riverdale' Season 4 Episode 1 Recap: Luke Perry Remembered in Tribute Episode | Culture