'Riverdale' Season 4 Episode 10: When Does 'Riverdale' Come Back on The CW and Netflix?
Fans of Riverdale will be pleased to know that The CW and Netflix show is soon returning to our screens with Season 4, Episode 10. "Varsity Blues," coming this January, sees Riverdale High and Stonewall Prep continue their rivalry in a game of American football, while Archie (played by KJ Apa) finds out about the dark past of his Uncle Frank (Ryan Robbins).
The synopsis from the episode from The CW reads: "As Riverdale High prepares for the championship football game against Stonewall Prep, Betty (Lili Reinhart) gets to work on a story about the rivalry between the schools; Archie is conflicted when Mary (Molly Ringwald) tells him about Uncle Frank's troubled past."
Riverdale Season 4, Episode 10 will air on The CW on Wednesday, January 22 at 8 p.m. ET, with the episode streaming on The CW app and website shortly after for the next five weeks (or the next five episodes, whichever is longer).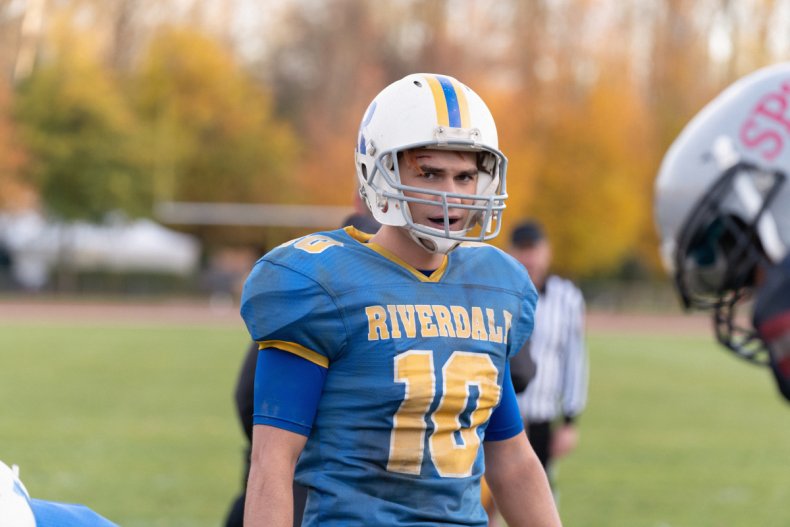 Fans of the show outside of the U.S. can then see "Varsity Blues" the following morning (Thursday, January 23) on Netflix. As ever, each episode of Riverdale will be made available on the streamer from one minute past midnight California time. When it drops in your country will depend on your time difference from Pacific Time⁠—in the U.K., for example, "Varsity Blues" will be streaming from 8.01 a.m. GMT.
For fans who cannot wait that long, CW has released a trailer for the new episode giving us a hint of what to expect. As well as showing us some of the brutal football match between the schools of Archie and Jughead (Cole Sprouse), it also suggests that Veronica (Camila Mendes) will be up to some light espionage. At the start of the trailer, we see her in a blonde wig trying to seduce Bret Weston Wallis (Sean Depner).
However, Mendes has hinted that things are about to go very badly for her character. She told People: "There's gonna be some news about somebody in the Lodge family that is going to be very heartbreaking and difficult, and kind of throw Veronica a curveball... There's gonna be some news coming Veronica's way that's going to shake her world."
The episode will also explore Riverdale's latest cast member Uncle Frank, a father figure that has turned up to help Archie while he is grieving for his father (the late Luke Perry). When the character was announced, Deadline said of him: "Robbins' Frank Andrews is a blue collar, former high school football star—tough, brash, and charming. His temper and vices constantly get him into trouble. He's lived in the shadow of Fred, his beloved older brother, since he was born. As a result, Frank joined the Army in search of his own identity. After three tours of duty, Frank Andrews is haunted and in need of a home."
Riverdale Season 4, Episode 10 airs on Wednesday, January 22 on The CW and January 23 on Netflix.
'Riverdale' Season 4 Episode 10: When Does 'Riverdale' Come Back on The CW and Netflix? | Culture