'Riverdale' Season 4, Episode 10 Release Date: When Will The Next Episode Air?
After an episode that Riverdale creator Rodrigo Aguirre-Sacasa says will reveal exactly what happened to Jughead Jones (played by Cole Sprouse), Riverdale fans will have a few weeks to wait before they get more from The CW series.
At a panel at the San Diego Comic-Con, Aguirre-Sacasa said: "What happened to Jughead and the kids that night... we are building up [to] it. Our midseason finale is going to be that night depicted in the flash-forward, and in episodes leading up to it we're going to flash-forward to other events from that night and immediately after that night, so you'll start to piece it together, I think."
What will happen after this revelation, however, will not be revealed until 2020, when Riverdale returns. "Chapter Sixty-Seven: Varsity Blues" will air on The CW on Wednesday, January 15, in the series' usual CW time slot of 8 p.m. ET/7 p.m. CT.
As ever, the episode will then be released on The CW website and app shortly after it first airs, and will remain on the service for at least five weeks. International viewers, meanwhile, will get the episode on Netflix from Thursday, January 16, at one minute past midnight PT/3.01 a.m. ET.
In the U.S., Riverdale Season 4, Episode 10 will be released on Netflix with the rest of the season. Most CW shows are released on the streaming service eight days after their season finale, meaning all 20-plus episodes will be streaming by the end of May.
As for what Riverdale fans can expect from the second half of Season 4, Aguirre-Scasa recently revealed some details about an upcoming crossover.
The night before the debut of spin-off Katy Keene, the character (Lucy Hale) will feature in an episode of Riverdale when Veronica Lodge (Camila Mendes) visits New York for a college interview.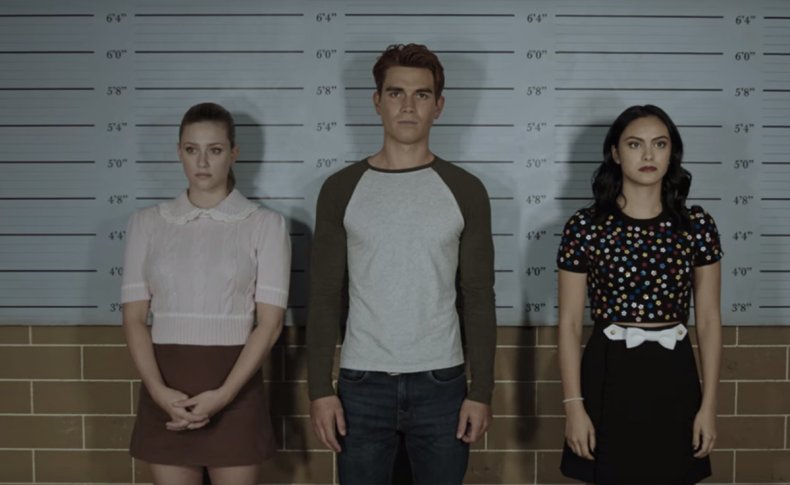 According to E! News, this episode will air on Wednesday, February 5, 2020 at 8 p.m. ET.
Speaking to the outlet, Aguirre-Sacasa said of the crossover: "Before Katy Keene officially premieres, we all thought it would be super-fun to do a crossover that took Veronica to Katy's world—New York City—and established Katy in the Riverdale universe. For our first Riverdale/Katy crossover, we couldn't be more excited that it's old friends Veronica and Katy—Cami and Lucy—having fun and heart-to-hearts!"
Among the other things Riverdale fans have to look forward to in Season 4 is the continued battle between Veronica and her father Hiram (Mark Consuelos), plus the fallout of Archie's (KJ Apa) attempts to end Dodger's (Juan Riedinger) drug dealing for good.
Riverdale Season 4, Episode 10 airs on January 15 at 8 p.m. ET/7 p.m. CT on The CW.
'Riverdale' Season 4, Episode 10 Release Date: When Will The Next Episode Air? | Culture