'Riverdale' Season 4, Episode 17 Recap: Hedwig and The Voyeur Come to the 'Wicked Little Town'
Riverdale Season 4, Episode 17, titled "Wicked Little Town," was somewhat of a back-to-basics episode for The CW show. After 16 episodes of cult brainwashing, elite secret societies, and an extended murder mystery that turned out not to be a murder after all, the episode felt more grounded and returned the show back to high school drama.
Of course, it is only back-to-basics by Riverdale standards. As such one character is still dealing with a degenerative illness while everyone else is being terrorised by a character Jughead (played by Cole Sprouse) has dubbed "The Voyeur." In the series' latest mystery (which in typical Riverdale fashion references classic movies like Caché and Lost Highway), the cast are receiving VHS tapes from someone who is recording their houses. And no, the show will not explain why everyone in Riverdale still has a VHS player in 2020.
These videotapes had appeared in earlier episodes, but The Voyeur is back in full force in Season 4, Episode 17. Their identity was likely going to be revealed at the end of Season 4, but now that the show has been forced to shut up production early due to coronavirus, we might not find out who is sending the tapes until Season 5.
The Voyeur's VHS bookended the episode, which ended with Jug watching a tape featuring a pantomime version of his own near-death experience, but most of "Wicked Little Town" saw the cast taking part in their latest musical episode.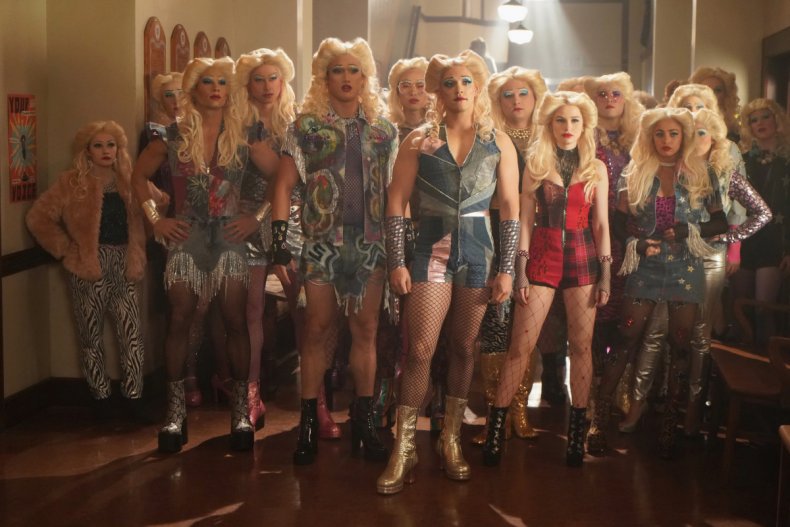 The main plot of the episode saw the cast performing songs from the cult musical Hedwig and the Angry Inch. After Mr. Honey (Kerr Smith) banned Kevin Keller (Casey Cott) from performing a song from the musical at the variety show, every act in the show decided they were going to perform songs from Hedwig in solidarity. After Honey cancelled the show, the episode ended with everyone performing at La Bonne Nuit.
Of course, the cast performed the tamer songs from the Tony-winning musical. While fans got songs like "Wig in a Box," "The Origin of Love" and the titular "Wicked Little Town," there was no sign of "Angry Inch," Hedwig's song about her botched gender reassignment surgery. Mr. Honey may have had a point about that one being inappropriate for a high school talent show.
While the pupils of Riverdale High performed the songs, the series started to set up the plot points that will surely play out over the rest of Season 4 and Season 5. While rehearsing "The Origin of Love," for example, Archie (KJ Apa) and Betty (Lili Reinhart) shared another kiss. Whereas last time they embraced it was part of the plot to fake Jughead's death, this time it seemed to be for real. This suggests that Riverdale has a big love square coming that will test Archie's relationship with Veronica (Camila Mendes) and Betty's with Jughead.
Riverdale Season 4, Episode 17 also gave Archie Comics fans something they have been waiting for years for—the formation of the band The Archies. They made their performance debut at La Bonne Nuit and then somehow on the roof of Pop's, but this is not the last time we will see them. According to interviews with show boss Roberto Aguirre Sacasa, Season 4 was leading up to a big battle of the bands featuring The Archies, but this will now likely be part of Season 5.
Elsewhere in the episode, Veronica's father Hiram's (Mark Consuelos) illness continues to get worse. The episode saw him have nasty fall, and he was nearly crushed by his own weights after slipping in the gym, though luckily Archie was there to stop him getting injured. With Hiram getting worse, and Veronica's mother actress Marisol Nichols confirmed to be leaving the show, we could very well see Ronnie start Season 5 as an orphan.
Riverdale Season 4, Episode 17 is streaming on The CW website and app in the U.S. and on Netflix internationally.