'Riverdale' Season 4, Episode 17 Release Date: When Will the Next Episode Air?
After the last episode of Riverdale brought the season's main plotline to an end by revealing exactly how Jughead Jones (played by Cole Sprouse) had managed to cheat death, the show is now taking a few weeks break, with the CW series not due to return to screens until April. The show has also currently halted production due a coronavirus scare, meaning that there could be less episodes in the season than fans were expecting.
When will the next episode of Riverdale air?
The CW series is taking just under a month off, with Season 4, Episode 17 due to air on Wednesday, April 8, in the show's usual timeslot of 8 p.m. ET. That episode, titled "Chapter Seventy-Four: Wicked Little Town," will be the series' latest musical number, with members of the cast taking on songs from the cult musical Hedwig and the Angry Inch.
In the U.S., the episode will be streaming online shortly after it airs. The CW website and app host the five most recent episodes at any one time for fans who want a catch-up before "Wicked Little Town" airs.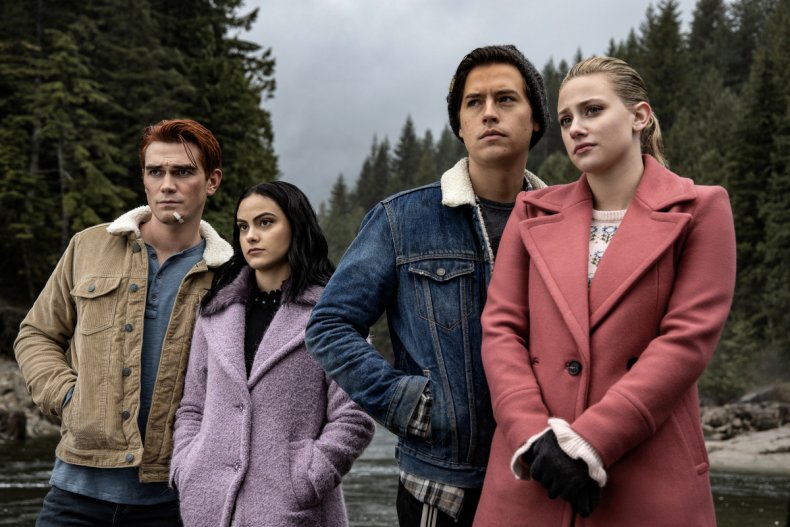 Outside of the U.S., Riverdale Season 4, Episode 17 will air as it usually does on the morning after it airs in America on Netflix. The episode will drop on the streamer at one minute past midnight PT on Thursday, April 9.
The CW has revealed that the next episode will air the following week, but they have not announced when the remaining episodes will be—or indeed how many of them there will be.
Currently, Riverdale Season 4 is meant to be 22 episodes long, but the show's production has been halted after one crew member came into contact with someone infected with COVID-19.
Though The CW has not revealed what impact this delay will have on the remaining episodes, other series have decided to cut their current seasons short.
NCIS, for example, has ended production for its current season at Episode 20, four episodes short of the original season finale.
What will happen in Riverdale Season 4, Episode 17?
The CW plot synopsis for "Wicked Little Town" reads: "When Mr. Honey (Kerr Smith) forbids Kevin (Casey Cott) from performing a musical number from Hedwig and the Angry Inch, he and the gang rally against their principal - by each performing a number from Hedwig, turning the Variety Show into a full-fledged musical."
This episode will also provide something that fans have long been waiting for: An appearance of the Archie Comics band The Archies, which will finally be formed by Archie (KJ Apa), Jughead, Betty (Lili Reinhart) and Veronica (Camila Mendes) in the episode.
Riverdale returns on Wednesday, April 8 at 8 p.m. ET on The CW.
'Riverdale' Season 4, Episode 17 Release Date: When Will the Next Episode Air? | Culture