'Riverdale' Season 4, Episode 18 Recap: Archie and Betty Get Closer
Riverdale has just a few episodes left of its short Season 4, and Episode 18 continues unraveling some of the show's most recent mysteries. The episode, titled "Lynchian," gave some more clues into who has been sending the residents of Riverdale those mysterious videotapes. However, the latest episode of The CW show also had time for romance, as Archie (played by KJ Apa) and Betty (Lili Reinhart) faced the meaning of their kiss in the last episode.
Meanwhile, the rum battle of Riverdale Season 4 continues. Hiram Lodge (Mark Conseulos) has made a deal with Elio (Julian Haig) to get his rum into his casinos, meaning that Veronica (Camila Mendes) has to make yet another business pivot. This time, she decides to go for a younger market, and targets the college crowd–which makes sense, as who knows more about underage drinking than perhaps the world's only rum magnate who is herself underage?
However, this plan puts her up against a new threat to her business–the Malloy family and its Mallow Maple Moonshine. When one of the family confronts Veronica, she assumes it is Hiram's latest ploy and brushes it off. However, after they trash her club, Hiram tells Ronnie he had nothing to do with it.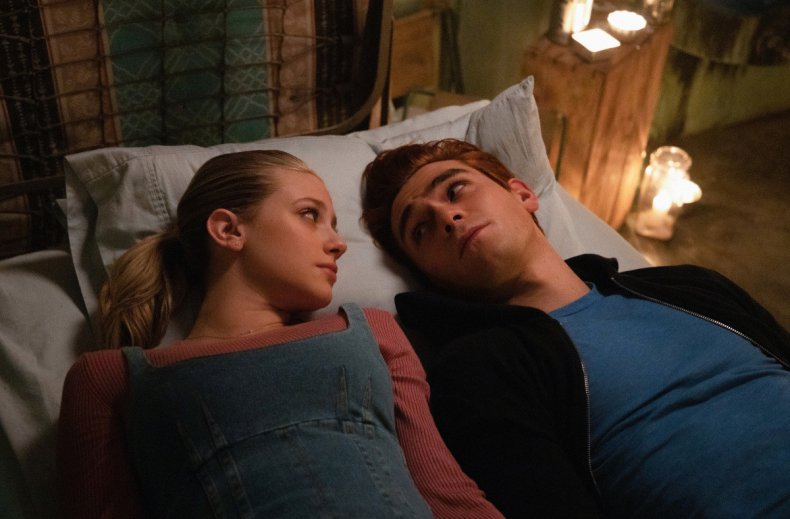 Hiram tracks down one of the Malloy family and beats him, but all this does is make that Malloy beat him up even worse in return. Veronica praises her father for showing mercy and not killing the Malloy, but he then reverts to type and shoots him without Ronnie's knowledge.
In Riverdale Season 4, Episode 18, another business empire also hit a few setbacks. Fangs Fogarty (Drew Ray Tanner) and Kevin Keller (Casey Cott) have been making money with their tickling videos, and Reggie Mantle (Ross Butler) wants in.
Kevin and Fangs are so impressed by his laugh that they decide to break with their distributor and go out on their own with a series of videos that sees the jocks of Riverdale High tickling the cheerleaders.
However, that distributor is not happy, and threatens to break Kevin's fingers if they do not get 40%. After Reggie threatens them, the distributor then calls school principal Mr. Honey (Kerr Smith), who shuts the whole thing down.
These videos feature the participants in uniform, and Mr. Honey thinks they will give the school a bad reputation. He seems to have forgotten that the school is hit with either a murder or a major sex scandal nearly every week.
Mr. Honey, however, might have a sex scandal of his own coming up. As Jughead (Cole Sprouse) tries to track down who has been sending the "Lynchian" videotapes, his search brings him to Ethel Muggs (Shannon Purser), who has the sex tape made of him and Betty.
She got it from the Scarlet Suite, a section of the video store catering to some dark desires, including snuff films. Jug gets the video store shut down, much to the annoyance of one of its biggest customers, Mr. Honey, who emerges as the most likely candidate to be sending the videotapes.
While the rest of the Riverdale cast are concerned with video vice, rum struggles and trickling troubles, Archie and Betty decide to stop cheating on their respective partners, despite us seeing in a series of flashbacks that they are meant to be together. Their relationship is over for now, but with two episodes of Riverdale Season 4 left, this is unlikely to be the last time we see the couple fans know as "Barchie" together.
Riverdale Season 4, Episode 18 is streaming now on The CW website and app in the U.S. and on Netflix internationally.