'Riverdale' Season 4, Episode 4 Recap: 'Halloween' Offers Spooky Stories and a Shocking Death
The CW has now aired Riverdale Season 4, Episode 4, the first ever Halloween special of the show, which certainly did not disappoint fans hoping for a spooky spin on the show. The episode featured a possible haunting, a character being trapped in a coffin and an extended tribute both to Archie Comics and to the film Halloween, with Betty (played by Lili Reinhart) taking on the Jamie Lee Curtis role.
However, just when viewers thought that the episode, titled "Halloween," had delivered all of its surprises, The CW had one more trick up its sleeve as it revealed what seemed to be a shock death that could change Riverdale forever.
Before then, however, Riverdale Season 4, Episode 4 took a leaf from the playbook of The Simpsons' "Treehouse of Horror" Halloween specials by telling four different stories, with our main characters all getting their own stories with relative levels of spookiness: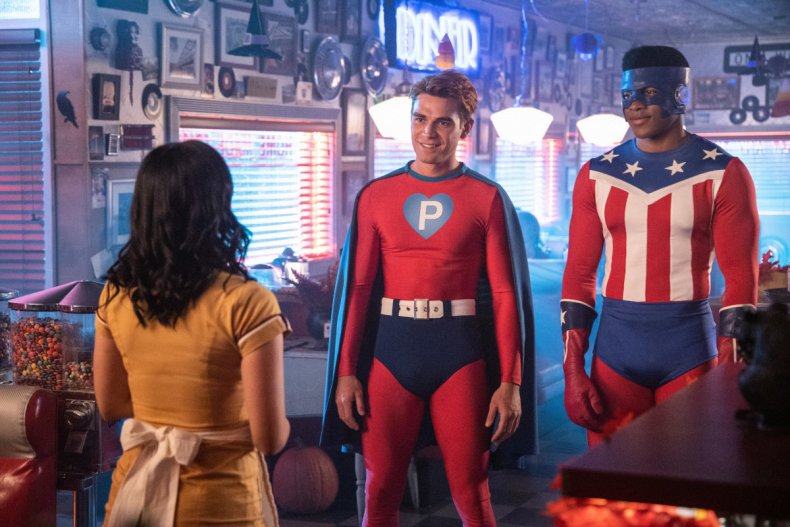 Archie
The episode's least spooky story concerned Archie (KJ Apa), who continues his mission to stop the youth of Riverdale from falling into the hands of Dodger's (Juan Riedinger) gang. However, this segment offered a nice Easter egg for Archie Comics fans as he dressed up as Archie's one-time superhero alter ego Pureheart the Powerful, while Mad Dog (Eli Goree) dressed as The Shield, a patriotic superhero from Archie Comics past that predated Captain America.
The section also gave fans a hint about the future of the Archieverse as we get our first mention of Katy Keene (Lucy Hale), soon to be the subject of her own spin-off on The CW.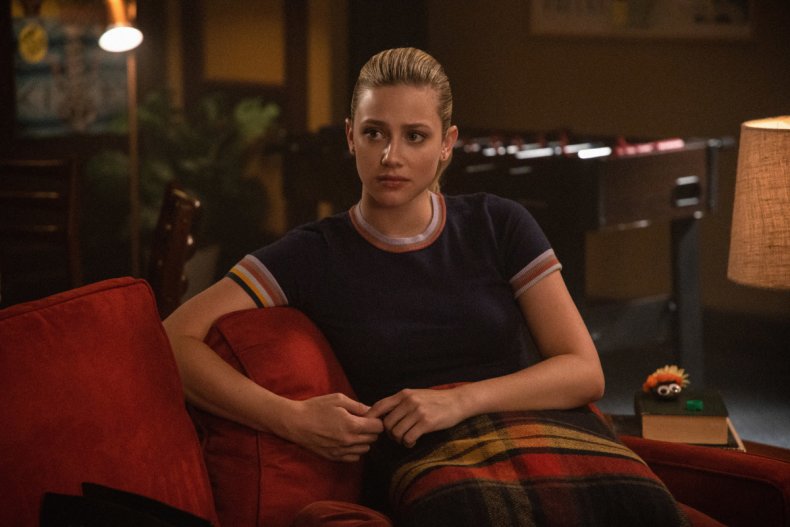 Betty
Betty really tempted fate on Riverdale this week as she dressed up as Laurie Strode, the Jamie Lee Curtis character from Halloween, the slasher film from 1978. Her night began fairly traumatically, with trick or treaters coming to her house dressed as the Gargoyle King and the Black Hood, AKA her dead father Hal (Lochlyn Munro). Talking about Hal, she also keeps getting very Scream-like calls from someone pretending to be him.
We eventually learn that these calls are coming from her sister Polly (Tiera Skovbye), as part of her revenge on Betty for breaking up The Farm in the last episode. However, Polly is not the only one with nefarious purposes, as when Jughead and Betty are later talking on the phone, her FBI agent brother Charles (Wyatt Nash) is listening in to her conversations.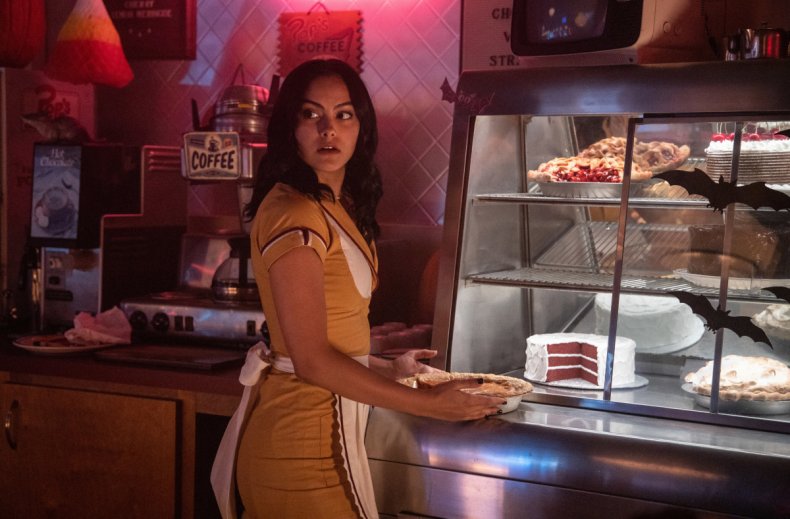 Veronica
Veronica (Camila Mendes) gets the purest horror storyline of the Halloween special as we see her work late at Pop's, which only has one customer, a seemingly friendly family man who she cooks dinner for.
However, she then happens to hear that a rogue serial killer is on the loose in Riverdale (when aren't they?) known as "The Family Man" because he shows victims pictures of his children and gets them to cook him food. Veronica deals with the news quietly and calmly, setting him alight with alcohol and a lighter.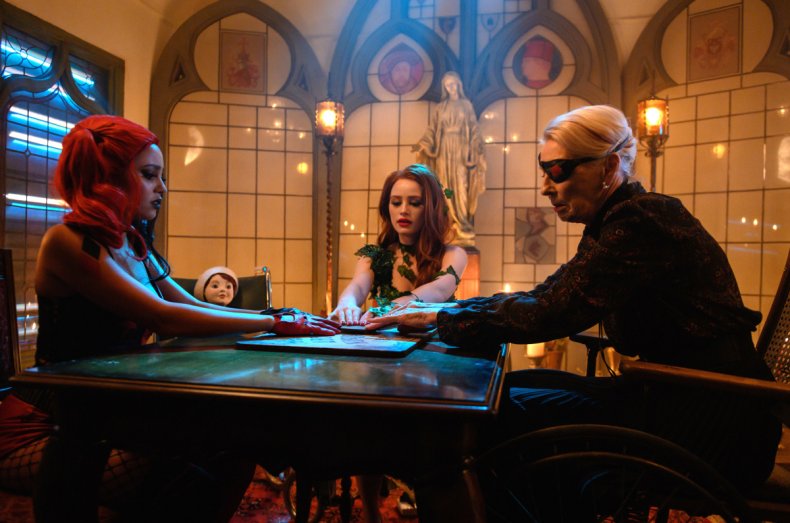 Cheryl
Cheryl (Madeleine Petsch) continues to be in the wildest plot we have ever seen on Riverdale (and that's saying something) as she continues to refuse to bury her dead brother Jason's (Trevor Stones) corpse despite it getting infested with rats in the last episode.
Her girlfriend Toni (Vanessa Morgan) finally persuades her to give him a burial...but as soon as he is in the ground, they start to get terrorised by a sailor doll that may be inhabited by the spirit of dead Blossom triplet Julian, who Cheryl absorbed in the womb. Somehow, Cheryl convinces Toni to allow her to dig Jason back up, but the doll still seems to have a mind of its own.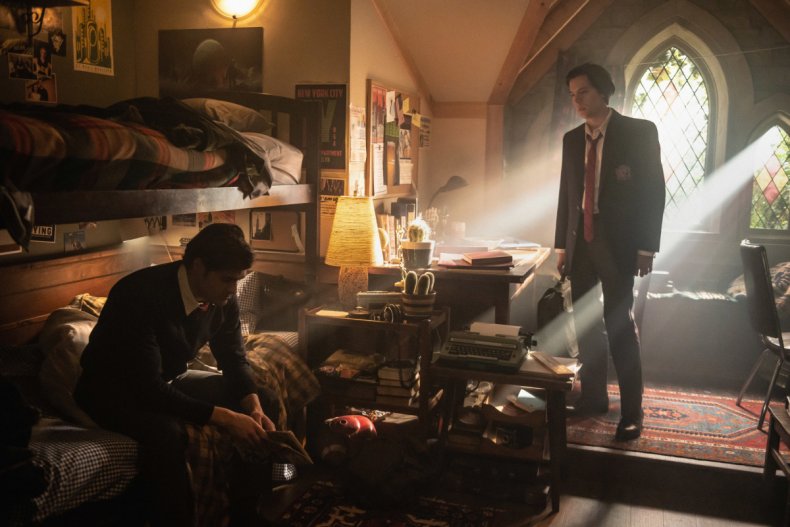 Jughead
Meanwhile at Stonewall Prep, a spirited literary discussion ends the way these things usually do...with one of the debaters trapped in a coffin. After Jughead (Cole Sprouse) and new nemesis Bret (Sean Depner) argue about the relative merits of Edgar Allan Poe and H.P. Lovecraft, Bret tries to prove to Jughead that the former is scarier by recreating his 1844 short story "The Premature Burial," drugging Jug and putting him in a coffin in Mr Chipping's (Sam Witwer) office.
While the animosity between Jug and Bret escalates, Moose (Cody Kearsley) has gone missing, and Jug might soon be joining him...although unlike Moose, it won't be because the actor who plays him has just got a lead role on a Netflix show.
Aside from the Halloween content, Riverdale Season 4, Episode 4 offered a few big plot details that are sure to play out over the next few episodes. The residents of the town, for example, have all received VHS tapes from someone who is filming their homes, in a plot point directly taken from David Lynch film Lost Highway.
That film sees a character "die" in mysterious circumstances before being reborn as a new person, and "Halloween" has its own death where things might not be as they seem. At the end of the episode, we flash-forward to the coroner's office, where we see Jughead dead on a slab. Fans are sceptical that Jughead is really dead, but this final scene seems very, well, final, though knowing Riverdale something much more mysterious is going on.
Riverdale Season 4 continues Wednesdays at 8 p.m. ET / 7 p.m. CT on The CW
'Riverdale' Season 4, Episode 4 Recap: 'Halloween' Offers Spooky Stories and a Shocking Death | Culture