'Riverdale' Season 4, Episode 8 Release Date: Why Is the Cw Show Not on Tonight and When Will It Return?
Riverdale is taking a week off this year for Thanksgiving, with Season 4, Episode 8 not due to air for another week on The CW. Riverdale is just one of the shows on the network not to be airing a new episode this week, with Nancy Drew also not airing tonight.
Why is Riverdale not on tonight?
Rather than airing Riverdale Season 4, Episode 8, titled "In Treatment," this week, The CW is airing the first night of the iHeartRadio Music Festival in Las Vegas. Kicking off at 8 p.m. ET / 7 p.m. CT, the usual timeslot of Riverdale, the coverage will air for two hours on The CW and feature performances from Camila Cabello, Tim McGraw, French Montana, Halsey and Steve Aoki.
As there is no episode of Riverdale this week on The CW, Season 4, Episode 8 will also not release internationally on Netflix as it usually does on Thursday morning, with fans of the show outside of American having to wait until its U.S. release date to see the latest adventures of Archie (played by KJ Apa) and the rest of the cast.
The iHeartRadio Music Festival coverage not only means there will be no Riverdale or Nancy Drew this week, but Supernatural and Legacies fans expecting new episodes on Thursday will also be disappointed. Day two of the coverage will air from 8 p.m. ET on November 28, with host Ryan Seacrest introducing performances from Alicia Keys, Miley Cyrus, Chance the Rapper, Zac Brown Band and Mumford & Sons.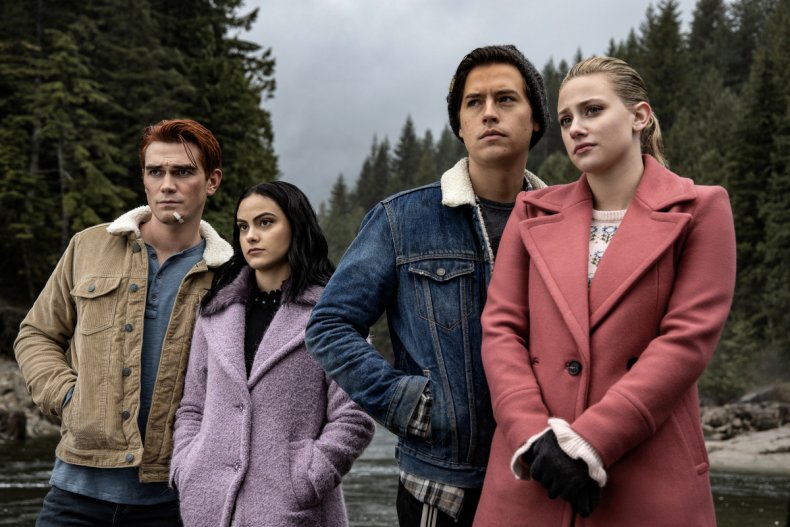 When will Riverdale Season 4, Episode 8 air?
"In Treatment" will air on The CW on Wednesday, December 4 in Riverdale's usual timeslot at 8 p.m. ET / 7 p.m. CT. This means that international viewers will also get Episode 8 on Netflix at its usual release time of 3.01 a.m. ET Thursday.
The official synopsis for Riverdale Season 4, Episode 8 reads: "As residents across Riverdale begin receiving more mysterious videotapes on their doorsteps, the seniors of Riverdale High eagerly await their college decision letters. Concerned that the stress may be getting to them, Mrs. Burble (guest star Gina Torres), the school's guidance counselor, meets with Betty (Lili Reinhart), Archie, Veronica (Camila Mendes), Cheryl (Madelaine Petsch) and Jughead (Cole Sprouse) to discuss what's plaguing them."
After this episode airs, fans will have just one more new episode of Riverdale this year, with midseason finale "Tangerine" coming on December 12. The season will then continue in January 2020.
Riverdale Season 4, Episode 8 airs Wednesday, December 4 on The CW
'Riverdale' Season 4, Episode 8 Release Date: Why Is the Cw Show Not on Tonight and When Will It Return? | Culture