'Riverdale' Season 4 Finale Release Date: When Will The CW Show End After Production Cut Short?
Riverdale Season 4 was due to see the show's cast graduating, but those caps and gowns will have to wait. The CW confirmed that the show will be ending its current season early after production on the show closed in mid-March. The show was meant to have 22 episodes in its Season 4, but we now know that the season will be a couple of episodes short.
When will Riverdale Season 4 end?
Last week, The CW confirmed to TV Guide that the final episode of Riverdale Season 4 would be Episode 19, titled "Killing Mr. Honey." That episode is due to air on the channel on May 6 at 8 p.m. EST / 7 p.m. CST. The network has recently aired Season 4, Episode 18, meaning that the current season has just one episode left to air before fans have to endure the long wait to Season 5.
After airing on The CW, the episode will be available to stream on the channel's website and app, alongside the previous four episodes. In countries where Netflix airs episodes of Riverdale Season 4 weekly, the final episode of the current season will be released on May 7 at 00:01 a.m. PST.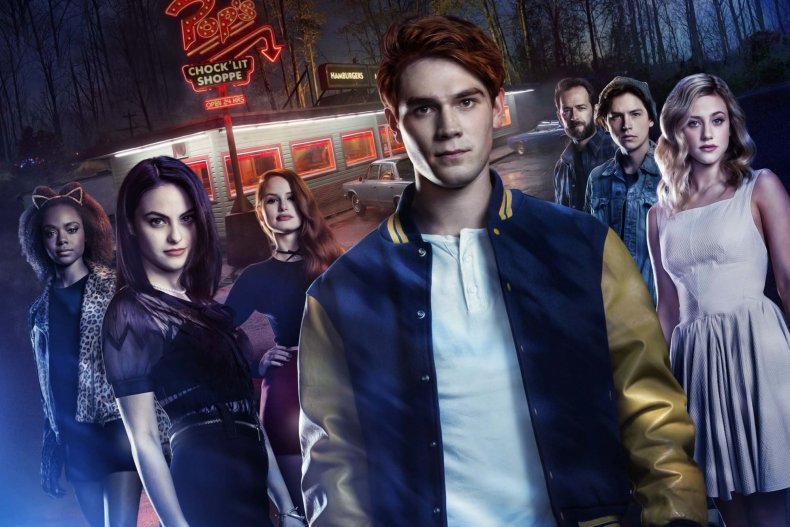 Though Riverdale Season 4 ending early is bad news for fans, it is good news for U.S. viewers who watch the show on Netflix. American Netflix usually gets seasons of The CW shows eight days after their season finales air, which could mean that the show is streaming earlier than usual (Newsweek has reached out to Netflix for clarification on this, and will update this article when we get a response).
Riverdale Season 4 was initially meant to build towards the cast's graduation. However, the season will now be ending three episodes early with a fantasy episode. This instalment will show Jughead's (played by Cole Sprouse) revenge fantasy against Mr. Honey (Kerr Smith).
The synopsis for "Killing Mr. Honey" reads: "After receiving a letter from the University of Iowa asking him to submit a story, Jughead works on a twisted tale about the gang's revenge fantasy against Principal Honey for all the ways he's ruined their senior year." The new finale episode is directed by Madchen Amick, who also plays Betty Cooper's (Lili Reinhart) mother Alice.
The CW has already confirmed Riverdale Season 5, so fans will get to see the unaired episodes of Season 4 at some point in the future. According to TVLine, Episode 20 of Season 4 was already filmed when production shut down, but post-production was unable to go ahead due to the coronavirus, meaning that fans should be able to see that episode when Riverdale returns later in 2020.
Riverdale Season 4's five most recent episodes are streaming on The CW website and app in the U.S. All of Season 4 so far is streaming internationally on Netflix.