Riverdale Season 4 was cut short after production ended early following the coronavirus outbreak. This in some ways is bad news for fans of The CW show, who get 19 episodes rather than the usual 22, but is good news for fans who have been waiting to stream the entire season at once on Netflix.
Usually, seasons of Riverdale come to Netflix in the U.S. in late May. The CW has a deal with the streamer whereby all of their shows which began before the 2019-20 TV season started are available to stream eight days after their season finales. And, as most seasons of Riverdale have ended in mid-May, those episodes do not come to Netflix until a week and a day later.
However, with Riverdale Season 4 coming three episodes earlier than usual, the show is also streaming early. Netflix has confirmed that the most recent 19 episodes will come to Netflix on Thursday, May 14. As with most of Netflix's shows, episodes will be released at 00:01 a.m. PDT. When they arrive in your country will depend on your time difference from America's west coast, which is currently 9 hours behind GMT.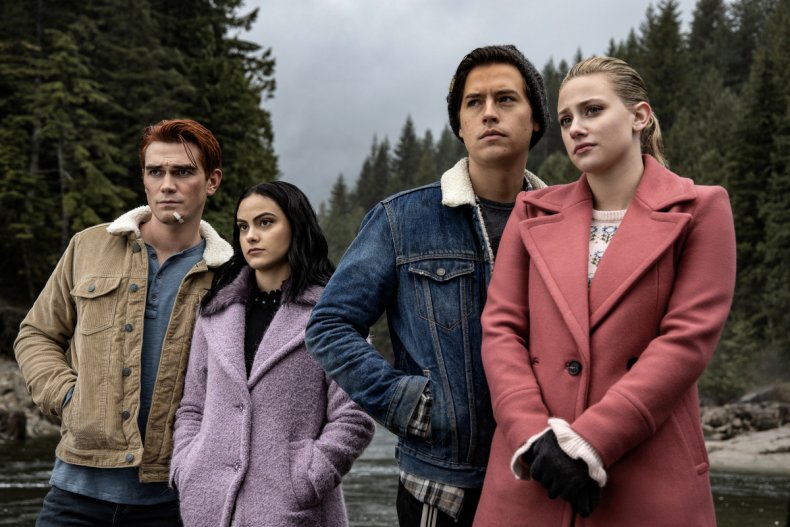 Internationally, episodes of Riverdale Season 4 have already been dropping weekly. Episodes arrive on Netflix outside of the U.S. on Thursday mornings at 00:01 a.m. PDT. This means that Season 4 will be complete on international Netflix sites as of May 7, the night after the season concludes on The CW.
U.S. fans who have been waiting for Riverdale Season 4 to drop on Netflix can catch up on the first three seasons now on the streamer. Those viewers may want to watch the Season 3 finale again, as it sets up one of the biggest mysteries of Season 4.
In that finale, we see a blood-soaked Archie (played by KJ Apa), Veronica (Camila Mendes) and Betty (Lili Reinhart) burning their clothes as well as the beanie hat of Jughead (Cole Sprouse), suggesting that the latter has died.
Exactly what happens to the aspiring detective and writer is teased out in flash-forwards throughout much of Riverdale Season 4. Among the other highlights of the season is a touching tribute episode to Fred Andrews actor Luke Perry, who died while the cast were making Season 3, as well as the show's annual musical episode, which sees the cast tackling songs from the cult movie Hedwig and the Angry Inch. Fans can also expect some of the series' craziest moments yet, including a bizarre return for Jason Blossom (Trevor Stines).
Riverdale Season 4 is released on Netflix on Thursday, May 14 on Netflix.