'Riverdale' Season 4 Finale: What Was Originally Meant to Happen in the Postponed Season Finale?
Riverdale Season 4 has now come to an end three episodes early, with Season 4, Episode 19 ("Killing Mr. Honey") acting as the season finale of The CW show. That episode may have ended with the latest twist of the videotape voyeur mystery, but fans were deprived of the senior prom and graduation that the season seemed to have been leading up to.
However, showrunner Roberto Aguirre-Sacasa has promised fans that they will still get to see the cast graduate. According to the producer, Riverdale Season 5 (which has been confirmed by The CW) will start with the three episodes that remain unaired from Season 4.
The first of these will feature the prom, while the finale will be the Riverdale High graduation. Aguirre-Sacasa said of this to TVLine: "It felt like since we have such big events like prom and graduation, and we'd already written [Episodes] 21 and 22... they're big, emotional episodes, and there's a lot of stuff with the characters that we're still playing out, so it felt like maybe what we'll do is start with the last three episodes.
"After being with the kids at the high school for four years, you kind of don't want to take graduation away from them."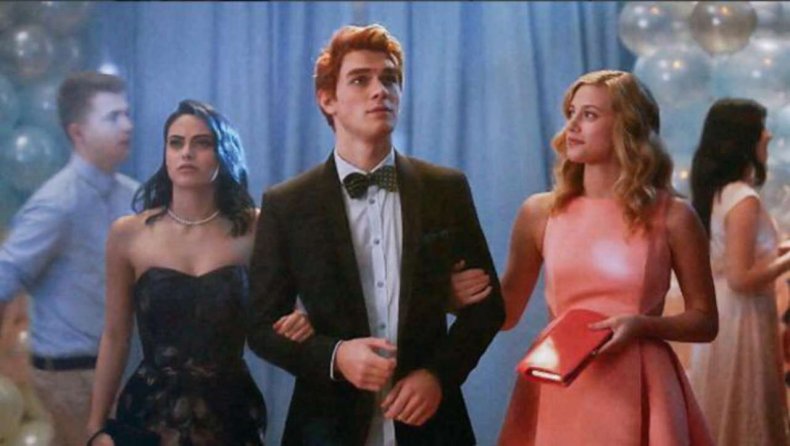 This graduation, as Riverdale fans might expect, will not be straightforward, and might feature some major relationship drama between Archie (played by K.J. Apa) and Betty (Lili Reinhart). Speaking about the couple the fans call "Barchie," the showrunner said: "There are major, major repercussions for what Betty and Archie did that go down at prom, in true teen drama fashion. So no, we haven't seen the end of that story by a long shot."
He added in a TV Guide interview: "In Episodes 20, 21, and 22, the episodes we'd written, [Barchie] was a huge part of those episodes, and we're still playing them. Neither Veronica [Camila Mendes] nor Jughead [Cole Sprouse] have found out about any of this. I don't know if this is a spoiler, but I can tell you that they definitely will find out in very different ways."
The season finale will also see at least two cast members leave The CW show. Marisol Nichols and Skeet Ulrich, who play Hermione Lodge and F.P. Jones on the show, are both exiting, and the early Season 5 episodes will give them a send-off.
Aguirre-Sacasa told TVLine: "I reached out to all of the cast, and I reached out to Marisol and Skeet and said that we haven't finished those stories, and we want to make sure that you guys have great sendoffs." Fans worried that they would get a typical Riverdale send-off, however, have no fear: "neither Hermione nor F.P. are being killed," the showrunner revealed.
What we do not know, however, is when viewers will get to see the original Riverdale Season 4 finale. The show has been renewed for Season 5, and the showrunner has revealed that two-thirds of the prom episode has been filmed, but with production currently shut down in Vancouver it could be a while before Archie, Jughead, Veronica and Betty get to wear their caps and gowns.
Riverdale Season 4 will arrive on Netflix U.S. on Thursday, May 14