'Riverdale' Season 4 Spoilers: Betty Helped Jughead Fake His Own Death According to New Fan Theory
Riverdale Season 4 had one of its most dramatic cliffhangers ever at the end of Episode 4 where Jughead Jones (played by Cole Sprouse) was seen lying dead on a coroner's table. In any other show, that would be enough to confirm that a character was dead, but fans of The CW show are having none of it.
After all, the show has cried wolf a number of times before by ending episodes with characters seemingly dead, like when Archie (played by KJ Apa) was mauled by a bear or when Jughead himself was seen hanging lifeless in his father's arms.
As such, many fans think Jughead must have faked his own death and that his girlfriend Betty (Lili Reinhart) might have had something to do with it. So far, their only evidence of this is that she seemed to not be emotional enough when she saw his dead body, but this has been enough for some fans to make up their mind.
For example, one fan tweeted: "Can we talk about the fact that Betty looked unbothered? She's helping Jughead, they covered him in fake blood, did the makeup, and they have to pretend he's dead for his own safety. That's why FP is crying, but not Betty. Mark my words."
This came after an episode where Jug's rival Bret Weston Wallace (Sean Depner) hazed him by trapping him in a coffin, leaving many to think that the battle between the pair of them will escalate to the point that Jughead is in real danger, leaving him to have to fake his own death.
According to some fans, Jughead's father FP (Skeet Ulrich) could also be in on this, with one writing on Reddit: "FP and Betty looked pretty cool for it to be the real Jughead. Probably just a doll or whatever to fake his death."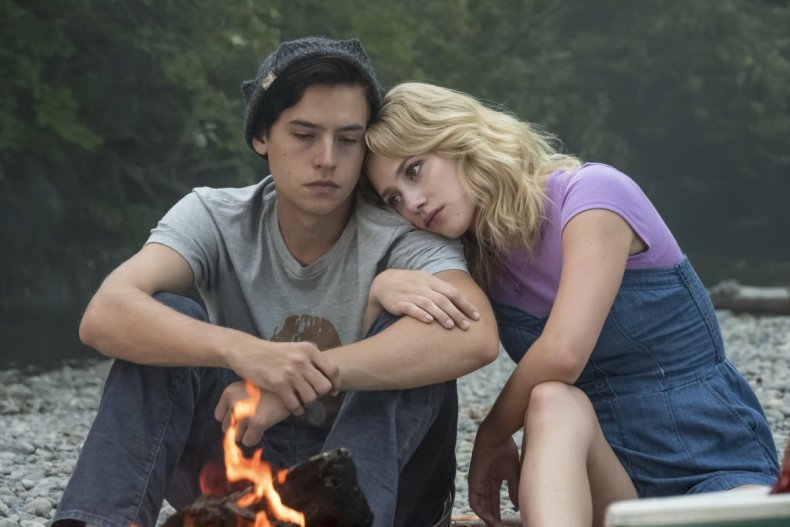 Lili Reinhart has stoked up speculation herself that she may have something to do with the "death" of Jug when she told Distractify: "No one's ever actually dead on Riverdale... Even when you're buried in the ground, you can still come back."
Other fans, meanwhile, have even more farfetched Riverdale fan theories, involving Cole Sprouse's twin brother Dylan. In the comics, Jughead has a nearly identical-looking cousin called Souphead who fans think may be the person who has died, and they think he may be played by the other Sprouse twin. As one Reddit user wrote: "Surely there's been a spot on the wall in the writer's room that has said DYLAN SPROUSE since the show started."
Riverdale showrunner Roberto Aguirre-Sacada has revealed, however, that we will get answers about what happened to Jughead during the midseason finale, expected in mid-December.
Riverdale Season 4 airs Wednesdays at 8 p.m. ET on The CW