'Riverdale' Season 5: When It Airs and How to Watch Online
Riverdale has been away from screens for eight months, but Season 5 is now ready to air on The CW and Netflix. Episodes will start to release in January 2021, and then shortly after will be available to watch online. Riverdale Season 5 will start with the episodes left over when the last season was cut short, including prom and graduation, before jumping forward seven years in time to bypass the college years of Archie (played by KJ Apa) and the rest of the cast.
When Riverdale Season 5 airs
Riverdale Season 5, Episode 1, titled "Climax," will air on The CW on Wednesday, January 20, 2021, in the show's usual timeslot of 8 p.m. ET / 7 p.m. CT, with the remaining episodes of the show airing weekly at the same time.
The official synopsis for the first episodes reads: "PROM NIGHT INTERRUPTED—Betty (Lili Reinhart) and Jughead's (Cole Sprouse) investigation into the auteur leads them to the discovery of a secret underground for red-band screenings. Elsewhere, in order to impress the visiting Naval Academy Commandant, Archie (KJ Apa) agrees to participate in a boxing exhibition against another candidate—KO Kelly (guest star Zane Holtz). Meanwhile, as Cheryl (Madelaine Petsch) prepares for prom, she stumbles upon a major secret that Toni's (Vanessa Morgan) been keeping from her."
KO Kelly is a character introduced in the canceled Riverdale spin-off Katy Keene, suggesting that some of the characters from the fellow CW show could be incorporated into the world of Riverdale now that the series has ended.
Riverdale Season 5 will run a little shorter than other seasons of the Archie Comics show with 19 episodes—the same amount as the cut-short Season 4.
How to watch Riverdale Season 5 online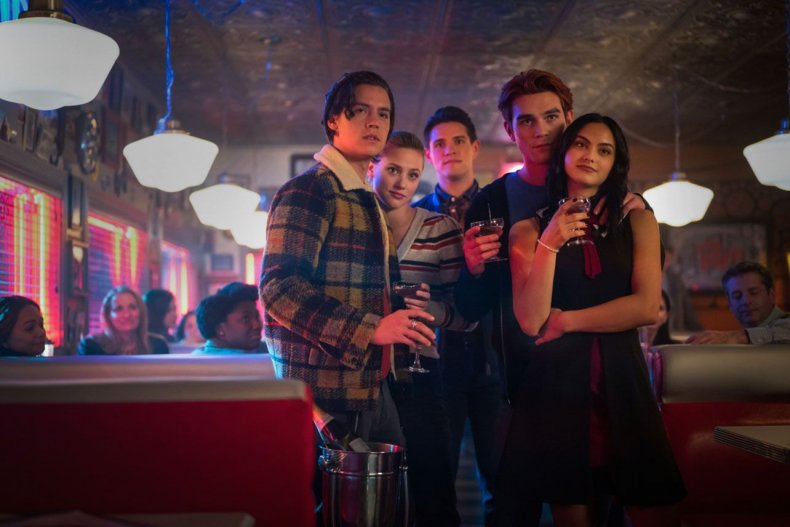 Shortly after each episode airs, it will be available to watch on The CW website app for free (with ads) for viewers in the U.S. At any time, The CW offers the last five episodes of its roster of shows to watch for free.
Internationally, each episode of Riverdale is available on Thursdays on Netflix. American Netflix subscribers, however, will be unable to watch Riverdale Season 5 until eight days after its season finale, when all 19 episodes will start streaming at once.
In all territories, however, all four previous seasons of Riverdale are currently streaming on Netflix.
In terms of what viewers can expect from Riverdale Season 5, Archie actor KJ Apa gave TVLine a hint of what viewers can expect from the time jump: "We learn that everyone kind of went their separate ways. Archie enlisted in the Army after graduation, and when he returns, after all that time in the Army, he discovers the town is on the verge of becoming a ghost town, thanks to Hiram.
"[Archie and the gang] talk about how they can revive the town again. Archie very much takes the lead on this. He came back and saw Riverdale turning to s*** pretty much, and he's like, 'There's no way I'm going to let this happen.' So he wrangles the whole team in, and they figure out ways to revive the town, and the best way to do that is through Riverdale High."
A few weeks ago, The CW released a trailer that gave fans their first glimpse of the new season, which saw the mysterious videotapes still in circulation, plus plenty of drama at the prom—including a hint that Veronica (Camila Mendes) may finally find out about Archie and Betty.
Riverdale Season 5 airs Wednesdays at 8 p.m. ET / 7 p.m. CT on The CW in the U.S. and Thursdays on Netflix internationally.